MSc, PG Cert Genes, Drugs and Stem Cells - Novel Therapies
Facilitating state-of-the-art education in next generation therapies for scientists and clinicians
This programme is a unique combination of 'hot' and rapidly developing topics in advanced therapeutic medicines and will provide academic and laboratory research training in three key areas (streams):
Gene and Nucleic Acid-Based Therapies

Regenerative Medicine

New Horizons in Pharmacology

---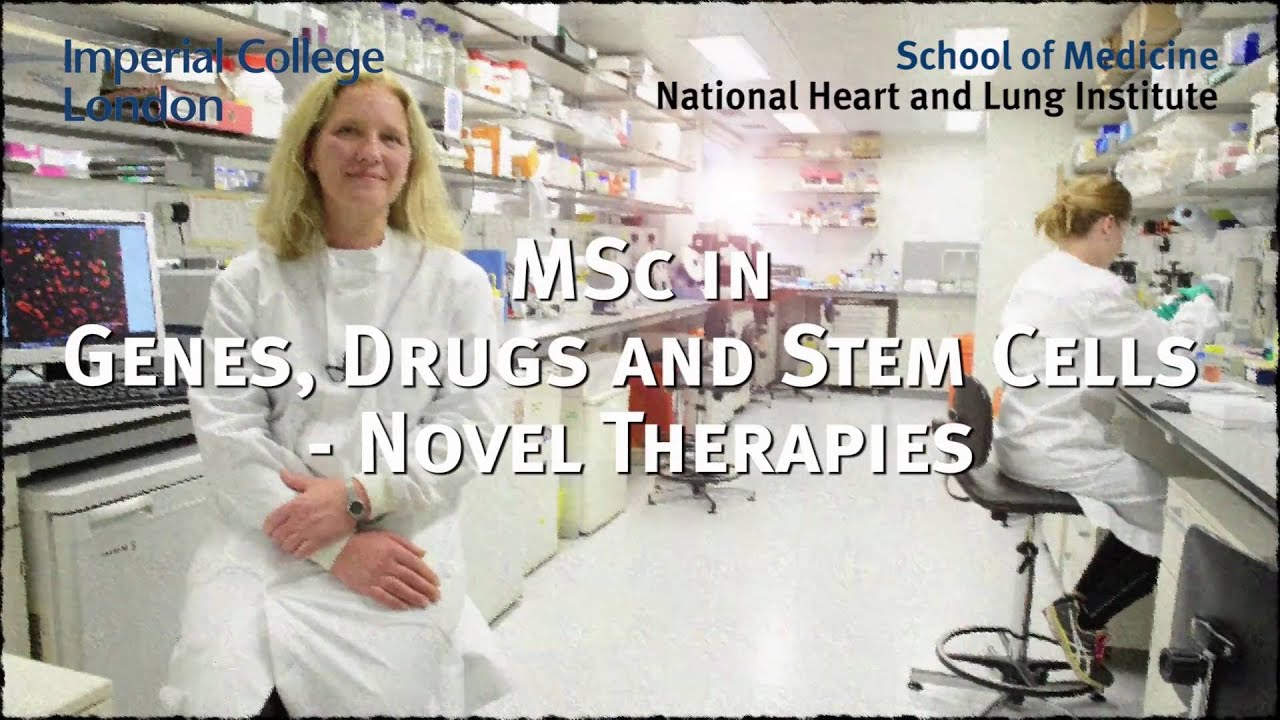 The main purpose of this programme is to facilitate state-of-the-art education in next generation therapies for scientist and clinicians, who will be equipped to significantly contribute to these rapidly expanding fields.
A major focus is training in translational research illustrating all steps required to progress novel therapies from bench-to-bedside and towards drug licensing.
It is the provision of teaching in all three areas of advanced therapeutic development which makes our programme unique.
---
Programme structure
All Master's students will take part in four compulsory modules:
One science and research skills module

Three stream-specific core modules (one for each stream: Gene and Nucleic Acid-Based Therapies, Regenerative Medicine and New Horizons in Pharmacology) to understand key concepts.

You will then specialise in one of the three streams and take part in a further stream-specific advanced study module in addition to conducting a stream-specific six-month research project.
Find out more about out the three stream-specific core modules from the course leaders
You can opt to do the four compulsory modules only and obtain a Postgraduate Certificate.
---
Entry requirements
Normally an upper second-class (2.1) honours degree in a relevant biological subject from a UK university or equivalent.
A candidate with a degree below the entry requirement, but who has at least three years relevant work experience after graduation and has two supportive references on file may be considered under the College's special cases policy.
The Postgraduate Certificate in Advanced Therapeutic Strategies is a condition of entry for the direct entry MSc. Students must be able to complete the MSc within 5 years of registering for the PG Cert.
English requirements
All candidates must demonstrate a minimum level of English language proficiency for admission to the College.
For admission to this course, you must achieve the standard College requirement in the appropriate English language qualification. For details of the minimum grades required to achieve this requirement, please see the English language requirements for postgraduate applicants.
---
Is this programme for you?
It has been great to learn from leading academics whilst also being afforded the opportunity to attend guest lectures delivered by world-leaders in the field of regenerative medicine"
Qasim Majid
Student
All students will acquire transferable and research skills and knowledge of ethical and regulatory legislation, commercialisation strategies and intellectual property and patent protection.
Following core modules, students choose which speciality to pursue in greater depth, through further taught modules and a six-month research project.
In addition to the scientific knowledge and research skills acquired, on graduation you will be able to:
deal with complex issues in many fields logically and creatively;

demonstrate initiative, self-direction and originality in tackling and solving problems;

act autonomously in planning and implementing tasks at a professional level;

communicate clearly and effectively to specialist and non-specialist audiences.
Career prospects
Industry

Further study –

academia

NHS positions

Financial sector, roles requiring numeracy
---
Key benefits
A combination of hot topics within the field of human health and disease, aimed at scientists who wish to obtain a world class education in three key therapeutic areas:
Gene and Nucleic

Acid-Based

Therapies

Regenerative Medicine

Pharmacology New Horizons
---
Meet our students
Learn more about the experiences of our students including the winner of the Dean's prize (awarded annually to an exceptional student) on our 'meet our students' page.
---
Assessments
The MSc in Genes, Drugs and Stem cells –Novel Therapies uses a range of formative and summative assessment methods not only designed to consolidate course content, but also to help students develop skills that are required for future post-graduate career progression.
These include:
oral presentations

in form of assessed debates, journal clubs and a poster presentation;

data analysis and the development of

drug commercialisation strategies

involving assessments of patent landscapes, consideration for intellectual property and drug pricing;

uniquely assessments also focus on developing skills for communicating to the lay public

.
---
Student prize winner profiles