What does ICT do?
Information and Communications Technologies (ICT) supports Imperial College London to reach strategic goals in both education and research and to enhance the student experience.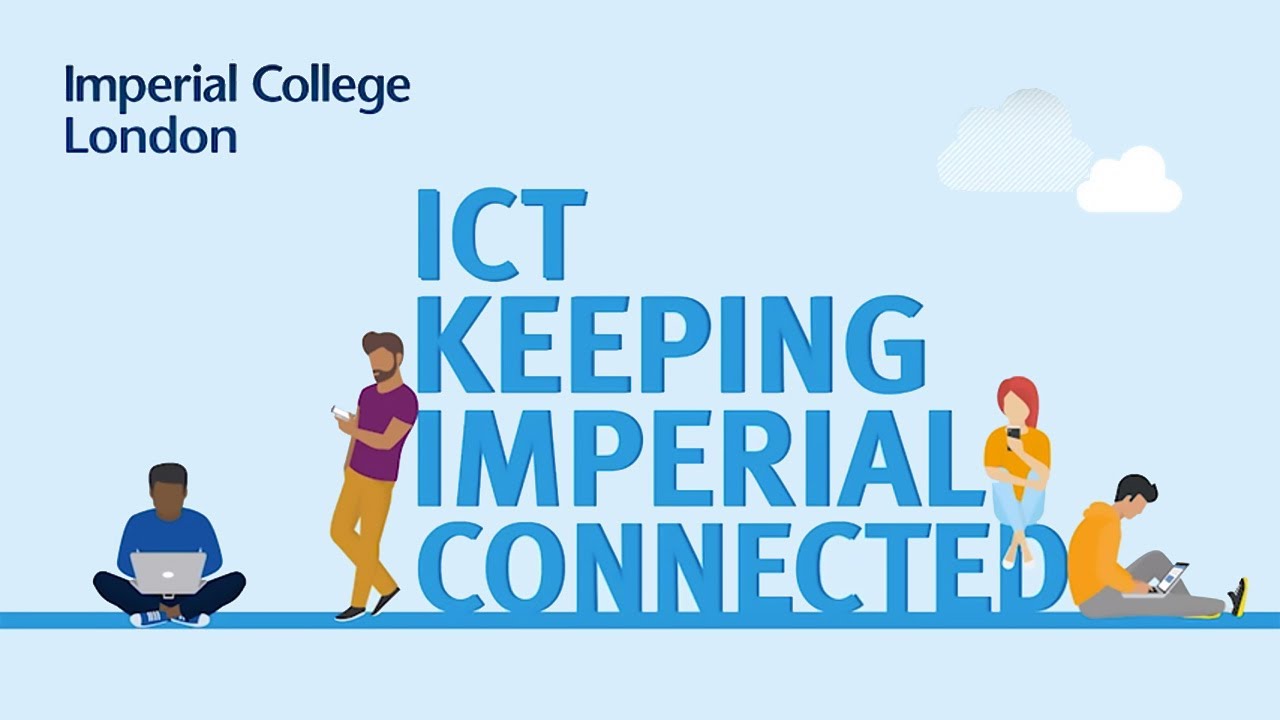 Key numbers
Over 1,000 servers supported.
Over 1Pb of storage in the Data Centres.
200 sites on the Linux web farms.
28 sites connected to our self-managed network.
Three supercomputers within the HPC service - £10m investment.
2,000 tablets supported.
100 virtual desktops.
680 Macs.
300 printers supported.
>5,000 SharePoint sites – 25,000 page views per day.
50 TB of mirrored Panopto data.
Expansion of Faculty of Engineering is expected to bring in 150 new Blackboard courses.
3,500 student access desktops across 150 managed computer rooms.
3,800 staff mobile devices (notebooks, laptops etc.).
1,000 different applications across various builds.
What ICT does
Connected
We set up user accounts for staff, students and guests that provide access to College's IT resources. Behind the scenes we are busy managing the complex network cabling, hardware and software that allows you to access our services in person or via the network.
Keeping in touch
Our web developers assist College's central Communications team in maintaining and improving the website. Additionally we support systems, including Skype for Business and SharePoint, that aid collaboration and communication across campuses and externally.
Customer service
We support online service desk systems across Imperial (ASK), including ASK ICT, for reporting and tracking requests and faults. Our ICT Service Desk is open from Monday to Friday, responding to reports and calls for assistance. ICT Faculty Support teams based across College are on hand to respond to reports in person.
Teaching and learning
We support and develop Imperial's virtual learning environment, Blackboard, and other systems that enhance courses and tutor feedback. We also support and upgrade audio visual equipment across shared teaching spaces, including Panopto, which offers filmed lectures to students.
Student experience
We are always keen to work with and hear from students and we run many student-led forums to facilitate the sharing of information and opinions. We maintain over 3,000 PCs across 60 teaching and learning spaces at Imperial. We support over 250 multipurpose scanning, photocopying and printing machines with a simple pay-to-print payment system using an College campus card, in addition to a mobile printing service.
Enabling research
We provision and develop multiple data management systems that support Imperial's advances in various fields of research. The High Performance Computing (HPC) service uses state-of-the-art computational techniques and hardware to support breakthroughs in areas from aeronautics to clinical science.
Value for money
We provide the College with sustainable, reliable, high quality hardware and software. Our Shop offers a range of discounted and free software packages for staff and students and we provision College-wide access to tools from assisted technology software to mobile apps.
Managing data
We maintain, enhance and support core College systems to handle administrative and research data. The Imperial Data Centre hosts 3,000 servers along with the central High Performance Computing (HPC) suite.
Staying secure
To protect our users from the risks associated with unauthorised access, alteration and attacks, our Security Team monitors the processes and policies that protect the integrity and security of College's systems and equipment.