About the Institute
The Brahmal Vasudevan Institute for Sustainable Aviation has been established following a £25 million gift from alumnus Brahmal Vasudevan (Aeronautical Engineering 1990), Founder and CEO of private equity firm Creador, and his wife Shanthi Kandiah, founder of legal firm SK Chambers.
The climate emergency is one of the greatest and most urgent challenges faced by humanity. Across the world, the warming climate is already having devastating effects, ranging from increases in wildfires and floods to climate-induced famine. These impacts will only worsen without swift and meaningful action to decarbonise our society.
While the challenge is steep, there is also opportunity. COP26 saw the International Aviation Climate Ambition Coalition agree to support measures to reduce the sector's carbon emissions, including promoting the development of low-carbon aircraft, sustainable aviation fuels and carbon offsetting. We have a chance to not only support these measures but go beyond them, to inspire and create the further change needed to limit warming to 1.5°C.
To do so will require a radical shift across the whole system of aviation. We need to rethink the way that flying works and adopt an approach that takes in all elements of air transport, from fuel and aircraft design, to flight paths, regulatory practices, policy, behaviour change and more.
There is much to do and not much time, but there is a will and determination being shown across the sector and beyond.

The Institute is a nucleus for complementary work taking place across the College that together will help usher in a new future of flight. While based in, and led by, our esteemed Department of Aeronautics, the Institute is interdisciplinary in its approach, mobilising expertise from across Imperial's faculties and research centres.
2 column colour block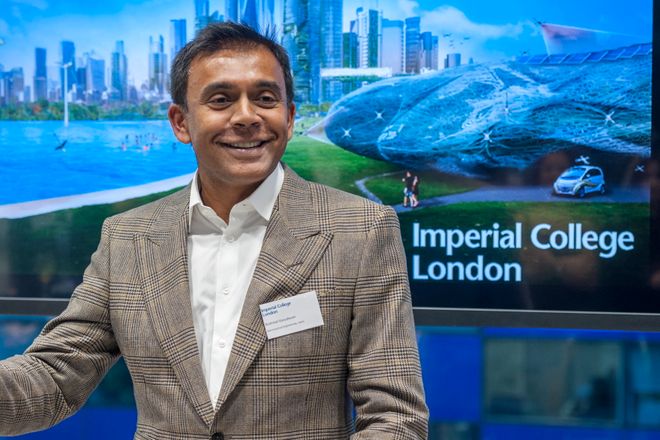 Brahmal Vasudevan
Imperial alumnus Brahmal Vasudevan is Founder and Chief Executive Officer of Creador, a private equity firm focused on high-growth markets in South and South East Asia. Brahmal founded Creador in 2011 after spending 11 years as a General Partner and Managing Director of ChrysCapital, a leading private equity firm focused on growth capital investments in India. Brahmal graduated from Imperial College London with a First-Class Honours degree in Aeronautical Engineering and holds an MBA from the Harvard Business School.