BSc Medical Biosciences: Virtual Open Day

Welcome to the School of Medicine Virtual Open Day webpage for our BSc Medical Biosciences programme.
We have compiled these resources to help you make an informed choice about your next steps, and to see whether Imperial is the right place for you and, more specifically, if our School of Medicine is the community you would like to join.
Online Resources
Virtual Open Day
Welcome to Medical Biosciences Open Day September 17th 2022!
On top of all the other in-person activities taking place, this website takes you through various information about Medical Biosciences which you may find interesting to read.
Why Imperial College School of Medicine?
We are part of a diverse world-class institution. Imperial College London's Faculty of Medicine is ranked fourth in the UK and ranked 10th globally for clinical, pre-clinical and health, according to the Times Higher Education World University rankings (2020). The School of Medicine champions diversity and inclusivity amongst our communities.
We deliver a high quality of education. Methods such as Team-based Learning (TBL) and "flipped classroom" equip students with the skills, habits and critical thought that today's employers value most. The innovative Lab Pods will allow you to develop key analytical and transferable skills. Creative cross-year, work-relevant activities ensure a close-knit group. The extensive laboratory programme also helps students to career plan by providing networking opportunities with experts from industry, institutes, and academia.
We offer a three or four year programme: You can opt for a three-year BSc programme or a four-year BSc programme, Medical Biosciences with Management, where the fourth year is spent in the Imperial College Business School.
Curriculum
Explore the curriculum
Explore our innovative curriculum yourself! Click here to access our interactive curriculum e-module.

Our pioneering BMB course was launched in 2017, and has been designed to meet the emerging healthcare challenges of the 21st century, and the changing pattern of evidence-based medical education.
Year 1 & 2
The first two years cover topics in fundamental human biology and the molecular basis of human disease. The syllabus will be taught online and face-to-face using the principles of active learning and will not involve traditional lectures.
During the unique and exciting Lab Pod modules, you will work on real-life research questions in a learning environment that mirrors an authentic research laboratory.
Year 3
In your third year, you can choose from a range of specialist modules, each of which examines a global health problem, and you will also complete a final-year project. This can be an intensive research project, a placement, or a dissertation on a biomedical science-related topic.
Placement possibilities may include industry, hospitals, publishing houses, museums, charities and government agencies
Hear more from our students in these videos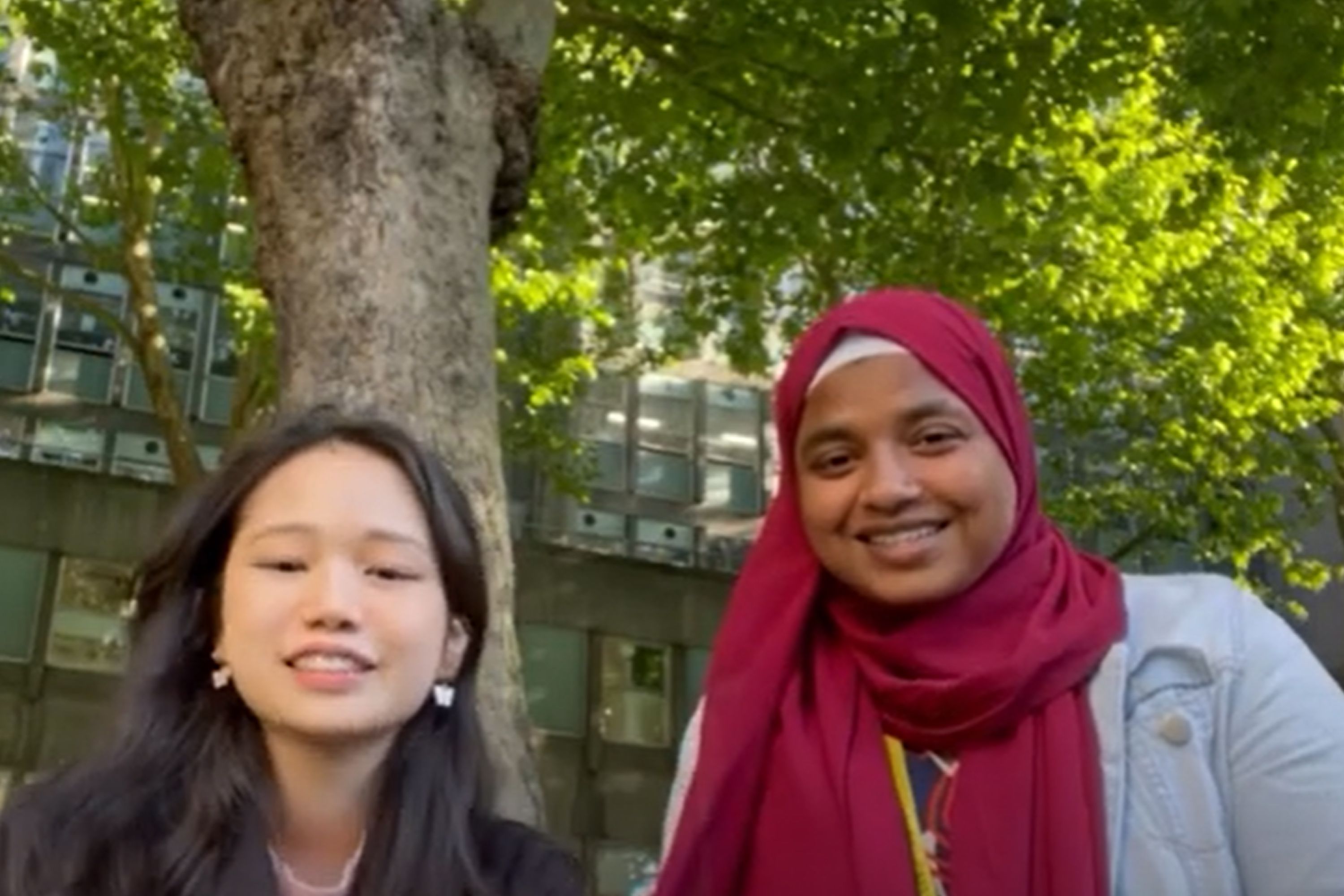 LabPods Year 1
Year 1 students sharing their experiences with LabPods
Iulia Kis
Second Year BMB Student Iulia Kis talks about her experience on the course.
Lucia Friscioni
Third year BMB student Lucia Friscioni talks about her experience on the course.
An Introduction to BSc Medical Biosciences
Professor Alison McGregor introduces the BMB programme
BMB Teaching Demonstration
BMB Teaching Demonstration - recording of a live session with teaching staff
Student Experience: Caitlin Davies
BMB student Caitlin talks about her experience of the programme
An overview of Medical Biosciences Admissions
Admissions Tutor, Dr Peter Clark, takes you through the BMB admissions process
Student Experience: Kah Yan
BMB international student Kah Yan talks about her experience of the programme
ICSM Student Support & Welfare
ICSM Student Services Manager, Fran Bertolini, talks you through the ICSM welfare support
Admissions and Selection
What is the School looking for?
The School of Medicine aims to equip its Medical Biosciences graduates with the scientific rigour and skills, analytical ability and professional outlook required to succeed in a changing world.
The School looks for capable, determined and resourceful individuals from diverse backgrounds with wide interests, who show an understanding of medical biosciences as a career and demonstrate a passion for the field. We aim to ensure equality of opportunity for all individuals.
The School of Medicine welcomes applications for entry to the course irrespective of colour, ethnic or national origin, gender, religion, politics or disability. This requires that the process of student selection is objective, transparent, open, fair and free from discrimination of any kind. Our selection process is bound by the College's policy on Equality and Diversity.
What do we assess you on?
All applicants must fully complete the UCAS form. In their personal statement, applicants should include information supporting their suitability for the course, and an academic reference. The personal statement should demonstrate that the applicant has a well-rounded understanding of the biomedical field, can talk to other interests outside of science and may include experiences which highlight the applicant's key attributes and skills.
What are our Entry Requirements?
B101 Medical Biosciences BSc (three-year course) and B111 Medical Biosciences with Management (four-year course)

A-level:The typical offer is three A levels or equivalent qualifications, including an A in Biology or Human Biology, an A Chemistry, Physics, Mathematics or Further Mathematics and an A in a third subject.
If the second A is in Mathematics or Further Mathematics, then the third A must be in a non-Mathematics subject. General Studies and Critical Thinking are not accepted.
International Baccalaureate: 38 points (to include grade 6 in Biology and grade 6 in either Chemistry, Physics or Mathematics at higher level).
Advanced Placement: Our minimum requirement for this course is grades 5, 5, 5 to include: 5 in Biology, 5 in Chemistry and 5 in a Mathematics or Science subject.
Practical endorsement (practical science assessment): If you are made an offer you will be required to achieve a pass in the practical endorsement in all science subjects that form part of the offer.
All international applicants must have an acceptable English language qualification.
Admissions Schemes
Each year, we aim to admit students who can make their own unique contribution to our learning community. Achieving this means looking beyond purely academic achievements and considering the performance of each applicant in context during the admissions process – considering factors such as their economic, social and education background. You don't need to do anything except apply - your application will be considered individually alongside these contextual factors.
For more information, please see our Admissions Schemes webpage.

Your dedicated School of Medicine Students' Union
One of the most amazing things about School of Medicine is the bespoke Student Union – you get access to a dedicated Student Union focused on the needs of students within the School of Medicine, with student officers elected by you to work with the Faculty and College to make positive change to your student experience.
This builds a clear camaraderie and closeness amongst our students. We have a thriving community full of amazing clubs or societies for everyone to find their niche. There is a phenomenal level of peer-to-peer support, especially with education, where we have several academic societies organising phenomenally useful tutorials, lecture series and mock exams.
Hear from your ICSMSU Officers
From Angellica Marta, Incoming BMB President 2022-23
"Hi, my name is Angellica, and I'd like to welcome you to the Medical Biosciences course! With a lab-intensive course like BMB, we are deployed with highly sought-after skills in research. This can be a new experience for you, but as the upcoming president of the BMB society, I am happy to help you navigate through your time here at Imperial.
Outside of the course, Imperial provides a well-rounded student experience. There's an abundance of societies and events you can join, a diverse set of students to befriend, and an endless array of activities to do in London! No matter what you like, you will find a group of people sharing the same interest. Imperial has fostered a community where we can grow and learn from each other, and I am excited for you to join us!"
From Tania Varshney, ICSMSU Welfare Vice Chair (Wellbeing)
"The Wellbeing Representation Network is an integral part to the ICSM community. Medicine and Medical Biosciences are high performing and fast-paced courses and it is paramount that the Faculty of Medicine can understand the issues that students face outside of their academic lives and that student wellbeing is held at the same level as academic excellence. The nine Wellbeing Representatives collect feedback from their respective years which they present at a number of meetings with the Faculty to ensure that staff are aware of any issues that are affecting students' wellbeing such as health, financial concerns, equality and diversity and personal safety. Through their role of supporting, advocating and signposting students, we hope to foster an environment for holistic learning and development, where students can thrive."
Student Experience and our Community
In the School of Medicine, we take your wellbeing support extremely seriously. From day one of the course, you will be allocated to a tutor who will be your point of contact for academic and wellbeing support.  Meeting in small tutor groups and on a one-to-one basis, they will be working with you to hone key skills which will allow you to perform at the best of your ability – through reinforcing study skills teaching, reviewing your academic performance and checking in on your wellbeing – and being someone who is interested in you. All of our tutors have a passion for mentoring and coaching and have many years of experience, so you are in safe hands.
 We know that sometimes circumstances beyond our control happen: you can get ill, financial problems occur or you hit a crisis. In these situations, the School has a team of Senior Tutors who support students going through these more complex stages. Acting confidentially, the Senior Tutor and the Welfare team are advocates for you to make the reasonable adjustments you need.
The School of Medicine also invests highly in your student experience – we work with your student elected reps (for both academia and wellbeing) to hear the student voice – your concerns, your successes and what you want the course to be. We work on regular wellbeing campaigns and support many student-led initiatives.
Imperial College is highly invested in looking after its students, and the Student Support Zone  is your first resource for success.