About ICCESS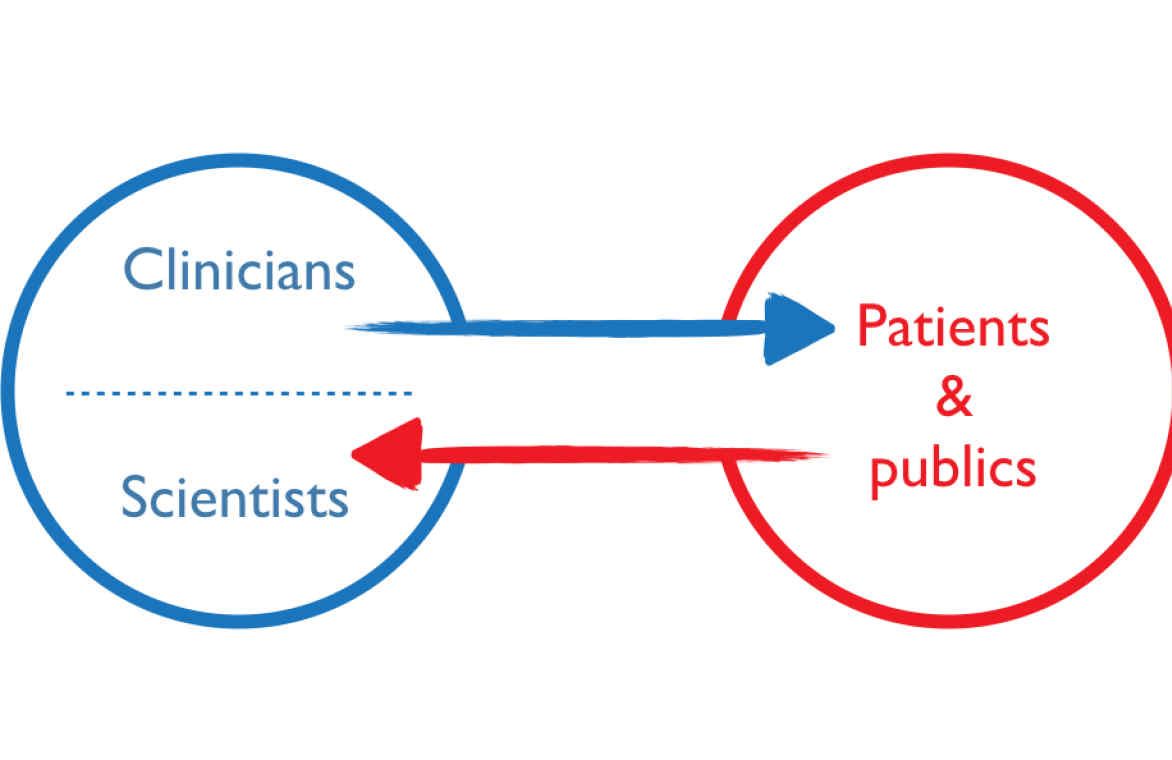 The Imperial College Centre for Engagement and Simulation Science (ICCESS) brings together expertise in developing highly realistic medical simulation tools and environments with innovative approaches to engagement.
Healthcare today holds many challenges. Finding workable solutions is not easy, and there is often no opportunity to test out proposed changes before they are implemented. The views and needs of everyone affected, including staff, publics and patients, are not always taken into account when changes in healthcare are implemented, therefore, unforeseen consequences can arise, and people can be adversely affected.
Simulation allows us to pilot changes, test and train new approaches to healthcare before they are implemented in the real world. Engagement enables all those affected to come together and contribute their different perspectives. Our work is underpinned by our engagement through simulation methodology, which can be summarised by the following steps:
Problem identification and specification:

In discussion with stakeholders, a relevant healthcare problem or challenge is identified, including relevant clinical processes or procedures. The desired aim, objectives and outcomes are specified. Examples of these could be skills training, care pathway optimisation, enhanced patient experience.

Development of simulation of real-life clinical processes or procedures:

These could take several forms, such as a physical device or technology designed to replicate an operation, or the recreation of clinical environments within which a patient care pathway can be re-enacted.

Execution of simulation:

The simulation is executed with the participation of relevant parties that would normally be involved or affected such as clinicians, patients, hospital management.

Systematic sharing of multiple perspectives:

Using the simulation as a vehicle, participants and observers share their experiences and perspectives (how did they perform, how did observing the simulation make them feel, how things may be improved, etc), which are systematically captured for analysis.

Analysis and feedback:

Multi-modality data (audio, video, notes, performance metrics, etc) is rigorously analysed and used to report the performance during the simulation and ensuing discussions between participants and observers. The original aims, objectives and outcomes are reviewed, with the results fed back into the simulation and to stakeholders.

Iteration and refinement:

Based on the results and analysis, steps 2-4 may be revisited as necessary, with further refinement of the developed simulation taking place and additional simulations executed as necessary.
---
Our Values
We are pioneering

simulation as a means of addressing challenges in health care

We are passionate

about our work and everything we do

Collaboration

is an essential part of what makes our work successful

We are inspiring

others to think differently and do better

Our work is impactful

– it delivers meaningful change and benefits people

We are rigorous

in our scholarly activities – research is at the heart of everything we do

We are supportive

of each individual within our team to develop their own identity and potential
---
Our Research
Research is an integral part what we do. It informs and drives each step of our methodology, contributing to our long-term goal of developing the science of engagement through simulation. Our research is focused across the following four themes, which reflect the diverse nature of our work:
For more information on our areas of research and current projects visit the Our Work section.
---
Collaboration
Effective collaboration with clinicians, scientists, patients and the wider public is key to the work of our Centre. By developing our work through collaboration within and beyond Imperial College, we aim to make engagement and simulation science a vital component of translational research. Our current collaborations can be broadly grouped in the following:
Collaboration
Clinical Collaboration
Using simulation to model key areas of patient care and clinical practice
Scientific collaboration
Working with groups across Imperial College to help new scientific discoveries make the transition into clinical practice with the involvement of patients and publics
Non-medical collaboration
Working with experts in performance, craft, the arts and major Albertopolis institutions to gain new insights into clinical practice
By developing our work through collaboration within and beyond Imperial College we aim to make engagement and simulation science a central component of translational research.