Spaces
Spaces overview
Lab space
Labs with separate write up areas ranging from 410-1130 square feet. Each Laboratory has adjustable benches, sinks, eyewash stations, gas & electrical supply, ventilation for fume and flow hoods and highspeed telecommunications.
Meeting rooms
Five shared meeting rooms capable of accommodating groups of 10 to 15 people equipped with audio-visual equipment and media capabilities. The Incubator also has two large conference rooms which when combined can host up to 100 people.
Offices
Individual private office suites ranging from 150 to 344 square feet. Style and size varies to suit our clients. Power, telephone and high-speed network points as standard. Fully furnished with room to grow.
Laboratories
Ambitious, fast-growing startups need offices and laboratories to match their needs. The Incubator's facilities are modern, well-equipped and versatile, allowing you to manage your business efficiently and effectively.
Our laboratories feature:
Separate write-up space
Adjustable benches and sinks
Essential safety features including eye-wash stations and mechanical ventilation for fume and flow hoods
Gas and electrical supply
High speed communications networks and telecoms services
Access security control systems
Client companies also have access to shared equipment including an autoclave and glass wash.
Shared laboratory:
The shared laboratory at the Imperial White City Incubator is designed to help startup deep science companies who need their own laboratory space. These companies are at the very beginning of their journey and cannot afford to take on the expense of their own fully equipped laboratory. The shared lab will provide basic equipment and consumables to help these incredibly innovative companies take the first step on their journey.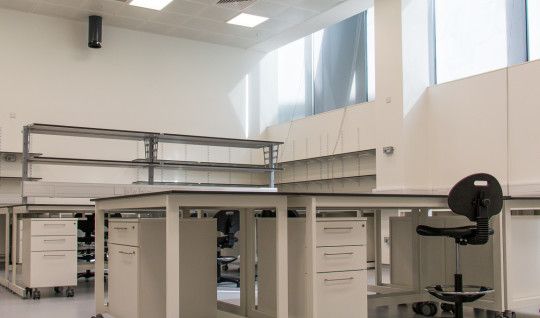 Offices
We have a range of offices to suit your needs.
Individual private office suites range in size from 150 square feet to 344 square feet. We offer a range of private offices varying in size and style to suit the needs of our companies.
All of our office suites have power, telephone and high-speed network points. Office suites are furnished with chairs,desks and filing cabinets to the suggested space specification.
Meeting rooms
The Imperial White City Incubator has five meeting rooms which can accommodate groups of 5 to 15 people, providing media capabilities, smart boards and audio visual equipment.