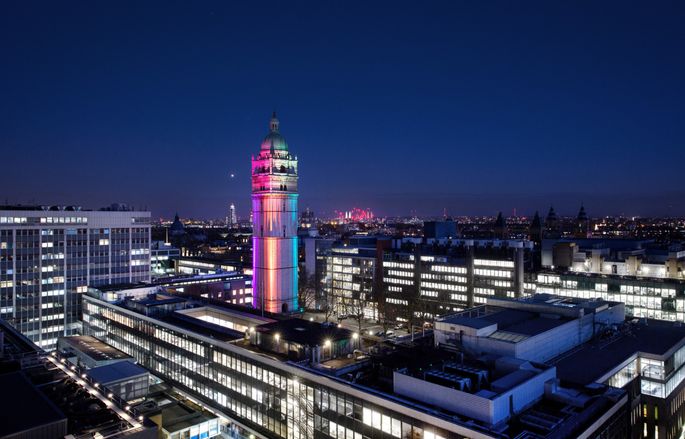 Every February, the College lights up the Queen's Tower on the South Kensington Campus to celebrate LGBT History Month.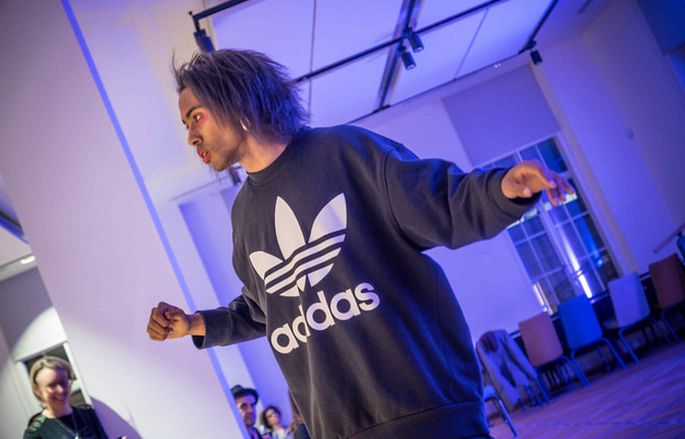 Marikiscrycrycry performing at our celebration of queer migrant identities event for LGBT History Month 2018.
Imperial 600 was established in 2006 to support lesbian, gay, bisexual and transgender staff at the College. The group's name reflects the estimation that around 10% of the UK's population is LGBT – in 2006 this equalled 600 of Imperial's 6,000 staff.
Imperial 600 today remains an active staff network, welcoming LGBTQ+ staff and postgraduate students and straight allies.
We exist to support the creation of an inclusive culture at Imperial by:
Organising events for LGBTQ+ staff and allies.
Signposting relevant wellbeing services.
Supporting the improvement of College policies and practices to ensure they are LGBTQ+ inclusive.
Providing a confidential point of contact for staff to raise issues or to discuss any concerns they may have in relation to LGBTQ+ issues.
---
Join Imperial 600 mailing list
To stay up to date with news and events for Imperial 600 members please join our mailing list by filling in this quick registration form.
We send out updates on a weekly basis via Mailchimp, which is an external provider, based in the USA.
Please view our Privacy Notice to see how we use the data we collect about you as part of this process and how we use that data.
---
Rainbow lanyards
Until there are plans in place for a safe return to campus, we are unable to confirm the next times we'll be giving out rainbow lanyards.
When back on campus, even if you've already got a lanyard, please do pop along and say hello so we can meet you (if we haven't already) and catch you up on what's happening with the network.

For on-the-day reminders, why not follow us on Twitter?

The lanyards are limited in number so we only give them out to people on the Imperial 600 mailing list but we'll bring a laptop so non-members can sign up on the day and receive one.
---
Social events
We hold regular events for Imperial 600 network members.
This includes events to raise awareness of the network and celebrate diversity such as marching in the Pride in London parade.
See how we got on in this year's parade where we joined forces with our respective networks at UCL and King's.
We also hold events as part of extended networks we have formed with organisations beyond the College:
Exhibition Rd LGBT+ network, created with our museum neighbours (V&A, Science Museum and the Natural History Museum)
LUKI LGBT+ collective, formed with our counterpart networks at LSE, UCL and King's
Subscribe to the Imperial 600 mailing list for details of how to join us, as well as information on other upcoming network events.
---
How Imperial 600 is run
Imperial 600 is currently co-chaired by Simon Levey and there is a vacancy for a co-chair. To get in touch, please send us an email.
The network doesn't have a formal committee. Instead it has a steering group, comprising all network members.
The steering group meetings, held termly, are therefore open to all network members to attend.
Network activities are delivered by members of our Imperial 600 operational group [PDF], who meet more regularly.