Events
Events Listing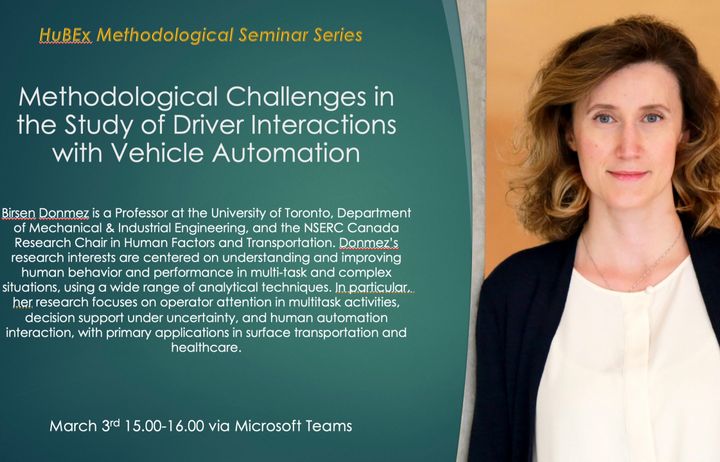 HuBEx Methodological Seminar Series no. 1 - 3/3 2021
Methodological Challenges in the Study of Driver Interactions
Birsen Donmez is a Professor at the University of Toronto, Department of Mechanical & Industrial Engineering, and the NSERC Canada Research Chair in Human Factors and Transportation. Donmez'sresearch interests are centered on understanding and improving human behavior and performance in multi-task and complex situations, using a wide range of analytical techniques. In particular, herresearch focuses on operator attention in multitask activities, decision support under uncertainty, and human automation interaction, with primary applications in surface transportation and healthcare.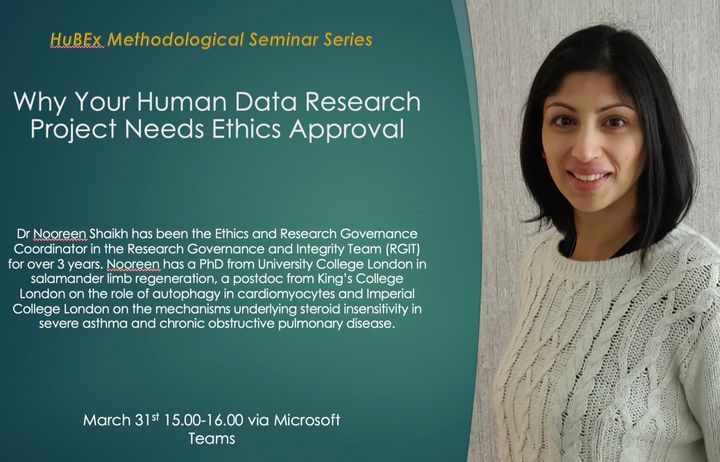 HuBEx Methodological Seminar Series no. 2 - 31/3 2021
Why Your Human Data Research Project Needs Ethics Approval
Dr Nooreen Shaikh has been the Ethics and Research Governance Coordinator in the Research Governance and Integrity Team (RGIT) for over 3 years. Nooreen has a PhD from University College London in salamander limb regeneration, a postdoc from King's College London on the role of autophagy in cardiomyocytes and Imperial College London on the mechanisms underlying steroid insensitivity in severe asthma and chronic obstructive pulmonary disease.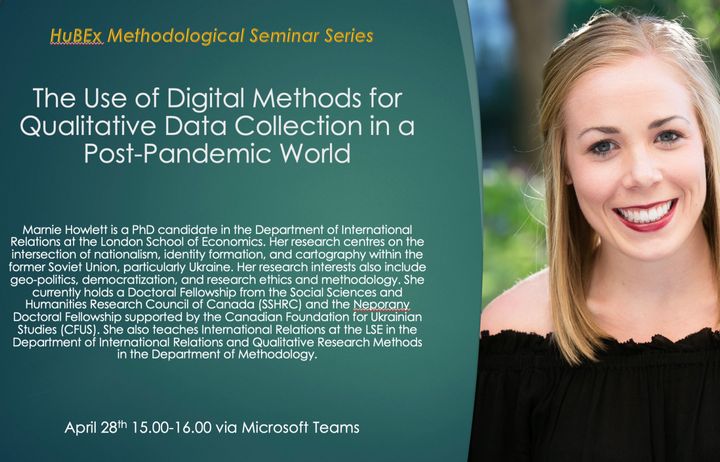 HuBEx Methodological Seminar Series no. 3 - 28/4 2021
The Use of Digital Methods for Qualitative Data Collection in a Post-Pandemic World
Marnie Howlett is a PhD candidate in the Department of International Relations at the London School of Economics. Her research centres on the intersection of nationalism, identity formation, and cartography within the former Soviet Union, particularly Ukraine. Her research interests also include geo-politics, democratization, and research ethics and methodology. She currently holds a Doctoral Fellowship from the Social Sciences and Humanities Research Council of Canada (SSHRC) and the Neporany Doctoral Fellowship supported by the Canadian Foundation for Ukrainian Studies (CFUS). She also teaches International Relations at the LSE in the Department of International Relations and Qualitative Research Methods in the Department of Methodology.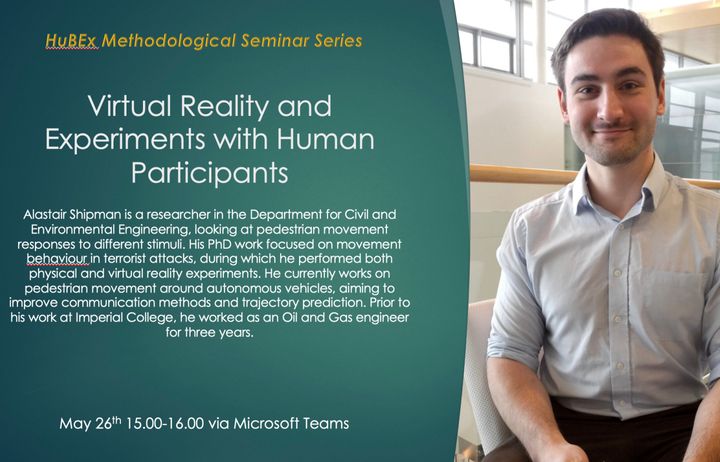 HuBEx Methodological Seminar Series no. 4 - 26/5 2021
Virtual Reality and Experiments with Human Participants
Alastair Shipman is a researcher in the Department for Civil and Environmental Engineering, looking at pedestrian movement responses to different stimuli. His PhD work focused on movement behaviourin terrorist attacks, during which he performed both physical and virtual reality experiments. He currently works on pedestrian movement around autonomous vehicles, aiming to improve communication methods and trajectory prediction. Prior to his work at Imperial College, he worked as an Oil and Gas engineer for three years.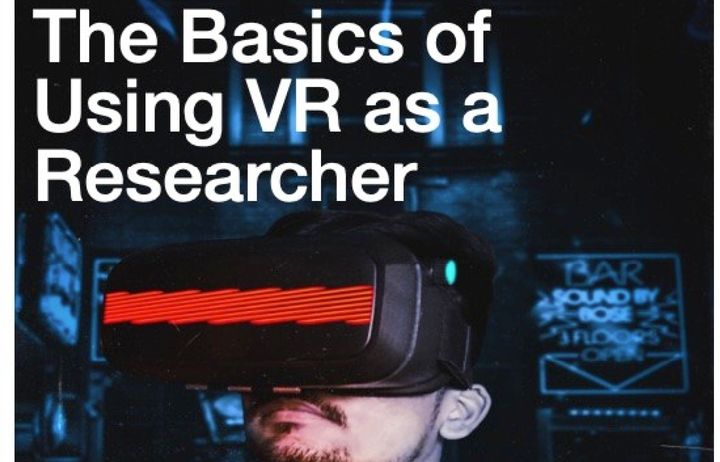 HuBEx:R Workshop - 13/12 2021
Join HuBEX:R for a free hybrid workshop
Do you want to learn how to run experiments with human participants in virtual reality? Do you want to learn how to improve your visualisations? Do you want to impress your friends and family with science fiction technologies?
HuBEX:R is running a day-long free training course on the 13th December, teaching how to develop environments in VR with a focus on experimental approaches. A 3-hour online Teams tutorial in the morning (9:00-12:00) will go through the basics of developing a VR environment and recording participant responses. An afternoon hands-on tutorial will follow (limited to 16 places, 13:00-17:00), where participants will be provided with a VR headset (Pico Neo 3 Pro Eye) and given the opportunity to develop the environment they saw in the morning session.
Both the morning and afternoon sessions will be delivered by Dr Alastair Shipman. To sign up and secure a spot, please e-mail: a.shipman16@imperial.ac.uk
Human-TechX 2022
Please note registration is required to cover catering needs – register by contacting hubex@imperial.ac.uk
The Human Behaviour and Experience (HuBEx) research network proudly presents Human-TechX 2022 – an offline networking event showcasing state-of-the-art research on human-technology experience across Imperial College. Please see the link to the event here, for more information on the keynote speakers: https://sway.office.com/qhsPapEgxOgfIVr8?ref=Link
Our keynote speakers include Professor Nigel Gilbert (University of Sussex) and Professor Sebastian Deterding (Imperial College London). Digital poster presentations will be delivered by HuBEx affiliates across themes including Computational Modelling of Human Behaviour, Extended Reality (AR, VR, MR), Socio-Technical Systems, People's Relationships with Digital Technologies, and Future of Healthcare. Drinks and nibbles will be served throughout.
Agenda
15:00 – Event opening
15:10 – Keynote 1: Professor Nigel Gilbert on "Modelling Human Behaviour — Is It Even Possible?" with audience Q&A
15:40 – Digital poster session 1
15:55 – Digital poster session 2
16:10 – Digital poster session 3
16:30 – Keynote 2: Professor Sebastian Deterding on "Computationally Modelling Motivation: What It's About and Why We Need It" with audience Q&A
17:00 – Networking with drinks and finger foods
18:00 – Event close
Date: 07/06/2022
Location: Room 301 (3rd Floor), Royal School of Mines, South Kensington campus