News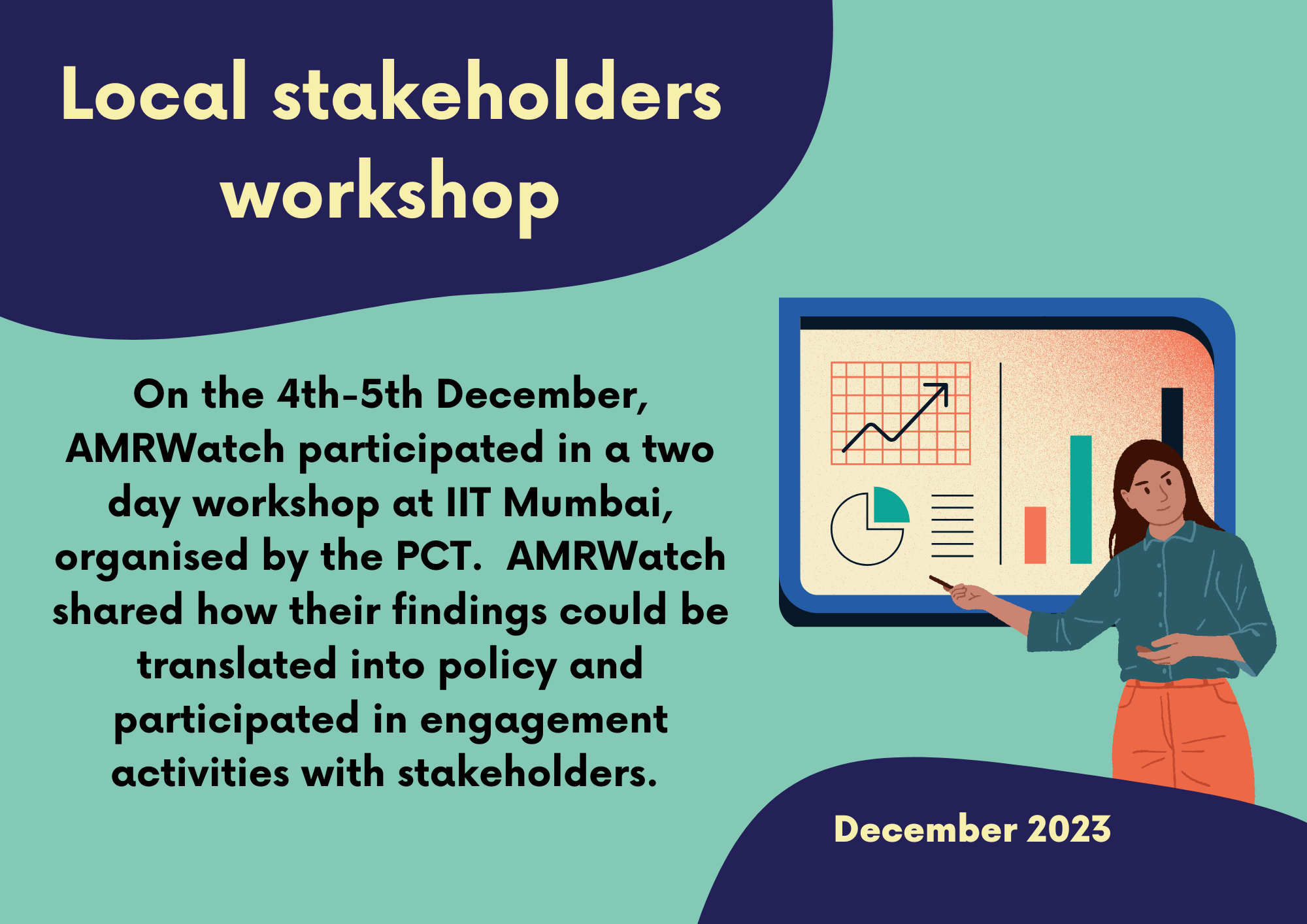 Local stakeholder workshop in Mumbai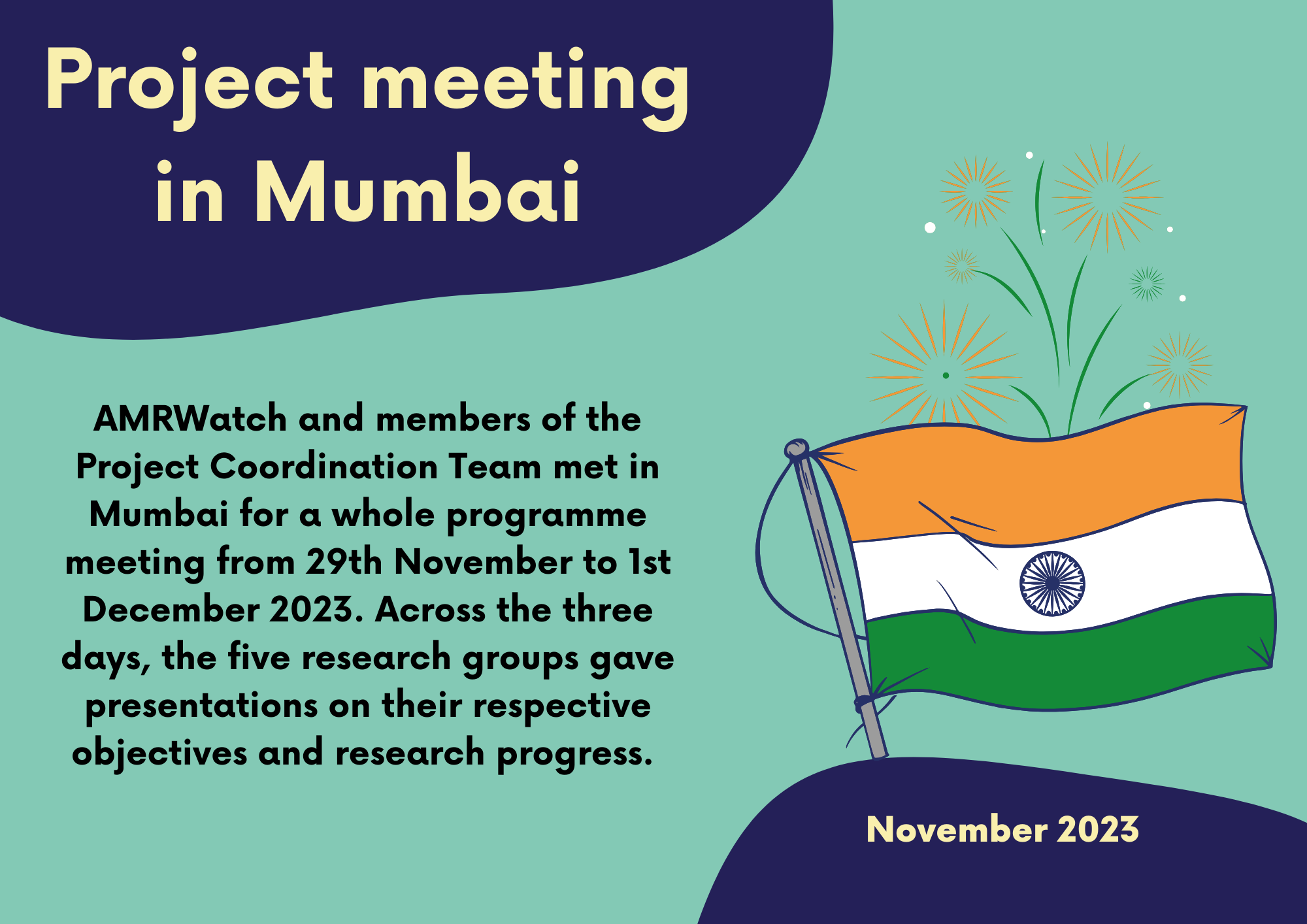 Whole project meeting in Mumbai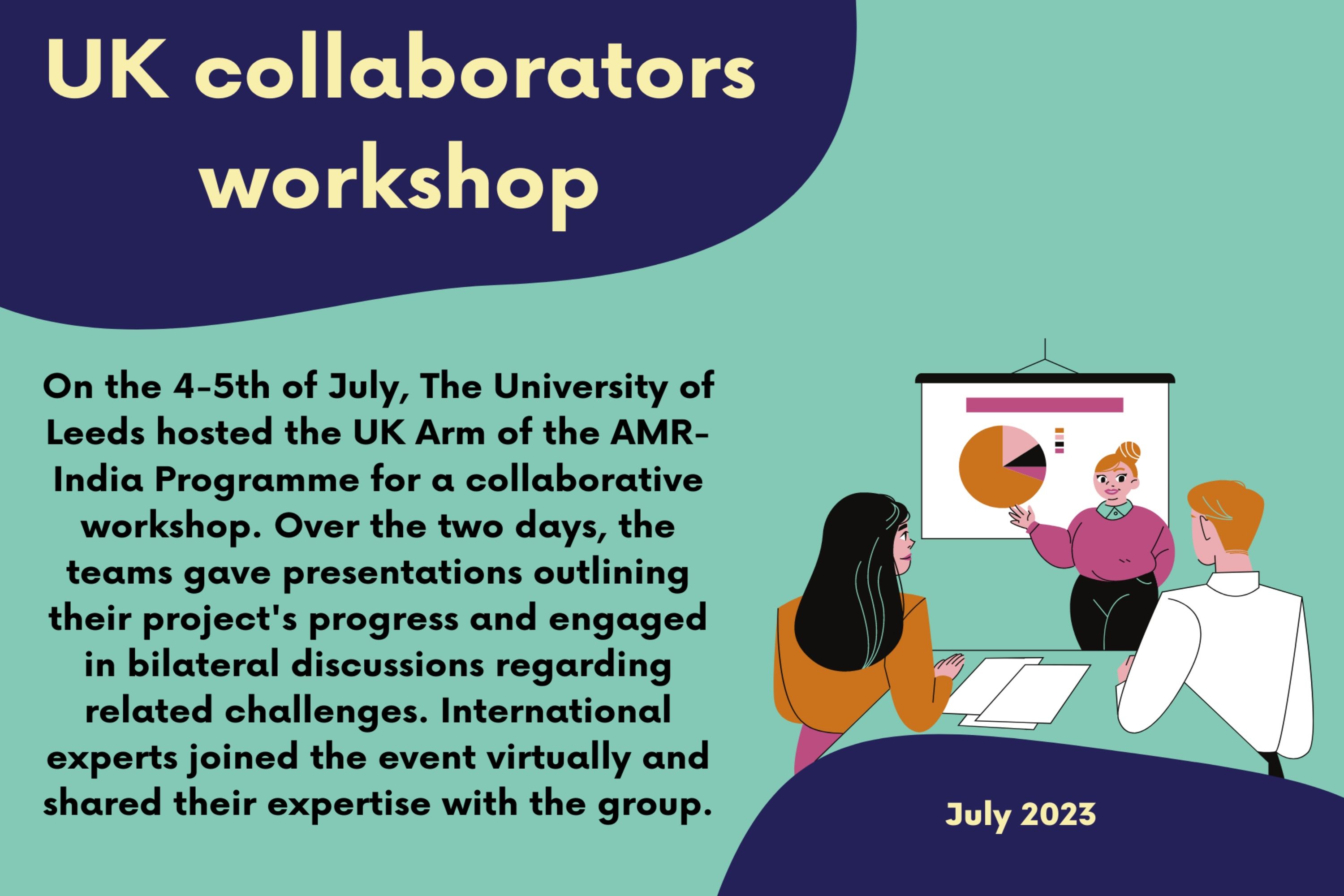 University of Leeds collaborator workshop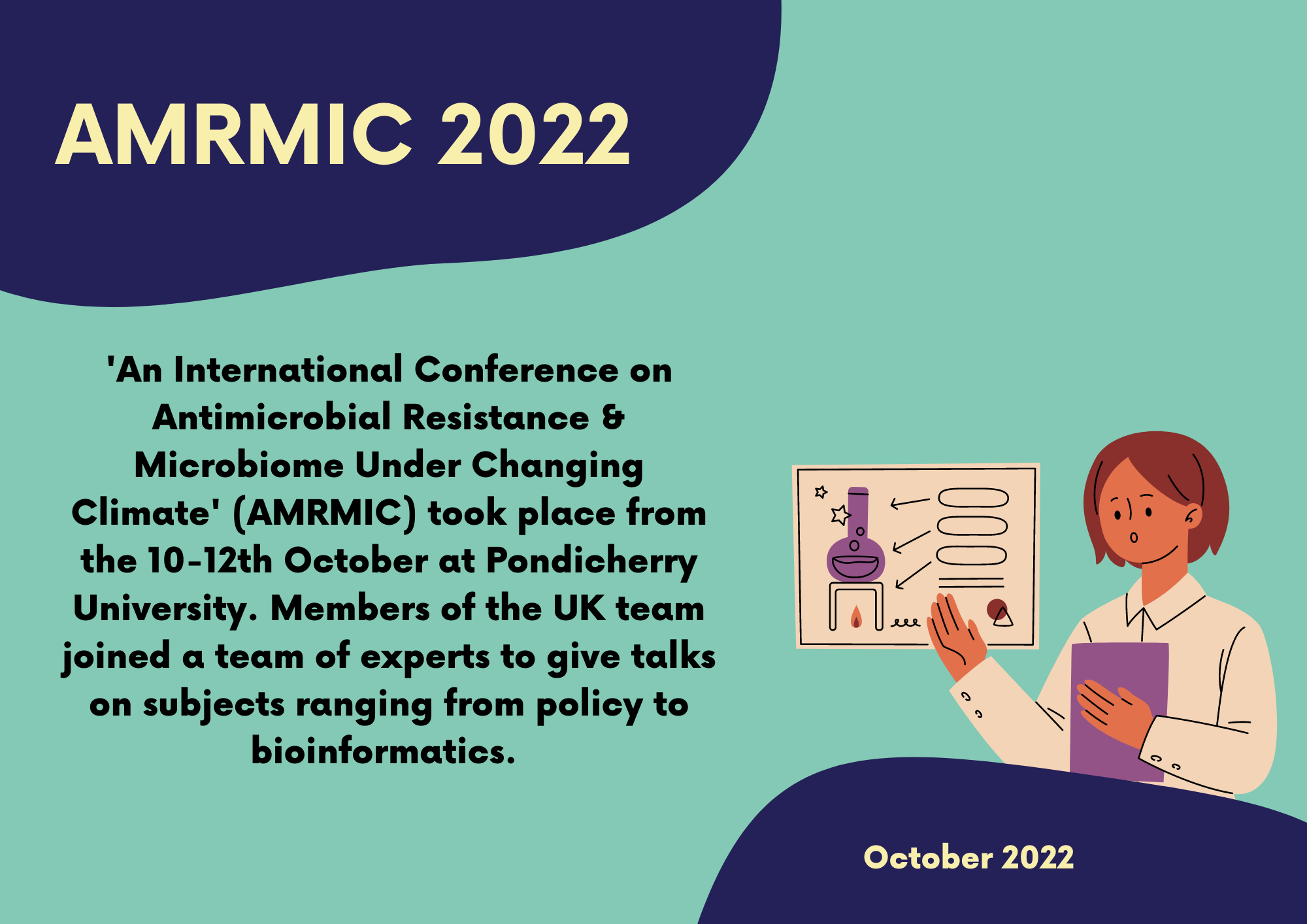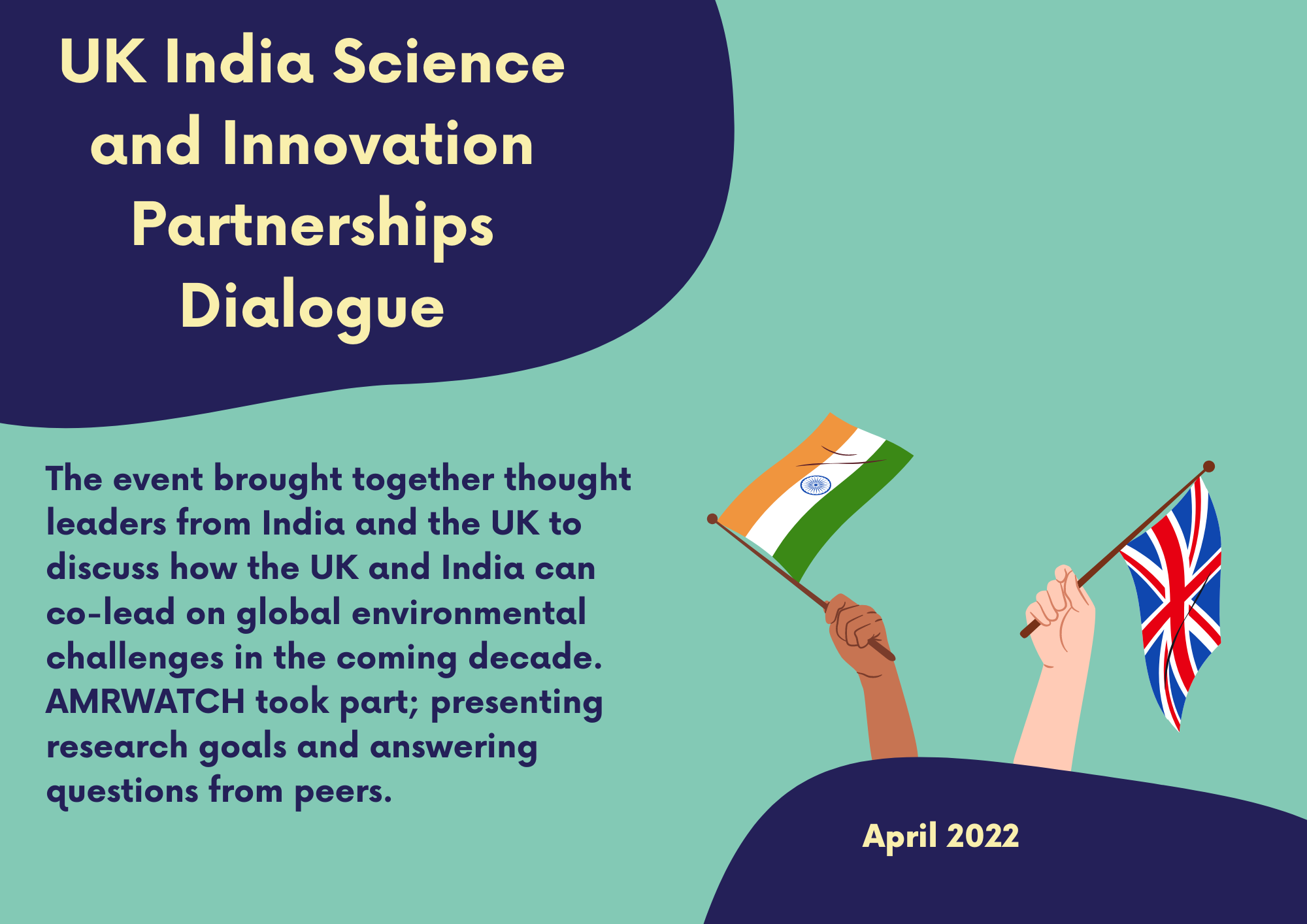 UK-India Science and Innovation Partnership Dialogue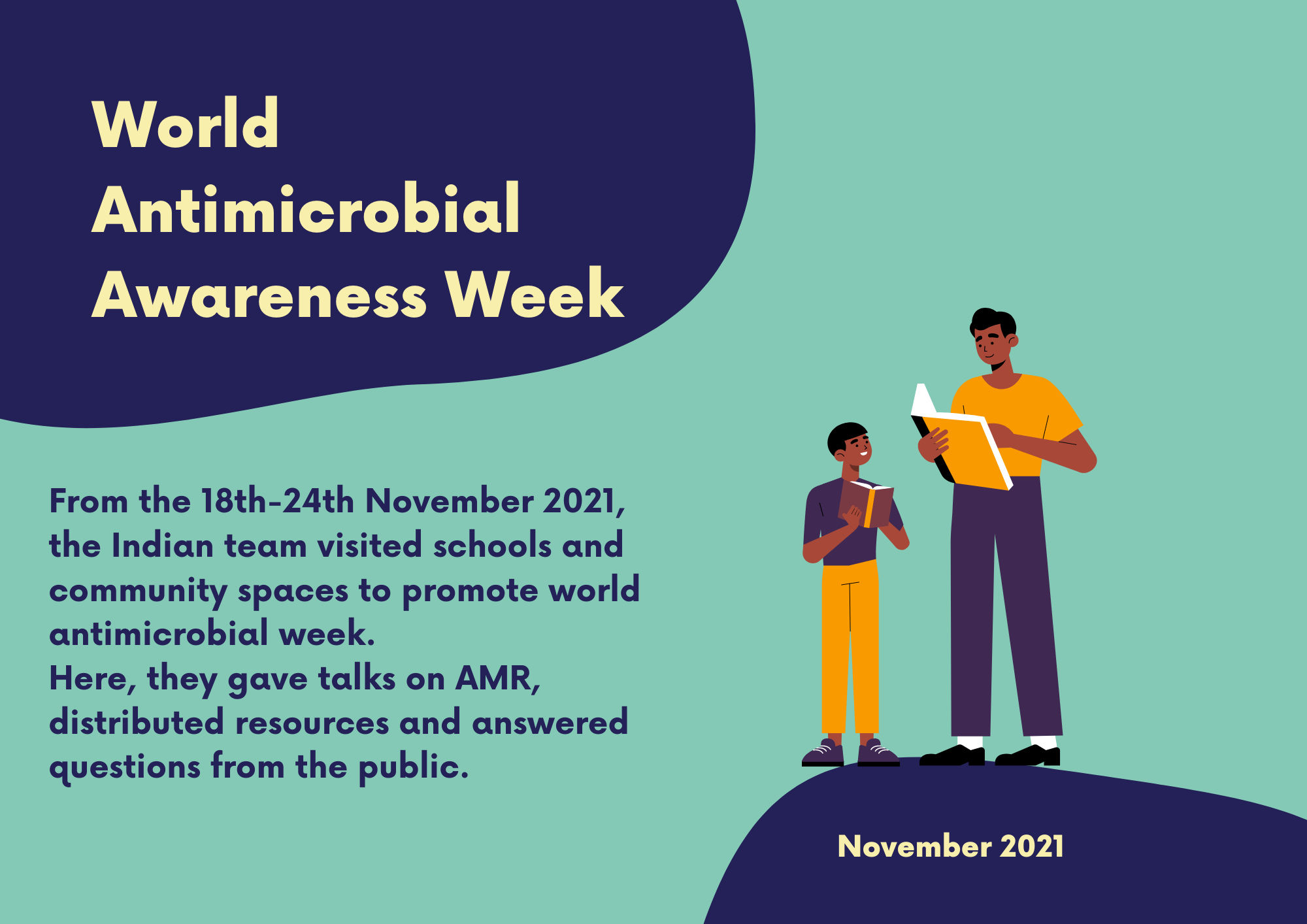 Antimicrobial awareness week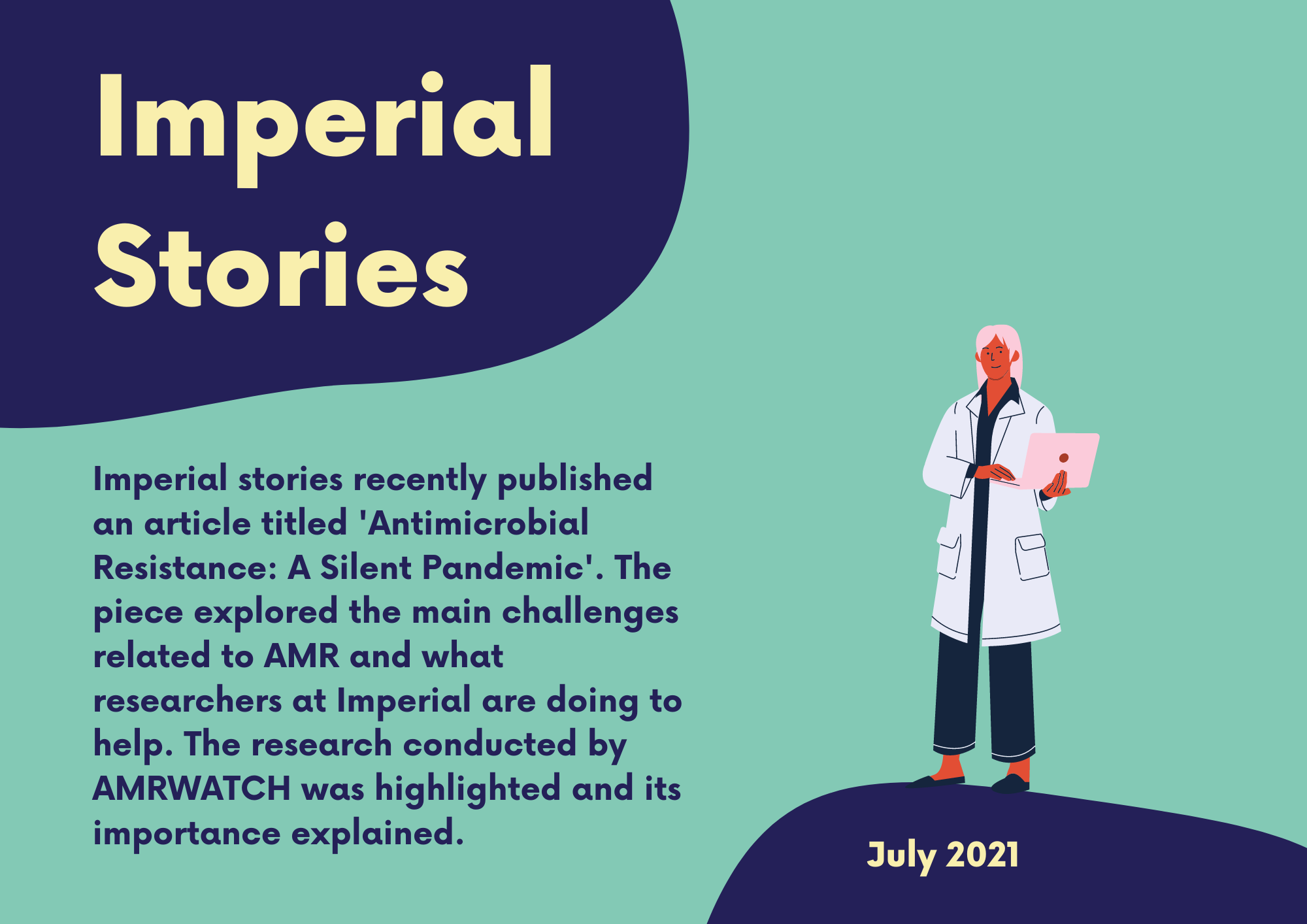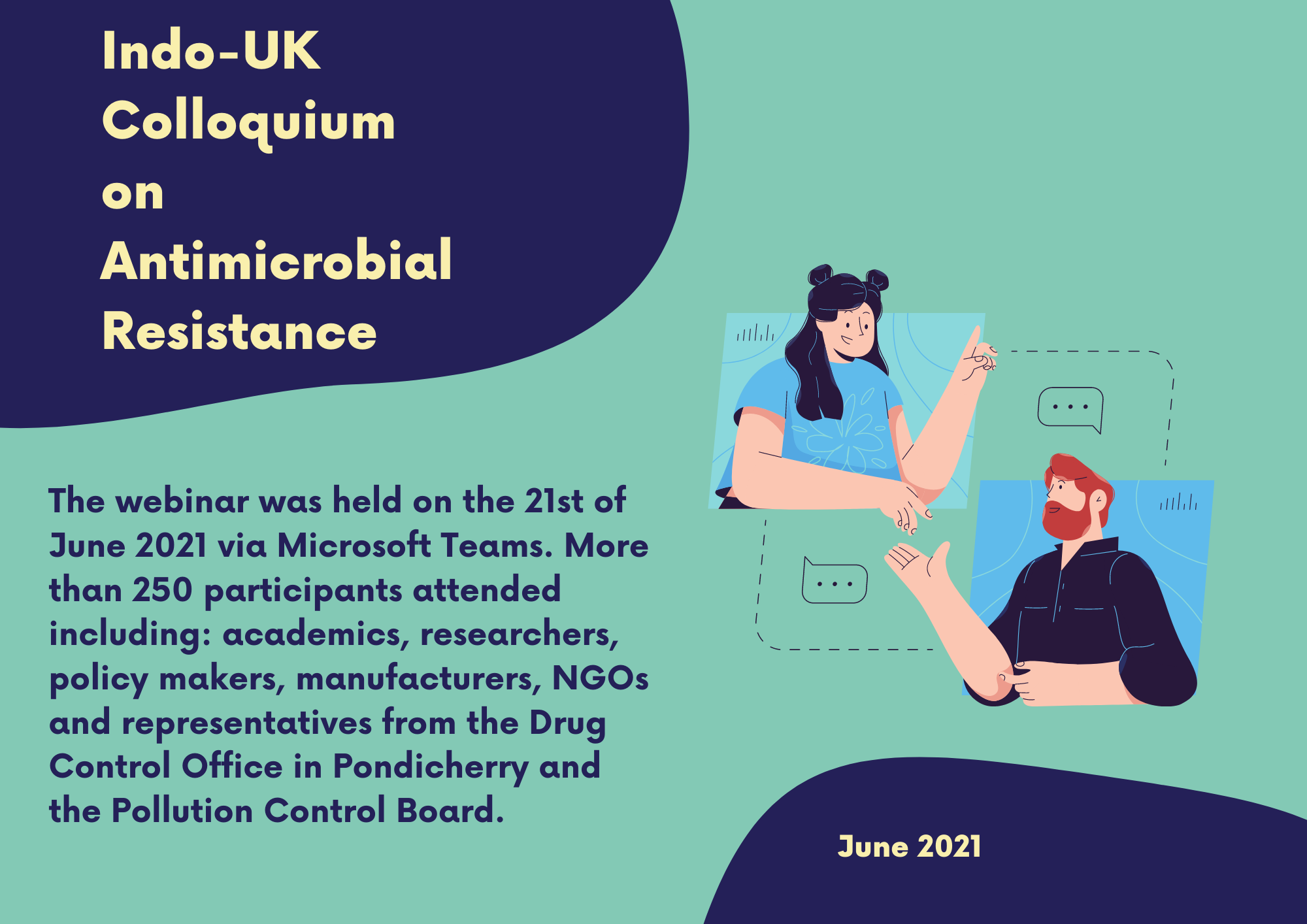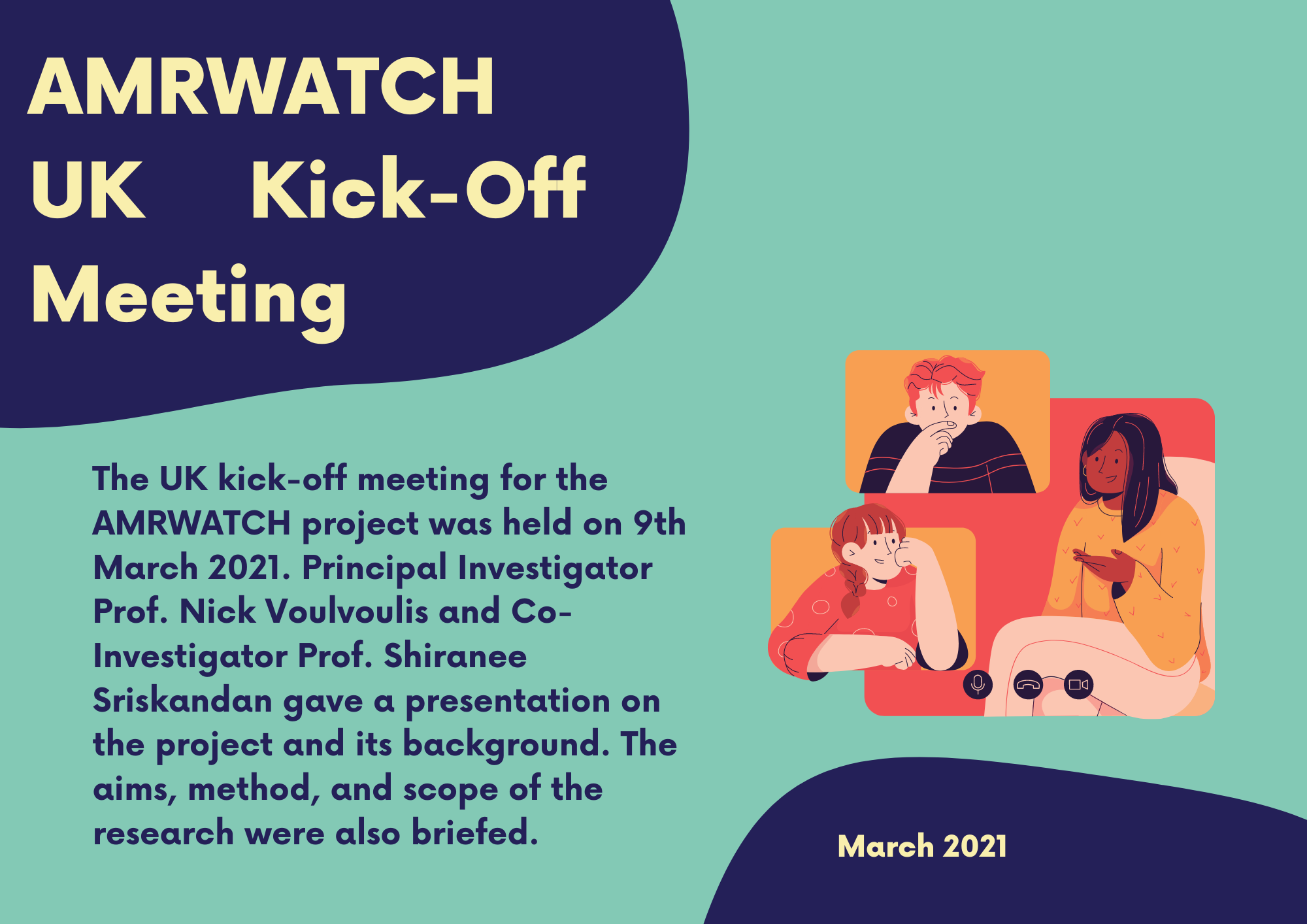 News and Events
An International Conference on Antimicrobial Resistance Microbiome Under Changing Climate 2022
On the 10-12th October 2022, the UK team joined their Indian colleagues at Pondicherry University for 'An International Conference on Antimicrobial Resistance Microbiome Under Changing Climate' (ARMIC). The conference, organised by Professor Joseph Selvin had over 250 participants and featured talks from a range of experts.
Conference themes included:
Climate Change & Biodiversity
Climate Change & Environmental Policies
Climate Change & Food Security
Policies for Preventing Antimicrobial Resistance
AMR & Clinical Implications
Microbial Genomics & Molecular Biology
Bioinformatic Tools in Metagenomics & AMR
Environmental Policies, Sustainability and Antimicrobial Resistance
The conference was reported upon in the newspaper 'The Hindu', which is now available to read online.
Mumbai Local Stakeholders Workshop
On the 4th-5th of December AMRWatch participated in a two day workshop at the Indian Institute of Technology (IIT) Mumbai, organised by the PCT for local stakeholders. External industry experts from AMR Alliance and the Centre for Science and the Environment were in attendance, participating in knowledge exchange events and sharing talks on their respective specialist subjects. Prof Voulvoulis presented AMRWatch's progress and discussed how our findings may be implemented into action.
Whole Project Meeting in Mumbai
AMRWatch and members of the Project Coordination Team met in the Indian Institute of Technology Mumbai for a whole programme meeting from 29th November to 1st December 2023. Across the three days, the five research groups gave presentations on their respective objectives and progress.
Members of AMRWatch gave the following talks:
'Project background and introduction' by Professor Nick Voulvoulis
An overview of antimicrobial production as a potential contributor to the emergence of AMR, highlighting how AMRwatch's objectives and intended outcomes fit within the international effort to tackle antimicrobial-resistant infections.
Keynote Talk: 'Emerging Challenges of AMR: R-Biofilm and Heteroresistance' by Professor Joseph Selvin
Exploring challenges relating to biofilm infections and the emerging issues presented by antimicrobial resistance such as R-Biofilm and Heteroresistance.
'Is there a human AMR problem? -An exploratory study of the local population​' by Sayaree Pan
Exploratory analysis of potentially contaminated waters in human health
'Antimicrobial quantification, method development, and preliminary results' by Nikitha Suseela
Outlining progress with the quantification of antimicrobials within AMRWatch's Work Package Two objectives.
'Searching for AMR: 1) A culture-based approach'. by Vishnu Prasad Nair
Unveiling the bacteria population and identifying resistant bacteria using a culture-based approach.
''Searching for AMR: 2) A genomics approach by Ana Vieira
The role of genomics to unveil the taxonomic composition and presence of resistant genes in different matrices (Water, Sediment, Soil and animal, fish and human faecal).
'Next Steps and PCT' by Professor Nick Voulvoulis
Outlining the future activities to be undertaken by AMRWatch with an emphasis on incorporating findings to inform policymaking. As a component of the knowledge exchange section of the PCT programme, plans for next year's "Shaping the Future" Workshop were also introduced.
University of Leeds AMR workshop
On the 4-5th of July, the SELECTAR team hosted researchers from the UK arm of the UK/India-AMR programme for a two-day workshop at the University of Leeds, representatives of AMRWATCH (Prof Voulvoulis, Dr Giakoumis and Dr Vieira) were in attendance.
Day one: External speakers Dr Jim Ryan (presented on: AMR Industry Alliance), Dr Jason Snape (presented on: Managing risk of antibiotics use & AMR) and Dr Siddhartha Prakash (presented on: Responsible Antibiotics Manufacturing Platform) gave industry perspectives on AMR and each of the five PCT projects shared their current progress.
Day two: Discussion continued on areas of shared scientific interest with a focus on analytical challenges. This was followed by an informative LCMS/MS troubleshooting session.
UK India Science and Innovation Partnerships Dialogue
On the 26th April 2022,members of the AMRWATCH presented at Imperial's UK-India Science and Innovation Partnerships dialogue.
This hybrid event brought together thought leaders from India and the UK to discuss and promote the crucial role of research, education and innovation partnerships in driving forward the 2030 Vision to create healthy, climate resilient societies. It offered a platform to discuss, inspire and help inform how the UK and India can partner to co-lead on global challenges in the coming decade.
The panel (chaired by Lord Jo Johnson), featured speakers:
Professor K VijayRaghavan, Principal Scientific Adviser to the Government of India
Sir Patrick Vallance, Chief Scientific Adviser to the UK Government
Professor Govindan Rangarajan, Director of the Indian Institute of Science, Bangalore
Professor Mary Ryan, Interim Vice-Provost (Research and Enterprise), Imperial College London.
The event is now available to watch online. Alternatively, you can read more about the event on the Imperial College London website.
World Antimicrobial Awareness Week
World Antimicrobial Awareness Week took place from 18th-24th November 2021.

The Indian team visited schools and public venues such as: Pondicherry University, Kanchi mamunivar College, Art and Craft village and, MOH Farook Maricar Government Girls Higher Secondary School
Here, they gave awareness talks on antimicrobial resistance, distributed resources and, answered questions from the public.
The team's work on the event, was featured on the front page of Thillai Mail.
Imperial Stories
Imperial stories recently published an article titled 'Antimicrobrial Resistance: A Silent Pandemic'. The piece explored the main challenges related to AMR and what researchers at Imperial are doing to help. The research conducted by AMRWATCH was highlighted and its importance explained.
To read the article, please see; Imperial Stories web page
An Indo UK Colloquium On Antimicrobial Resistance
The webinar, organized by Prof Joseph Selvin (Pondicherry University), Prof Nick Voulvoulis (Imperial College London), Dr M.S Muthu (Indian Institute of Technology), Dr R. Latha (Aarupadai Veedu Medical College & Hospital) and the AMRWATCH team was held on the 21 of June 2021 via Microsoft Teams and is now available to watch online.
More than 250 participants attended the webinar including: academics, researchers, undergraduate and graduate students, policy makers, manufacturers, NGOs and representatives from the Drug Control Office in Pondicherry and the Pollution Control Board.
AMRWATCH UK Kick-Off Meeting
The UK kick-off meeting for the AMRWATCH project was held on 9th March 2021. Principal Investigator Prof. Nick Voulvoulis and Co-Investigator Prof. Shiranee Sriskandan gave a presentation on the project and its background. The aims, method, and scope of the research were also briefed.