Sustainability

Our aims
Give preference to products and services that are manufactured (and can be used, recycled or disposed of) in an environmentally and socially responsible way, wherever possible within budgetary capacities.
Minimise the carbon footprint and water usage associated with our food procurement and production.
Empower our students and staff with greater access to information on how sustainability interacts with the food system.
Download the Sustainable Food and Drink Policy

[PDF]
Get in touch
Do you have a suggestion or query regarding our Sustainable Food and Drink Policy?
Contact us via email at tasteimperial@imperial.ac.uk
Sustainable Food & Drink Policy
As outlined in the College Sustainability Strategy 2021-26, Catering will play a central role in the transition of our campuses to more sustainable spaces. To guide this, we have developed a forward-thinking, innovative Sustainable Food & Drink Policy, which will place sustainability at the core of the decisions we make on the food and drink we serve.
The policy, led by the College's in-house catering team, Taste Imperial, will apply to all outlets, restaurants, bars and stores on-campus. It will guide the menus we develop, how we procure our food and equipment and how we increase awareness on how what we eat impacts the environment. It includes commitments to:
Phase out beef products from College menus by 30% per year, ultimately removing them entirely by 2025-26.
Make all non-dairy milks no extra charge within 2022-23.
Only serve fish that is Marine Stewardship Council (MSC) Certified.
Prioritise local, seasonal produce across-the-board.
Introduce a revised reusable cup scheme to reduce single-use cups across campus.
Increase the educational materials available in outlets on sustainable food and drink choices.
Develop community spaces to support student and staff involvement in sustainable food projects.
The Policy is now available to read: Sustainable Food and Drink Policy (Final)
Consultation process
The Sustainable Food & Drink Policy has been informed by consistent consultation with our students and staff. We have held focus groups with students and staff and have invited the feedback of our world-leading experts in the area of sustainability to ensure we are on the right track.
"Our ultimate goal is to develop and apply an ethical and sustainable procurement system to ensure that the College's social and environmental impacts are appropriately considered. While this Policy sets out ambitious objectives and targets for the next four years, I am proud to say that we are already beginning to make strides to accomplish them. We look forward to continuing to work with the Imperial community to bring about transformative change." - Kamil Khoury, Head of Catering and Events
(Read the full news article here)
Why is the Policy important?
We're reducing our beef.
The use of cows, pigs and other animals for food, as well as livestock feed, is responsible for 57% of all food production emissions, and beef alone accounts for a quarter of emissions produced by raising and growing food. The difference in emissions between meat and plant production is stark – to produce 1kg of wheat, 2.5kg of greenhouse gases are emitted. A single kilo of beef, meanwhile, creates 70kg of emissions (Guardian 2021).
This is why we're committed to reducing the amount of beef we serve by 35% per year and eliminating it entirely from our menus by 2026.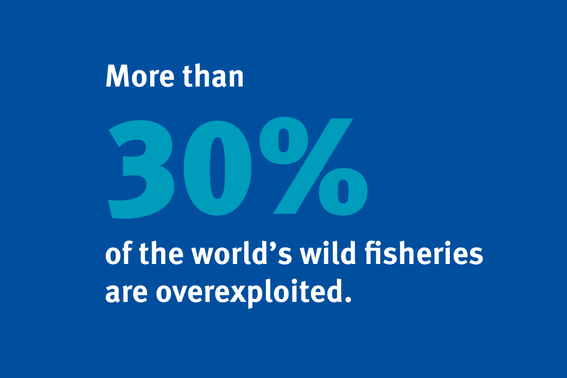 We're only serving sustainable fish.
It is estimated that 34.2% of all marine fish stocks are fished beyond biological sustainable limits, a threefold increase since monitoring started in 1974 (FAO 2021). Overexploitation not only causes negative ecological consequences, but it also reduces fish production, which leads to negative social and economic consequences.
We are committed to only serving fish that is Marine Stewardship Council (MSC) Certified - fishery that follows a set of requirements for sustainable fishing. They are independently assessed on its impacts to wild fish populations and the ecosystems they're part of.
2columnblock - 2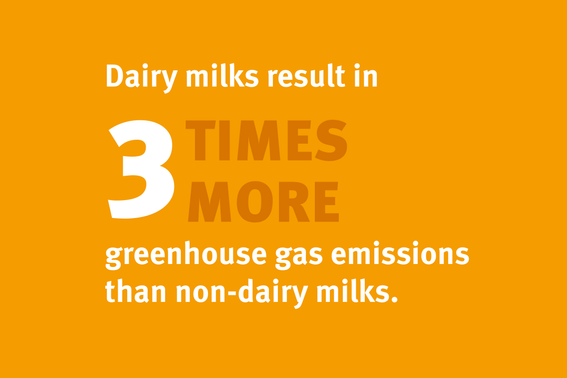 We're serving non-dairy milks for free.
Cow's milk has significantly higher impacts than the plant-based alternatives. It causes around three times as much greenhouse gas emissions; uses around ten times as much land; two to twenty times as much freshwater; and creates much higher levels of eutrophication (Our World in Data 2022).
Oat and Soya milk use significantly less water to produce and emit less CO2 to transport vs. dairy. That's why we're making all dairy alternatives free across campus by the end of 2022-23.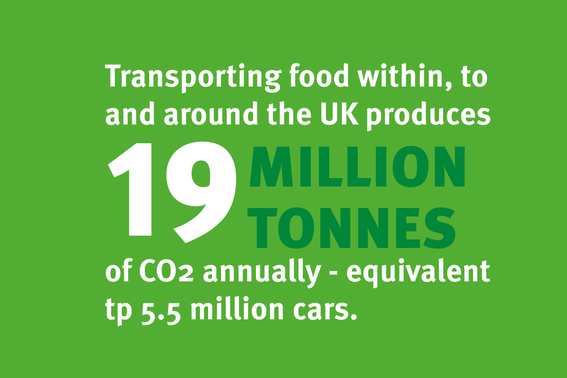 We're serving local, seasonal fruit.
Food miles are the distance a certain food has to travel from its point of origin to its point of destination. Seasonal produce reduces the number of 'food miles' and decreases the associated CO2 emissions.
We aim to stock local, seasonal fruit in preference over non-seasonal fruit.