Welcome to the Livingston Group. Our research spans the fabrication and application of molecular separation membranes. Active areas include making membranes - membrane formation, characterisation, simulation and modification – and application of membranes to molecular separations ranging from key oil and gas industry challenges to the synthesis of uniquely accurate therapeutic polymers.
Livingston group videos
Introducing the Livingston Group
The Livingston Group at Imperial Festival 2016
The Livingston Group from the Department of Chemical Engineering at Imperial College London perform research on the fabrication and application of molecular separation membranes with the overarching aim to reduce energy costs and increase efficiency of chemical separations in industry.
At Imperial Festival 2016 the group demonstrated the power of membranes to purify water by comparing the bicycle driven energy needed to purify water through distillation vs membrane purification ... the membrane bike won!
Andrew Livingston: Membranes for Separating Molecules
Professor Andrew Livingston's webinar on Membranes for Separating Molecules
Professor Andrew Livingston's webinar on Membranes for Separating Molecules. Held on 8 December 2016.
Watch to find out the latest advances on why membranes hold the key to reducing energy use, how to make membranes, using them for desalination, nanofiltration in organic liquids and the future of separation membranes.
Abstract
Membranes have had a huge impact on molecular separations in aqueous systems, especially for desalination where they can be used to separate water and salt. This can be achieved with far lower energy consumption than multiple effect evaporation, and so the Reverse Osmosis (RO) process using membranes has become well established.

It is generally accepted that 40-70% of capital and operating costs in industries from refining to pharmaceuticals are dedicated to separations; and a substantial fraction of this cost is related to processing of organic liquids. Membrane technology has the potential to also provide game changing alternatives for the processing of organic liquids, in the same way that it has done for aqueous systems.

This webinar described why membranes have been so successful in RO, how polymer membranes are made, and what the current challenges for aqueous RO membranes are. It then outlined some of the research being undertaken at Imperial College London to develop new membranes, for RO and for molecular separations in organic systems.
'Crumpled' filter has potential to slash energy consumption
Find out about the group's ground-breaking work published in Science.
Find out about the group's ground-breaking work published in Science. Find out more
Membrane sheet making facility
Making sheet membranes with Marcus Cook from the Livingston group.
Why paper-thin filters could be key to cutting emissions
Audio story with Professor Andrew Livingston on his group's latest membrane research
In this audio story, Professor Andrew Livingston gives listeners the low-down on membranes and how they are used to make many products we need in our daily lives. He also carries out 'frontier' research, where he is pushing the boundaries membranes usage forward. He and his team have developed membranes that are made from nanoscopic, twisted, fusilli-like material. He talks about how industries such as the oil and gas sector could be the big winners by adopting this technology, which in the future could cut their emissions and save energy.
Dr Patrizia Marchetti on membrane research
Her research activity covers membrane-based separation processes
Patrizia Marchetti, research associate, Imperial College London – UK

Patrizia holds a BSc (2007) and MSc (2009) in chemical engineering from the Politecnico of Milan, Italy. She obtained her PhD degree under Marie Curie Actions from Imperial College London (2013). Her work at Imperial has been sponsored by Lanxess, a German polymer and specialty chemicals group, and more recently by GSK.

Her research activity covers the fields of pharmaceutical downstream, peptide chemistry, membrane-based separation processes, functional and nano-scale materials and advanced nanoparticle assembly, transport and process modelling.

Patrizia's research achievements have resulted in several research articles and reviews in international scientific journals, two book chapters, a patent application and numerous presentations at renowned international conferences.
Sub–10 nm polyamide nanofilms for molecular separation
Dr Santanu Karan discusses the group's latest publication in Science
Separation membranes with ultrafast solvent permeance and high retention of dissolved solutes are needed to reduce the energy consumed by separations in organic liquids. Researchers used controlled interfacial polymerisation to form sub-10 nm thick free-standing polyamide nanofilms, and used these as the separating layer of composite membranes. The nanofilms can withstand pressurised filtration and achieve permeance two orders of magnitude higher than commercially-available equivalents. Dr Santanu Karan discusses the group's latest publication in Science.
The Livingston Group is a part of the Department of Chemical Engineering at Imperial College London and headed by Professor Andrew Livingston. The Group is a key part of the Barrer Centre, a research centre of excellence on membrane and adsorption science and technology which was launched in October 2016. Andrew Livingston is Director of the Barrer Centre.
The key research activities of the Livingston Group include:-
innovations for membranes in extreme environments –organic solvent systems and acidic and basic solutions;

new fabrication paradigms involving nano-engineering of thin film systems and creation of resilient support materials, to provide high performance materials with excellent definition;

characterisation of membrane structure and function;

simulation of membrane transport and membrane processes;

applications to molecular separations and purification in the oil and gas, chemicals and pharmaceuticals industries; and

application of molecular separation membranes in the synthesis of exquisitely well-defined therapeutic polymers through iterative synthesis.
Recently, the Livingston Group has been working extensively on the use of membrane separations in solvent systems, where they are able to provide new routes to catalyst recycle, product separation, and solvent operations. Pressure driven membrane processes have become an effective technique for the removal of environmentally undesirable and hazardous contaminants from aqueous systems such as natural water or wastewater streams.
The Group is highly interdisciplinary drawing together chemical engineers, chemists, physicists, biochemists and material scientists to discover and fabricate new membrane materials and designs and apply innovative techniques to new major separations challenges.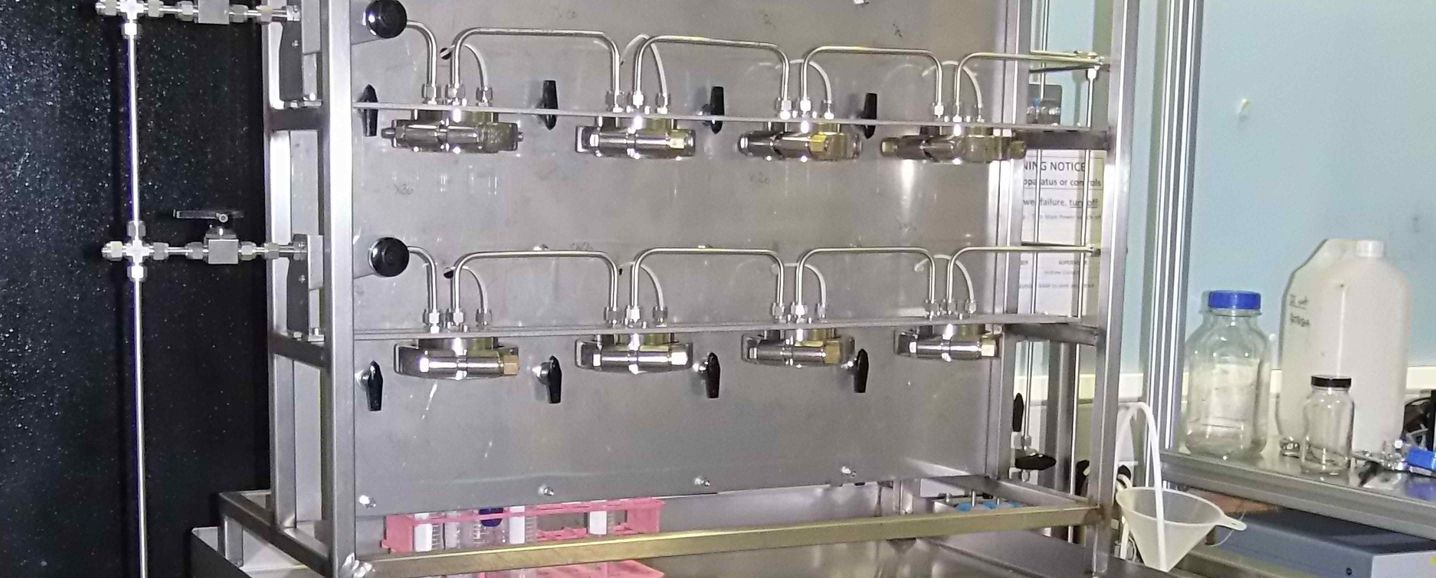 Caption: Cross Flow High Pressure Filtration Rig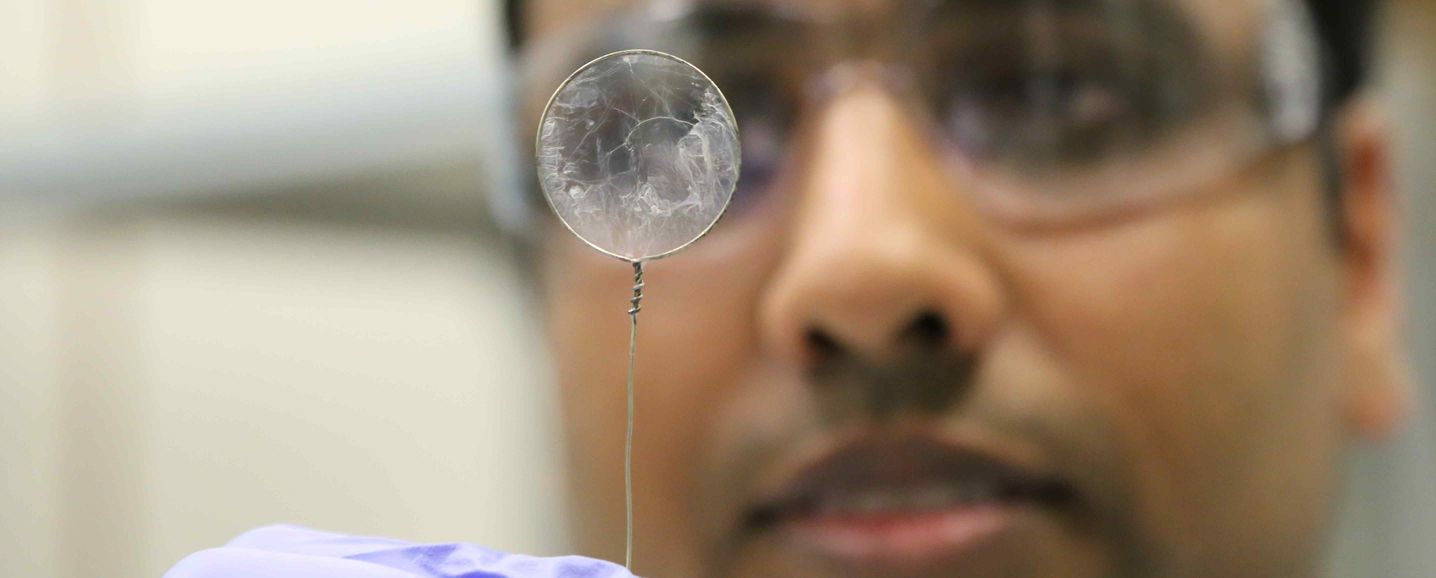 Caption: Dr Santanu Karan demonstrating a nanofiltration membrane.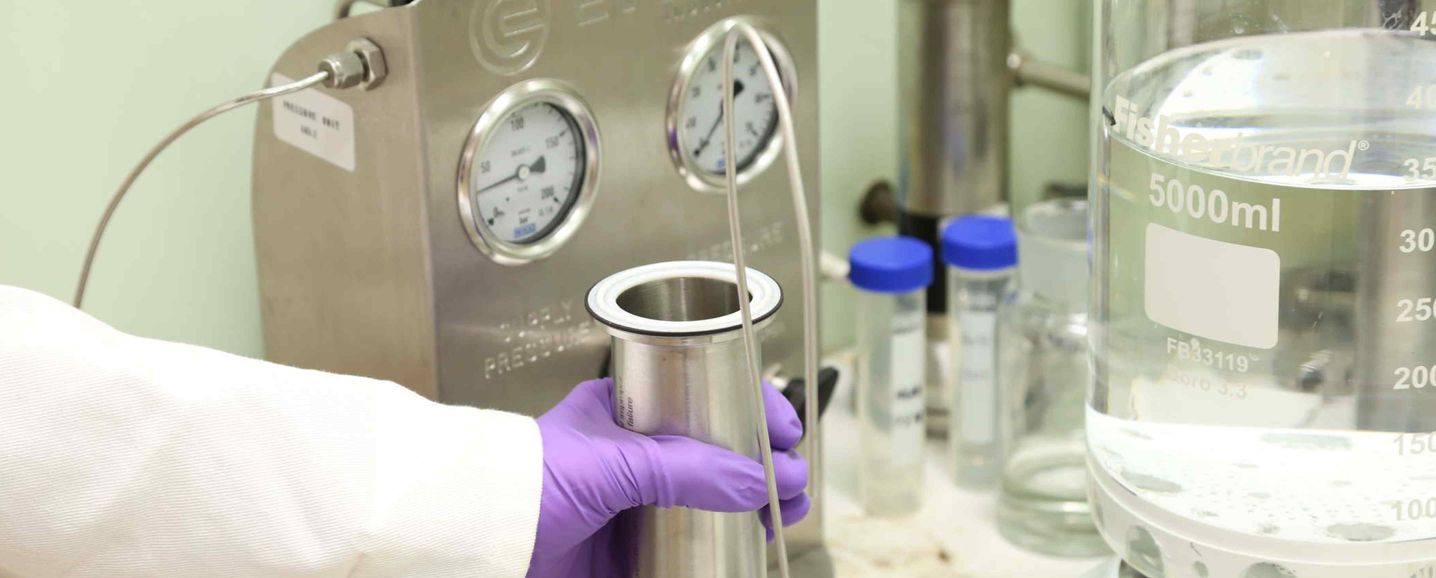 Caption: Membrane testing equipment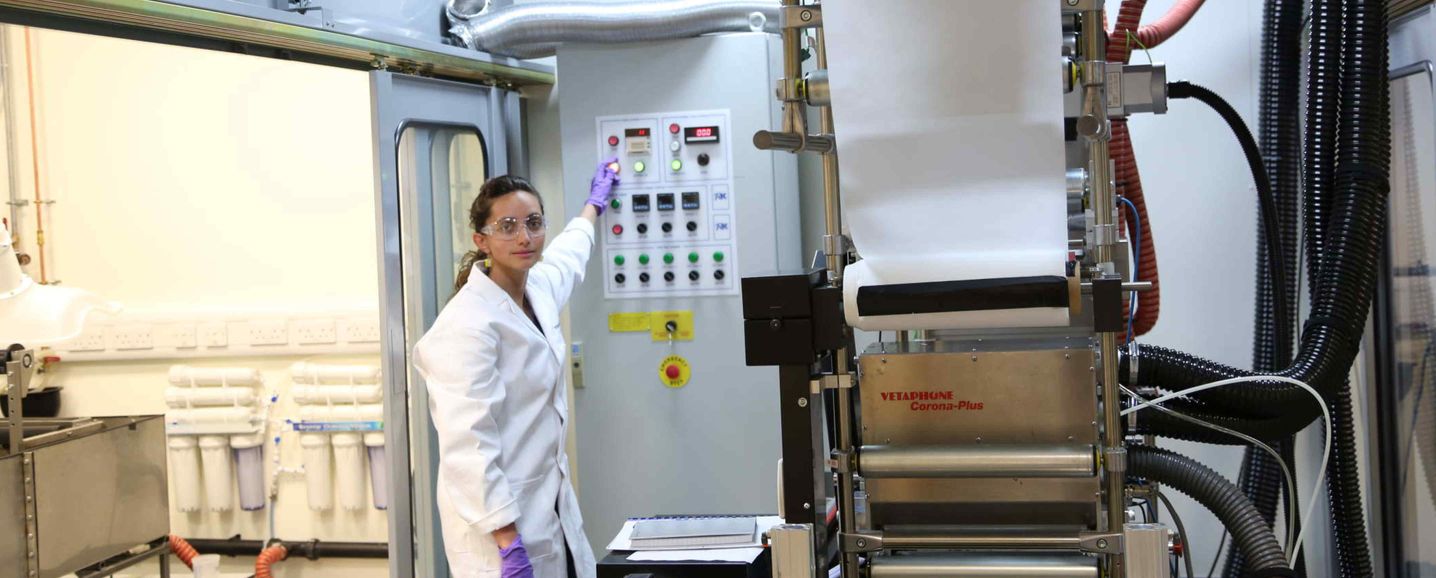 Caption: Membrane coating machine