Exercise
Regular exercise has many benefits for your physical and mental wellbeing. It's also a great way to meet new people and have some fun!
| Short term benefits include: | Long term benefits include: |
| --- | --- |
| Improved sleep quality | Lower risk of major illnesses like heart disease and stroke |
| Increased levels of energy | Lower risk of depressions |
| Improved mood | Lower risk of dementia |
Definitions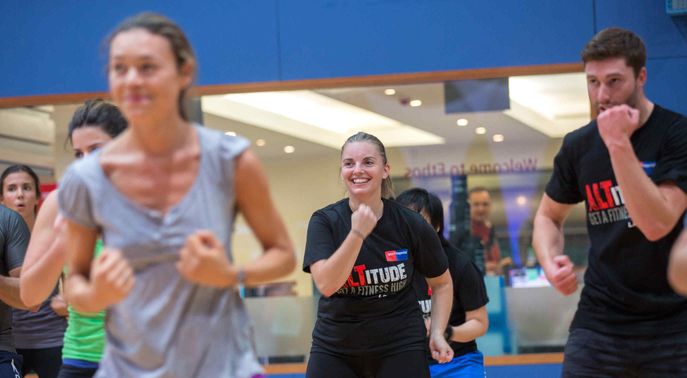 What counts as regular exercise?
The NHS recommends that we are active every day and aim to achieve around 2.5 hours of physical activity over the course of a week. Things like brisk walking or cycling are a good starting point. If you're looking for more vigorous activity, running, swimming or skipping are great ways to increase your level of exercise without breaking the bank. Team sports are another fun way to keep fit and be social at the same time.
Tips for keeping active during your studies
Understanding how much exercise to do each week is one thing, however fitting this in around your labs, research projects and exam work can seem tricky. Some top tips to help incorporate exercise into your weekly routine are:
Walk or cycle to university instead of using public transport
Take the stairs instead of the lift
Take regular breaks from your studying to go for a short work
Do 10 minutes of exercises to start off your day before leaving the house
Take part in a morning, lunch time or evening fitness class to break up your day
Non-competitive community sports
There are hundreds of non-competitive community activities that you can get involved in across London. The examples we've listed below accept people of all abilities – you don't need to be an Olympic champion to have some fun and give it a go.
Park Run is a free, weekly event where volunteers organise a 5km run in different locations across the UK – and internationally. There are dozens that take place across London, every Saturday at 09:00.
GoodGym is a community of runners that combine getting fit with doing good in the community. Running groups stop off on their route to help out with community projects in the area.
5-A-Side Football Leagues operate across London. You can join as an individual player or with a full team of mates and enjoy playing with different people in your community at some of the best facilities in the city.