Undergraduate prizes
Each academic year, a number of prizes are awarded in recognition of student achievement. These are celebrated in a prize giving ceremony held annually on Commemoration day. Each prize has been generously donated by a sponsor, with many spanning decades. We are very grateful to all sponsors for rewarding the achievements of our students.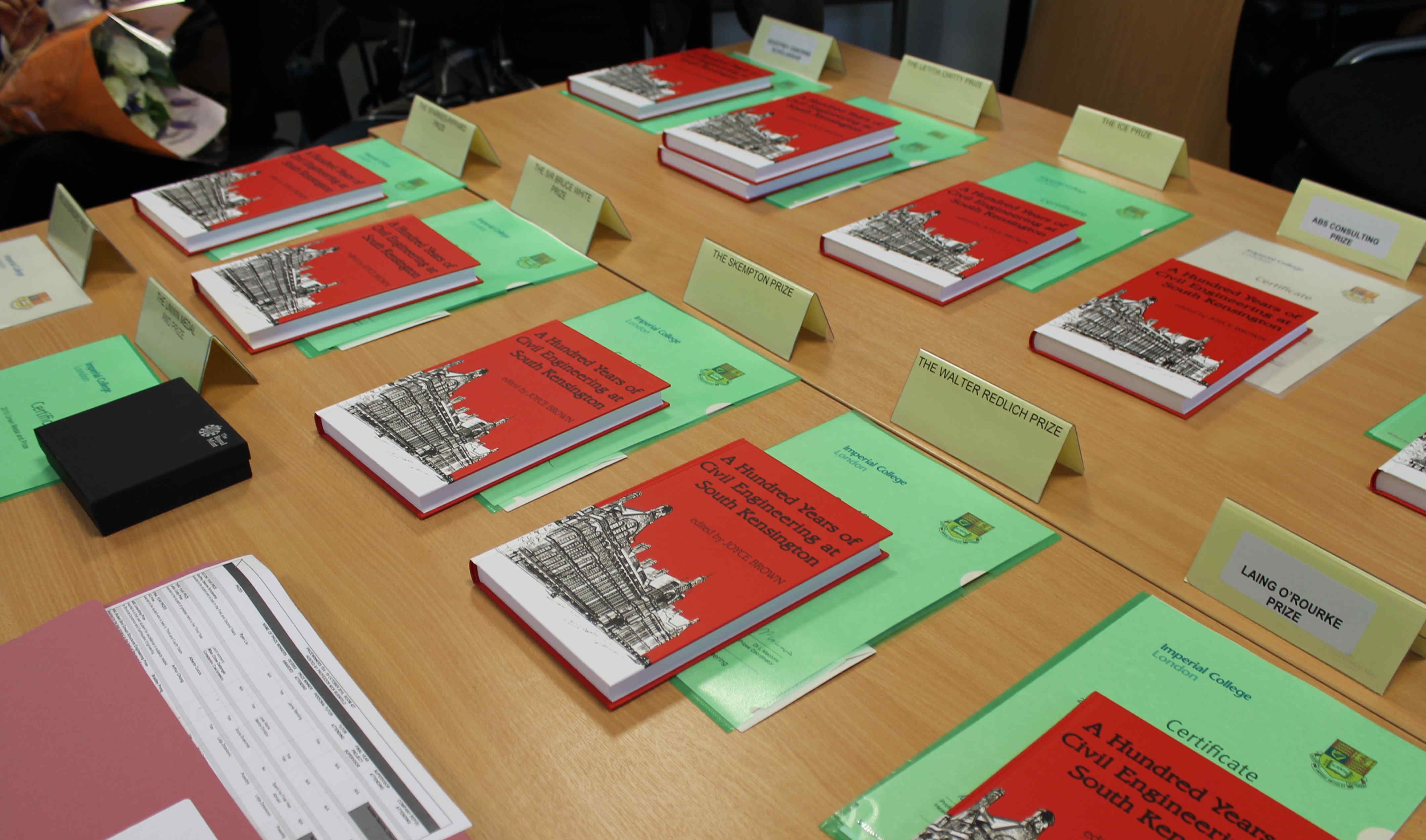 Each prizewinner receives a certificate, their prize, and a copy of a book detailing the first 100 years of our Department.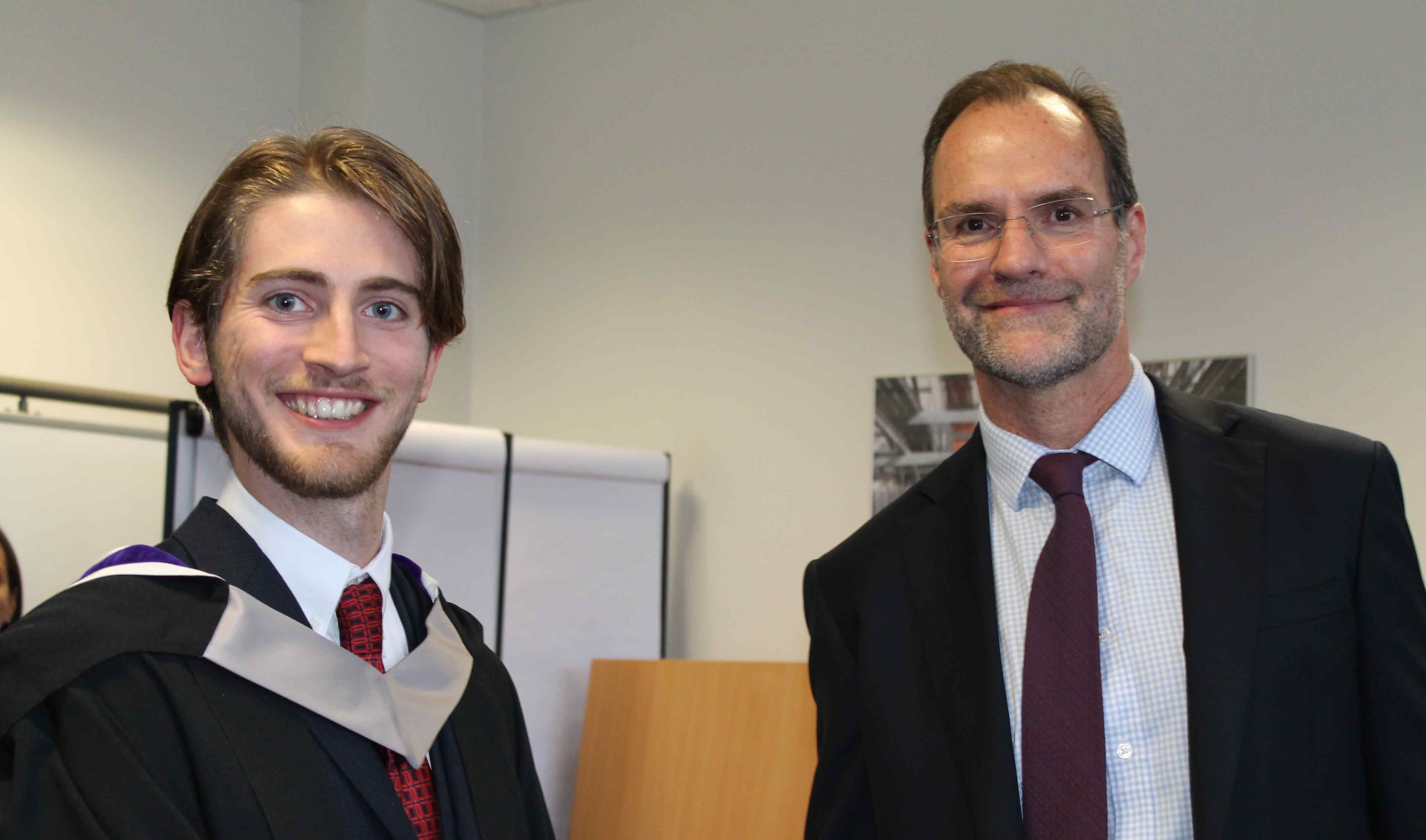 All prizewinners receive their award at a reception hosted by the Head of Department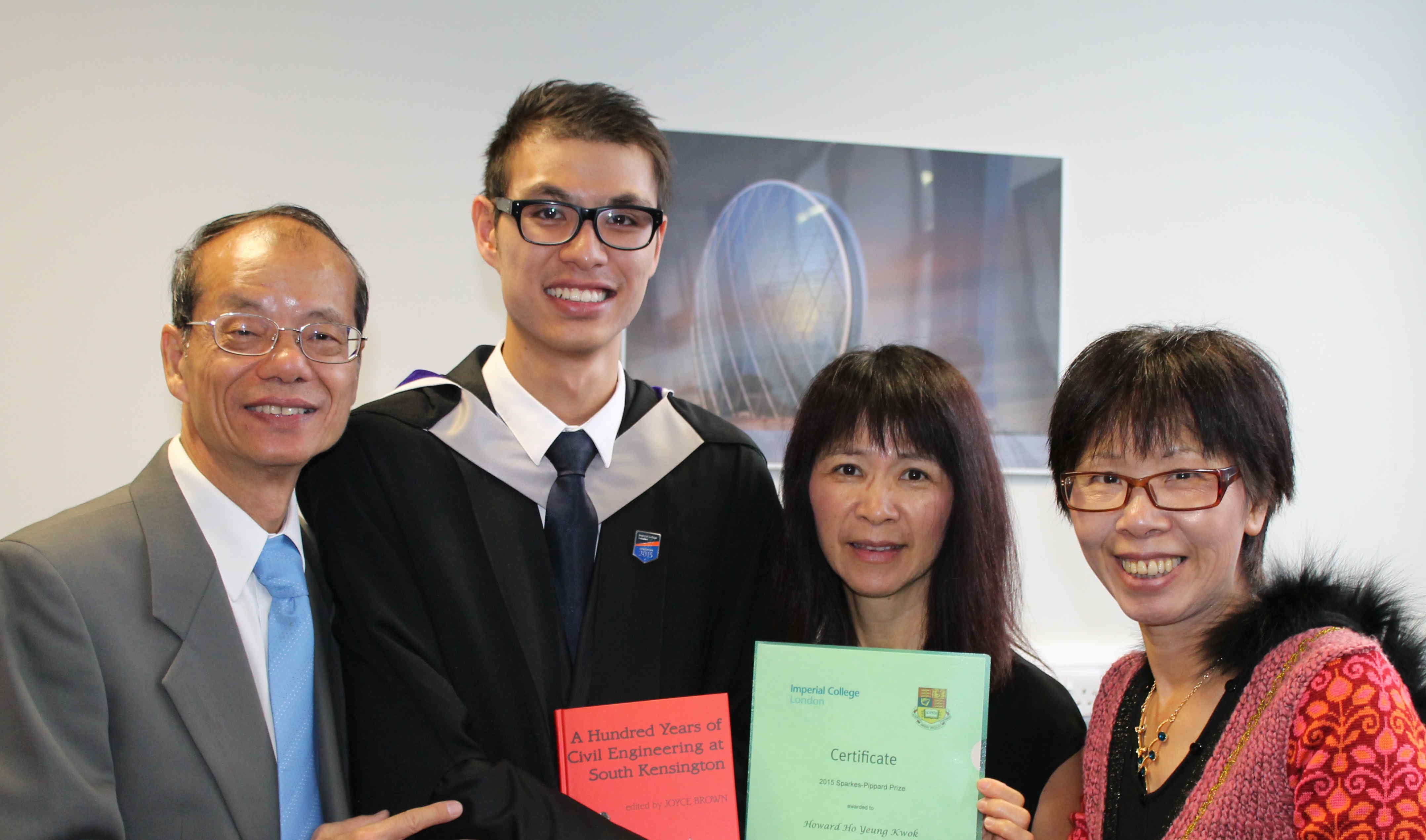 Prize winners, along with their families, are invited to a tea held in the Department where they are presented with their award.
UG prizes
Final Year Prizes
Prize
Winners

Unwin Medal and Prize

Awarded to the student at the top of the final class list.

2020: Yiwei Chen
2019: Justin Thian Huat Ng
2018: Ludovica Pototschnig
2017: Ryan Yin Wai Liu
2016: Karoline Lende
2015: Ling Wei Ng
2014: Antoine Debugne
2013: Vinh Phoung Hoang
2012: Li Ma
2011: Marcos Rodriguez
2010: Elliot Dye

ICE Prize

Awarded to the student who is best in Third and Fourth Years.

2020: Joseph Slim
2019: Zhu Yi Ho
2018: Martin Botero
2017: Ryan Yin Wai Liu
2016: Chloe Detanger
2015: Alberto Cucca
2014: Antoine Debugne
2013: Elizabeth Crow
2012: Li Ma
2011: John Craske
2010: Louisa Brown

ABS Consulting Prize

Awarded to a final year student for excellence in subjects related to Structural Dynamics and Earthquake Engineering.

2020: Minqi Xiang
2019: Rohinee Pattani
2018: Teng Vu
2017: Samuel Wetherell
2016: Benjamin Guo
2015: Arthur Chung
2014: Victor Culebras
2013: Nikolas Makasis
2012: Joseph Maltezos
2011: Marcos Rodriguez
2010: David Blundell

Sir Bruce White Prize

Awarded for excellence in Water Engineering.

2020: Lewis Lingfeng Ma
2019: Chong Huo
2018: Ahmad El Obeid
2017: Samuel Wetherell
2016: Karoline Lende
2015: Edward Courtnell
2014: Victor Culebras
2013: Mark England
2012: Amar Mistry
2011: John Craske
2010: Livio de Lutio

Governors' Prize

Awarded for excellence in written examinations.

2020: Jack Lee & Tharit Pornsirianant
2019: Ching Yi Leong
2018: Yick Hong Leung
2017: Samuel Boon Sem Soh
2016: Constantin Craciunescu
2015: Andreas Fieber
2014: Matteo Malacarne
2013: Matthew Wood
2012: Cheng Chen
2011: Li (Mary) Ma
2010: Jiri Zita

Skempton Prize

Awarded for excellence in Soil Mechanics.

2020: Wei Jian Ang
2019: Xinjin Ho
2018: Hei Long Li
2017: Ling Xin Wong
2016: George Appleby
2015: Andrew Kirkham
2014: Wui Yang Ee
2013: Thomas Hughes
2012: James Woodcock
2011: Ravi Ghedia
2010: Paul Hofmeyr

Sparkes-Pippard Prize

Awarded to the best MEng student in Structural Engineering.

2020: Yiwei Chen
2019: Alicia Law
2018: Gemma McNamara
2017: Wei Jian Ng
2016: Chloe Detanger
2015: Howard Kwok
2014: Nathan Christie
2013: Constantinos Georgiades
2012: Craig Buchanan
2011: Ajay Balasubramanian
2010: Elliot Dye

Walter Redlich Prize

Awarded for academic excellence.

2020: Jie Hui Lim
2019: Jan Xu
2018: Jean Marc Feghali
2017: Zhi Wei Darren Tan
2016: Hazeerah Hashim
2015: Alexander Marr
2014: Balazs Csuvar
2013: Shahid Padhani
2012: Matthias Libot
2011: Tyrone Hunt
2010: Andreas Georgiou

Laing O'Rourke Prize in Systems Engineering and Innovation

Awarded for the best final year project.

2017: Christopher Self
2016: George Appleby
2015: David Maguire
2014: Demetris Hadjigeorgiou
2013: Elizabeth Crow

Robert Bird Group (RBG) Structural Engineering Prize

Awarded for the best final year project

2020: Thomas Oliver Mclean
2019: Adam Plavsic
2018: Aleksandar Kirilenko
2017: Christopher Self
2016: Fiona Walport
2015: Bradley Pring
2014: Francesco Ciriello
2013: Da Wang

Ryan Sandhu Prize

Awarded to the Year Abroad Student who achieved the most during their time overseas

2020: Laura Nagib & Katharina Adriana Noel Sroka
2019: Flora Charbonnier
2018: Charlotte Flower
Final Year Prizes
Summary of the table's contents
Second Year Prizes
Prize
Winners

Student Centenary Prize

Awarded to the student who is adjudged to have made the greatest individual contribution in the Constructionarium.

2013: Chloe Goulding
2012: Klaudia Ludwisiak
2011: Olanrewaju (Lanre) Durosinimi-Etti
2010: Nicola Wright/Michael Dowling

Geoffrey Osbourne Scholarship

Awarded to the student who is best in the First and Second Years.

2020: Wei Jie Ng & Alexi Saber
2019: Tin Hang Cheung
2018: Joseph Slim
2017: Justin Thian Huat Ng
2016: Martin Botero
2015: Ryan Liu
2014: Karoline Lende
2013: Andreas Fieber
2012: Antoine Debugne
2011: Vinh Phuong Hoang
2010: Cheng Chen
Second Year Prizes
Second Year Prizes
Third Year Prizes
Prize
Winners

Letitia Chitty Prize

Awarded to the student of greatest merit in the Third Year.

2020: Tin Hang Sky Cheung
2019: Yiwei Chen
2018: Zhu Yi Ho
2017: Martin Botero
2016: Ryan Liu
2015: Chloe Detanger, Constantin Craciunescu
2014: Ling Wei Ng
2013: Antoine Debugne
2012: Vinh Phuong Hoang
2011: Matthias Libot
2010: Marcos Rodriguez

Peter Fraenkel Prize

Awarded for the best Third Year Group Design Project
2020: Wenxiu Du, Irene Fidalgo Castanon, Lilias Agathe Marie Gimard, Clara Gimeno Jesus, Adele Celine Raphaelle Guez, Rania Hussain, Ralph Keyrouz, Javier Moriyon Cabanas, Maxwell Omondi, Grace Porter
2019: Leon Crambade, Samuel Dibble, Matthew Downie, Dominic Gray, Damual Holden, Farhan Husein, Julien Jiang, Wei Bin Loo, Lewis Ma.
2018: Marion Artigaut, Alexander Bradshaw, Max Castello, Mohamed-Amine Ghendir, Clotilde Girerd, Hope Goodban, Zhu Yi Ho, Sherif Karam, Justin Ng
2017: Tan Neng Chen, Aleksandar Kirilenko, Pei Ying Dixon li, Pekai Lin, Gemma McNamara, Loic Mendes, Maria Stasi, Panukorn Teddy Taelongpong, Ziyan Zhang
2016: Thilanka Jayasekera, Jayneil Master, Daniel Casas Bofarull, Behnam Behzadi Sofiani, Ines Garayalde, Jiajie Liu, Siyu Lu, Marco Cheng
Third Year Prizes
Third Year Prizes
College Prizes