Control to Collapse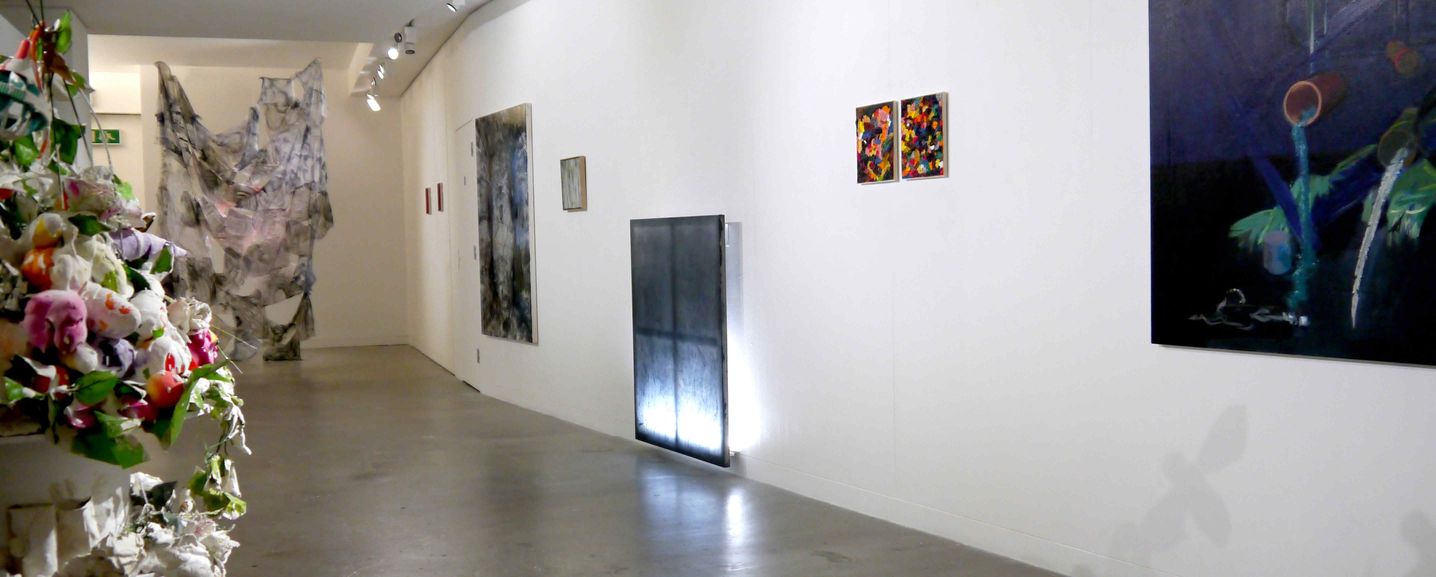 Caption: Installation view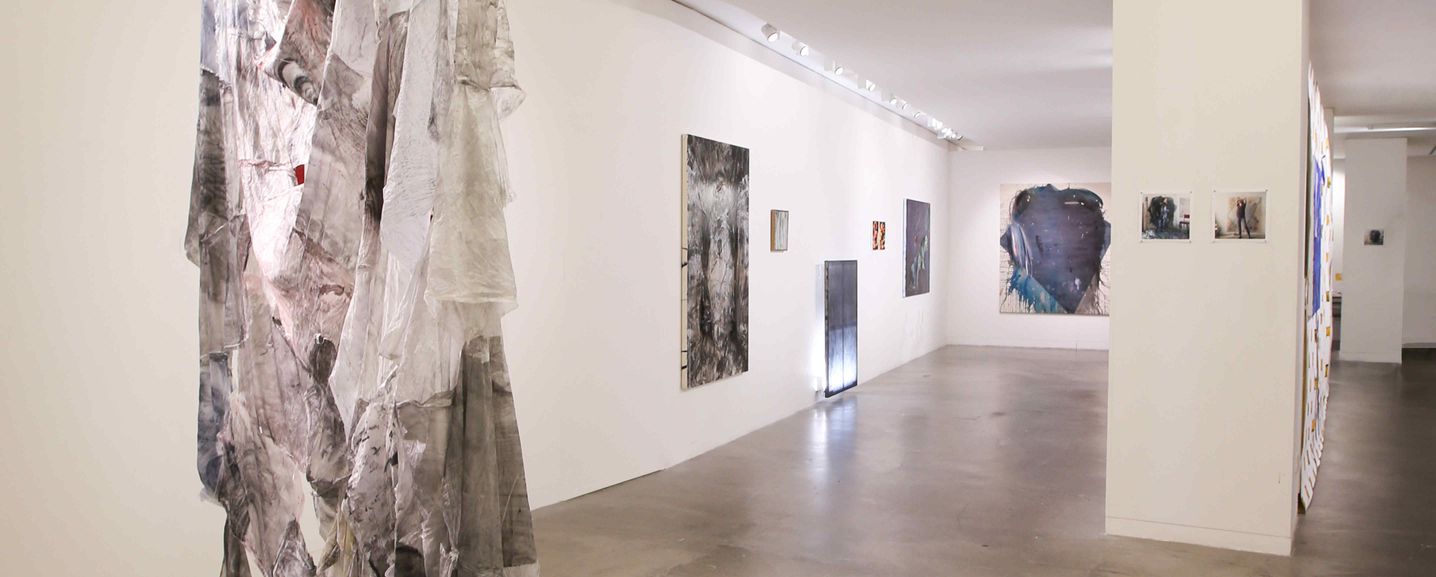 Caption: Installation view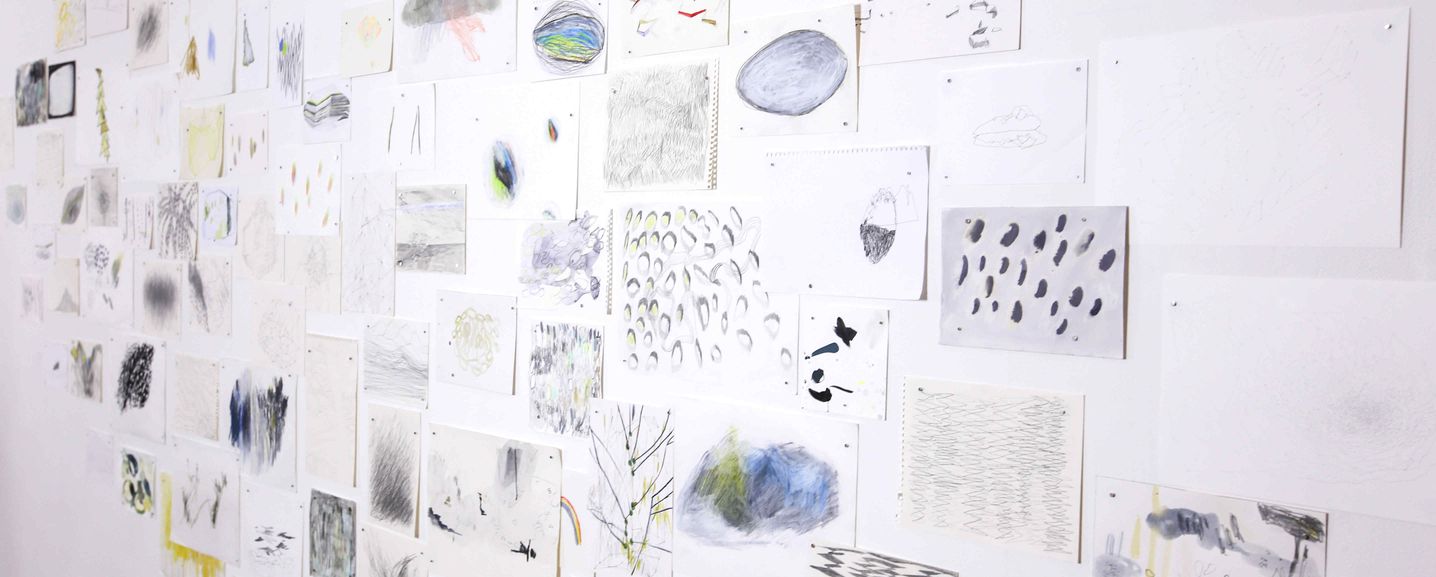 Caption: Tamsin Relly (detail)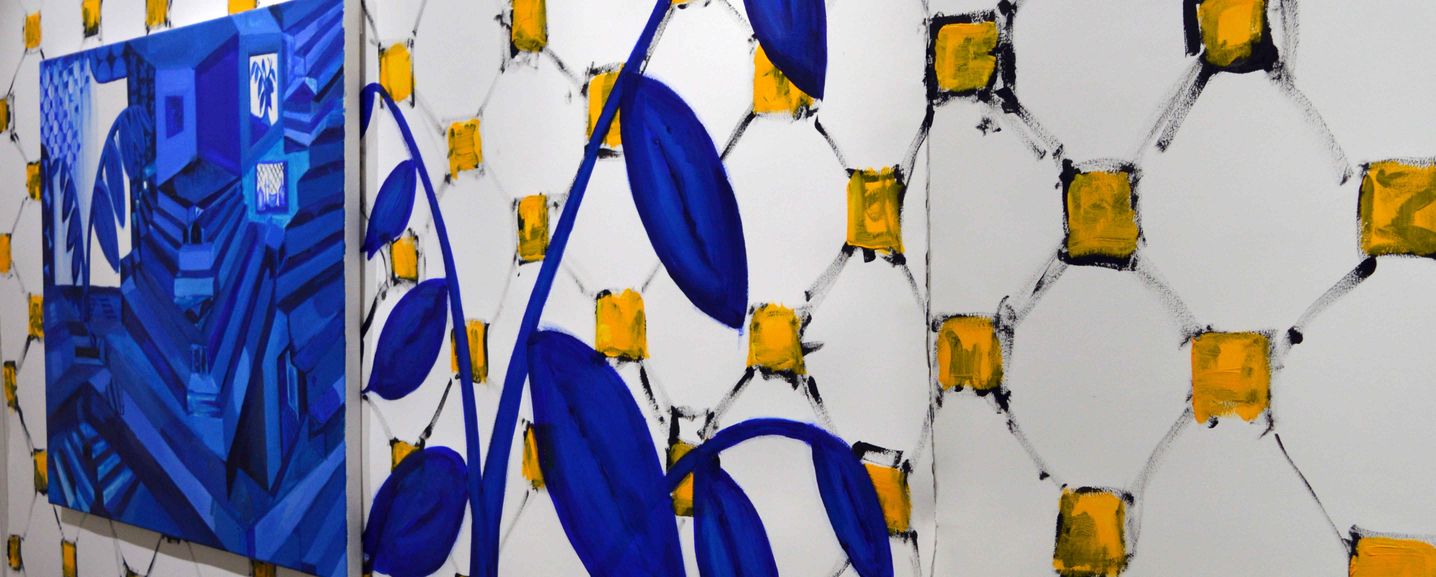 Caption: Rebecca Byrne (detail)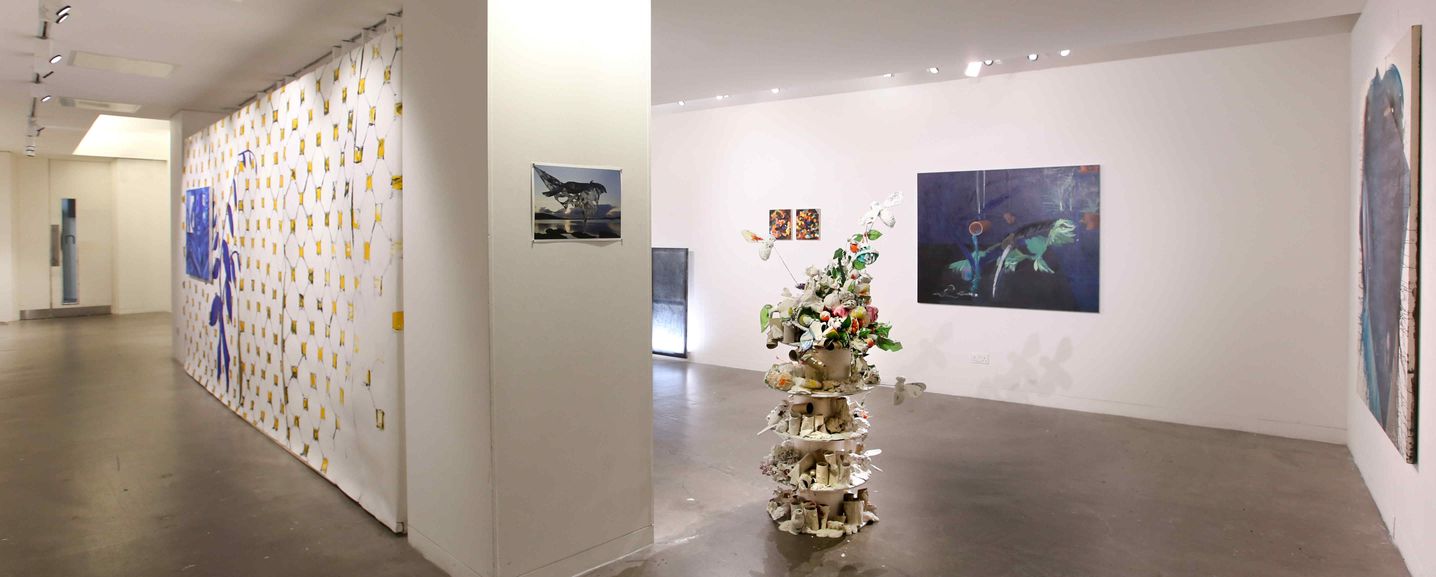 Control to Collapse
Control to Collapse
22 November 2017 - 3 January 2018
Rebecca Byrne | Liz Elton | Ann-Marie James | Clare Price | Tamsin Relly
Alex Roberts | Tim A Shaw | Susan Sluglett | Laura Smith
"Paint records the most delicate gesture and the most tense… Paint is a cast made of the painter"s movements, a portrait of the painter"s body and thoughts." James Elkin, What Painting Is, 1955
The 'gesture' is defined as a movement, usually conveyed by the hand or head, that expresses an idea or meaning. When accompanied with speech, it can articulate, emphasise, create humour or angst. In painting, the gesture has a loaded his-tory. Most commonly associated with the abstract expressionists like Willem De Kooning, Lee Krasner or Joan Mitchell, it held alchemical accord, with the ability to imbue painting with the emotional charges of joy, anger or melancholy directly from the artist's hand. Now emptied of those grand accreditations, the gesture takes on a more functional role. In an age of image proliferation, the gesture is a unique device or mode of language that is crucial in relaying a painter's conceptual concerns.
The artists in Control to Collapse feel, interpret and respond to the viscosity of pigment and the absorbency of surface to find painterly gestures that take an active role in conveying meaning. Through this tactile connection with their materials, these artists draw on bodily intellect and let muscular memory guide the application of paint. They are acutely conscious of the gestural act as a device for communication and find movements and motions that allow ideas to be soaked into the surface of their work.
This exhibition navigates a variety of gestural acts, from an intricate slicing that causes oils to take on the healing qualities of flesh; to broad swathes of paint that engulf the gallery and interrogate the psychological qualities of the spaces we in-habit; or rapid washes of thinned oils that create aqueous scenes of transparent and luscious landscapes of vegetation to address politically charged themes of excessive water consumption. It explores the gesture's role in communicating the wider concepts explored in the featured artists' respective practices.
Niamh White
Rebecca Byrne's work is an exploration of interiority and the psychological impact of space. In particular, her interest lies in the spaces that people animate and inhabit as well as thresholds into fantastical places that cannot exist. Byrne works in a series, leading to installations of paintings in which she strives to generate a sense of uncertainty and dissonance that opens up the possibility of counter-narratives. Recent exhibitions (all 2017) include PIY PaintLounge, Sluice Biennial; The Creekside Open, Prizewinner, selected by Alison Wilding, A.P.T. Gallery; Room, a solo show at The Van Gogh Galerie in the Netherlands; I Really Miss You Until You"re Here, White Conduit Projects. Byrne is currently participating in The Flo-rence Trust 2018 residency.
Liz Elton's painterly works are concerned with our materiality, materials and a need to step lightly on the earth. She fre-quently exposes her works to the environment so that they become part of the landscape that they reference and she makes paintings on compostable material, allowing them to be damaged and broken, eventually disappearing. Recent projects include: PIY PaintLounge, Sluice Biennial, London; ZeroGravity, MC3 Project Space, Sussex; 51% Remember, The Tower Gallery, London; Pool, The Griffin Gallery, London; a Bothy Project Residency in the Small Isles of Scotland. Her work has been shown at the Gate Cinema, Notting Hill in connection with a showing of the film 'Mr. Turner', and has been included in the John Moores Painting Competition at the Walker Art Gallery, Liverpool.
Ann-Marie James is interested in the way found images of works from antiquity might be used to investigate her own responses to individual works, their themes and origins. Through repetition, obfuscation, abstraction and the exploration of material process, source imagery is re-contextualised and transformed to produce new hybrids. She wants it all: precision and gesture, figuration and abstraction, control and expression, accident and intention, tension and release, honesty with-
out confession, reference without didacticism. She makes a mess, she makes sense of it, she repeats. Recent solo shows include Le Monde Moderne at Edel Assanti, London, Musée Imaginaire, Knoerle & Battig, Winterthur, Switzerland, and Proserpina at Karsten Schubert, London. Awards include The Derek Hill Foundation Scholarship at The British School at Rome and the Jealous Graduate Print Prize, London. James is represented by Karsten Schubert, London.
Clare Price's practice deals with the sensuousness of making, the palpable "stuff" of paint that freezes the hidden per-formance, the interaction with the body and materials in the studio. Traces and residues of moments are captured like photographic exposures. Titles are encrypted autobiographical references that allude to the body, sex and sexuality and the moments in which the works were made. Recently Clare's practice has extended into photographs that exist in rela-tion to the paintings. Exhibitions include "Nothing is True Everything is Permitted", DKUK, London; 'c.m. GaleriaBacelos', Madrid; "She Spills Breath Spells" with Jacqueline Utley, Studio 1.1; "Merge Visible", Paint Britain Space; upcoming 'Wom-en can"t Paint",Turps Gallery London.
Tamsin Relly's practice reflects the increasingly disrupted environmental conditions of a shifting global climate, and ex-plores notions of wilderness, erased or constructed for industry or leisure. Relly works with the fluid and unpredictable qualities of her materials and processes to present impressions of natural and urban spaces in states of uncertainty or impermanence. Her work has been exhibited and collected widely in the United Kingdom and internationally, including at The Royal Academy of Arts, Simmons Contemporary, and T J Boulting; and solo exhibitions at Brocket, The House of St Barnabas and The Place Downstairs in London. Residencies include RE·THINK: Environment, National Maritime Mu-seum, London, Pocantico, Rockefeller Brother Fund, New York, and The Arctic Circle, Svalbard. Relly was shortlisted for the Denton's Art Prize 2016.
Alex Roberts works with paint and translucence, addressing paintings' surface and spatial depth. Testing the sliding scale of figuration and abstraction, her focus is how we perceive identity and change – encounters. Exploring the relation-ship between what we see and what we feel, the work invites the viewer to question their own perceptions, while hinting at a narrative, or capturing moments in the lives of others. Recent exhibitions include, Stations of Water, St. Paul's Cathe-dral, London; What Hat am I Wearing Today? Paul Abbott and Alex Roberts, MOCA London; Connect: Katowice, Rondo Gallery Katowice, Poland. Awards include, The Eaton Fund; Arts Council England & British Council Grant: The Artists' International Development Fund; finalist – HIX Award; shortlisted - The Red Mansion Art Prize; Contemporary Visions VI, Beers London.
Tim A Shaw makes installations, light-sculptures, paintings and mixed media assemblages that explore moments of tran-sition; in-between states of bodies and fleshy masses as they transform, evolve and heal. He is co-founder of arts and mental health charity, Hospital Rooms. Recent projects include Crazy Golf (at The Deptford Project, Grosevenor, and The Apollo Project), Pierrot Project at Generation & Display, Entrances & Exits at The Warehouse, Waterloo, Pierrot Studio at Display Gallery, Intangible Beauty at Kasher Potampkin and solo show Refuge at Griffin Gallery Perimeter Space. Tim is working on a project with researcher in military psychology Laura Palmer and philosopher Ed Thornton which will involve participatory time-based installations across London. He is represented by Marine Tanguy Art.
Susan Sluglett believes painting is a physical process of construction, deconstruction and reconstruction which leads to; picturing alternatives, making adjustments, excavating an image, balancing gesture with narrative, pentimenti and de-stroying something only to start again. Awards include: 2015 Borough Road Gallery Artist in Residence and 2013 Jer-wood Painting Fellowship. Selected recent exhibitions include: 'madeinroath festival ' 'PIY PaintLounge', part of Sluice Biennial London, "Creekside Open", selected by Alison Wilding, 'It"s Offal' Arthouse1, London, 'The ING Discerning Eye Exhibition', Mall Galleries, London 'Positions' Fabian Peake and Susan Sluglett, Griffin Gallery Perimeter Space, London.
Laura Smith positions her work near the edge of still life painting, where it approaches abstraction. She is interested in dissolving our familiarity with everyday objects and is currently working with the idea that repeated motifs not only allow for a deeper investigation of the objects themselves but also a freedom in their portrayal. Recent shows include: Creek-side Open, APT Gallery, London, I Really Miss You Until You"re Here, White Conduit Projects, London; Summer Exhibi-tion, Royal Academy of Arts, London; Models and Materialities, Bay Art Gallery, Cardiff; Colombia Threadneedle Prize, Palazzo Strozzi, Florence; Small is Beautiful, Flowers Gallery, New York; Continuum of Ceaseless Change, APT Gallery, London; Art Athena, Lubomirov-Easton, Athens; The Jerwood Drawing Prize, The Jerwood Space, London.
Control to Collapse is curated by Rebecca Byrne and Liz Elton, the title aiming to encapsulate the range of gestures these nine artists employ, from the tightly controlled to a point where the gesture is undermined and almost allowed to disappear. Under the name 'PaintUnion', Rebecca and Liz have collaborated on a number of talks about painting and other projects, including 'Pool' at Griffin Gallery and PIY PaintLounge at Sluice Biennial (with Wendy Saunders and Paula McArthur of paintbritain). They are very grateful to Niamh White, co-founder of Hospital Rooms and founder of the Den-tons Art Prize for writing Control to Collapse' introductory text.