Homesickness
Homesickness is a preoccupation with home and the things that you are missing, such as friends and family, the weather, familiar routines or even favourite places.
Feeling homesick in your first weeks or months at university is totally normal, in fact it affects many people when they transition to a new environment. You definitely won't be alone in missing home and the security of your family and friends. It doesn't matter whether you have moved from another country or from just a short distance away, the feelings of loss can be similar.
The good news is that there are some simple things that you can do to help you settle in to your new environment and feelings of homesickness will lessen over time. Accepting that feeling homesick is natural and not being too hard on yourself are good places to begin. Here are some further top tips to help ease the feelings of homesickness.
Part 1
Stay in touch (but not too much!)
When you are feeling homesick, it might seem tempting to be in frequent contact with the people you are missing or arrange to go home for a visit as soon as you can. However, this is likely to make it harder to settle in to your new environment and prolong the feelings of homesickness. If possible, try not to go home in the first few weeks of term to give yourself the chance to adapt. You will certainly want to keep friends and family updated about your life in London and hear about what's going on at home too, so how about setting up a home WhatsApp group to share news - as long as it doesn't become all-consuming or make you miss them more.
Set realistic expectations
Getting used to university can be tough and people adapt at different rates. It can take time to make meaningful relationships so don't be hard on yourself if you haven't formed a new set of best friends in the first week. Finding the right balance between work and leisure time can also be tricky at first. Working hard is a given at Imperial but making time to socialise or take time for yourself is equally important to help support your physical and mental wellbeing.
It's good to talk
Talk to your classmates or your flatmates, it's very likely that some of them are feeling the same way and sharing your experiences will help strengthen your new friendships. It is easy to believe that you are the only person feeling like this, but it really isn't true! A recent survey conducted by the National Union of Students showed that 70% of students experienced homesickness at some point. Try not to spend too much time in your room and arrange some shared activities to get to know your flatmates, like a pot luck meal or a night out together.
Part 2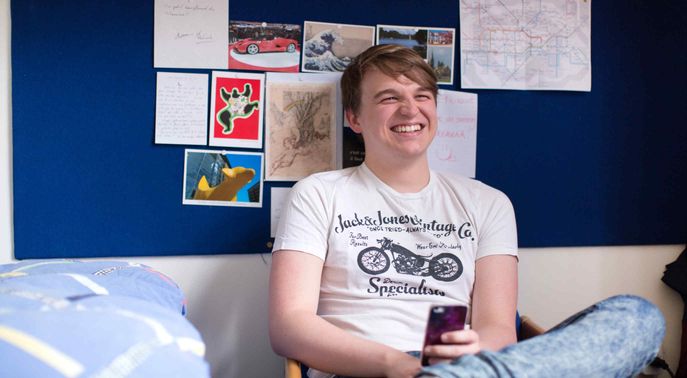 Make a home from home
Spend some time making your room feel comfortable and personal to you. If you have brought some home comforts or photos with you, make sure you unpack them. Some simple decorations and personal items can transform a room and help you feel more settled.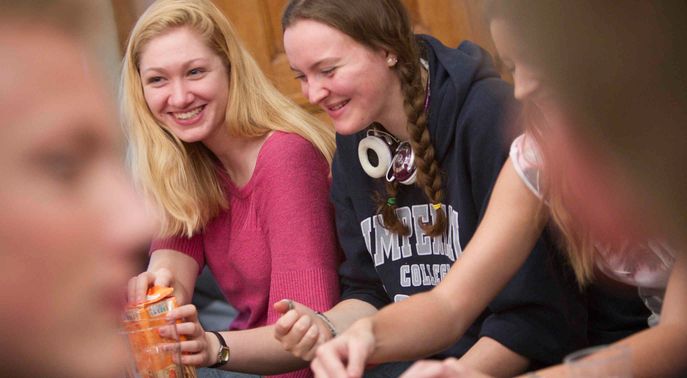 Make new connections
There are a huge range of clubs and societies run by Imperial College Union. Taking part in a taster session or joining a society provides you with great opportunities to make connections with people that have similar interests. If you don't know where to start, find out what your flatmates are doing and go with them.
Look after yourself
Developing your cooking skills and eating a balanced diet, sleeping well and doing regular exercise all contribute towards maintaining your physical and emotional wellbeing. So, if you are feeling low or having a difficult first few weeks, paying some attention to these things should help to lift your mood. Check out our pages on food and nutrition, sleep and exercise for some inspiration.
However, if you are not feeling any better about things after a month or so, it's time to get some additional help and support. You can access support in your department and your hall of residence, or you might want to see your doctor (GP) or contact the Student Counselling and Mental Health Advice Service if you are feeling really bad.