Worried about someone else?
Who can I inform that my friend is struggling?
Non-emergency referral
If your friend (or any other student) is not in immediate danger, but you are concerned about their wellbeing, you can make a non-emergency referral to:
When you make a referral, the relevant team will contact the student you are concerned about and arrange a conversation to determine what support they need. It is understandable that you might be anxious to find out what happens next but, due to data protection, they will not be able to share further information without written permission from the student.
Emergency referral
If you have concerns that the person is in immediate danger of hurting themselves or others, dial 999 or take them to the nearest Accident and Emergency department.
If you are on campus, the emergency services need to be contacted through Security, who will guide them to the right location.
+44 (0)20 7589 1000 (x4444) for Campus Security
+44 (0)20 759 42444 (x4244) for Campus Security Silwood Park only
+44 (0)208 869 3999 (x3999) for Security Northwick Park only
Being a supportive friend
Friends and family can be a fantastic support network. Sometimes, having a conversation with your friend or a family member can put a situation into perspective and help you feel better. Other times, the problem you're facing might be more complicated and you're not sure how to ask for support.
As a friend or family member you might have some concerns about someone you care about. This page includes some practical information on how you can be a supporter, but also look after yourself if you're worried about someone else.
Noticed a change and conversations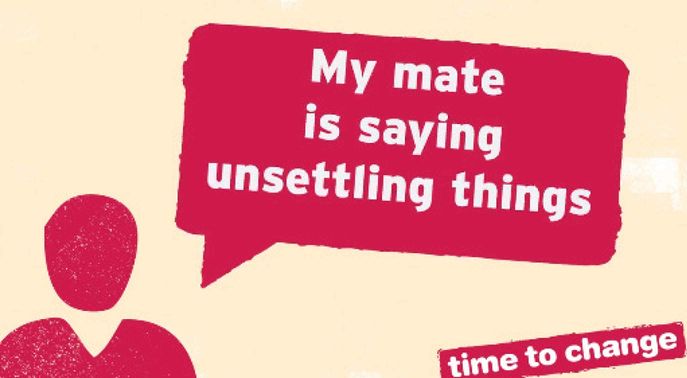 Noticed a change?
If you've noticed a recent change in your friend's behaviour, you might be concerned that something is wrong. It could be that they're experiencing the regular – but difficult – highs and lows that come with studying and researching at university. It could also be that there is a more significant problem they're experiencing. There is no one set of behaviours that indicate someone is struggling, but if their behaviour is considerably different from usual, it can be a sign that something is wrong.
Some changes that you might notice:
Disturbed sleeping patterns
Significantly different eating habits
Poor personal hygiene
Erratic behaviour or out of character reactions
More withdrawn and unwilling to socialise
You might notice some, all or none of these changes; everyone's response to the difficulties they are facing is different. If you're concerned, there are some simple things you can do to support your friend.
Starting a conversation
It can be very difficult for someone experiencing a particular stress or difficulty to ask for help or talk about it with people, especially with people they are close to. If you have noticed a change in your friend's behaviour and you are concerned, it might be helpful for you to start a conversation with them. This can be as simple as asking "how are you?" and asking twice "are you sure you're okay?".
Regardless of whether you start the conversation, or your friend opens up to you, some key things to remember are:
Listen – simply lending your ear can be enough sometimes. You don't need to offer advice, but saying "that's tough" or "I'm sorry to hear about what you're going through" can help
Be patient – it might take a while for them to tell you about what they're experiencing. If you're concerned try to be patient and take the conversation at their own pace
Don't assume – avoid finishing their sentences or comparing their experience to yours. This could appear as if you are dismissing you're friend's concerns
Signpost – now that you understand the problem, you can encourage them to speak to someone who can offer specialist support, such as their doctor or someone from the College's Counselling Service.
If you decide to have a conversation with your friend, try and pick a quiet place at a time when you won't be disturbed.
If you are seriously concerned about your friend or think that they may harm themselves or others, you should alert someone straight away. Click here for your reporting options.
Look after yourself
It is important to remember that if you are concerned about a friend, you do not have to deal with this alone. Get others involved where you can and seek expert help if appropriate.
As a friend there are some things you can do to look after yourself when supporting someone:
Take a break and make sure you keep up with the things that make you happy and healthy
Be honest and realistic about the support you can give
Encourage them to speak to a specialist service who can give practical support
Where possible, build a support network for them so you're not alone
Remember, support services are also available to you if you're a current student at Imperial. It can be stressful supporting a friend through a difficult period, don't be afraid to ask for help yourself.
Signposting to support services
There are lots of Imperial services and external services that might be the right place for your friend to get support. You might not be able to solve their problems, but you can steer your friend towards someone who can provide expert help and support.