Network Provision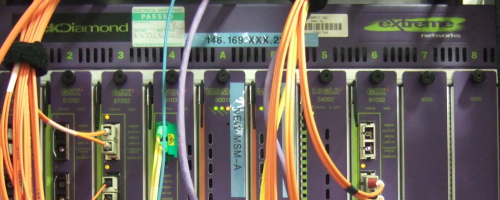 Image courtesy David McBride. Licensed under CC-SA.
CORE NETWORK
ICT now maintain the Department (and College's) high-speed switched Ethernet data network throughout, providing connectivity at up to 1Gbit/sec over individual copper twisted-pair connections and up to 10Gbit/sec for servers in our machine room.
Wired network connections are provided throughout Huxley and William Penney for the teaching labs and staff and postgraduate student offices, more network ports can easily be added in offices where needed.
WIRELESS CONNECTIVITY
In addition to the wired network connectivity provided in labs and offices, ICT provide the wireless network infrastructure that supports clients compatible with WiFi 802.11a, 802.11b and 802.11g standards. This is provided for both staff and students in the College as well as for guests and attendees of conferences held locally. Access to the wireless network is mediated by connecting to a Imperial-WPA or EDUROAM, which allows for self-service registration of untrusted laptops, PDAs etc by staff, students and conference attendees.