LinkedIn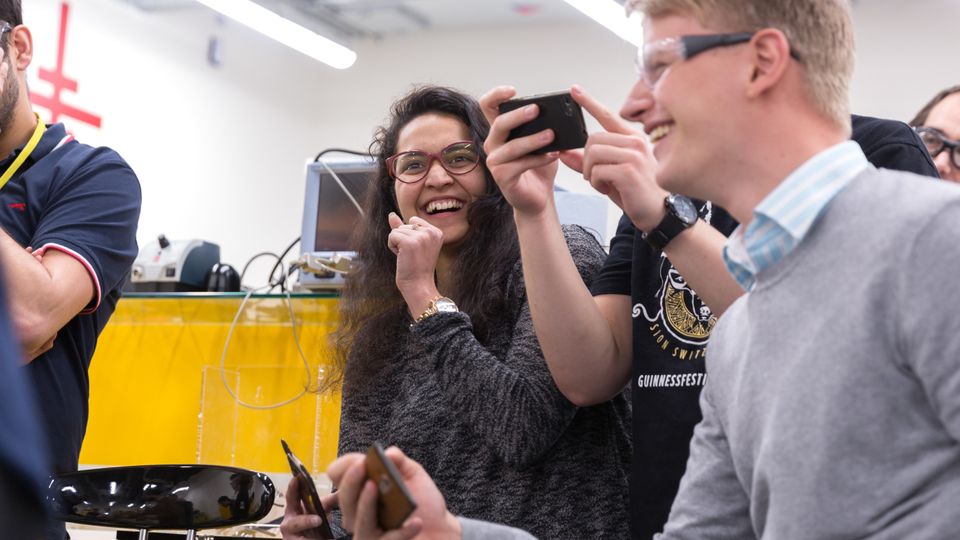 LinkedIn
LinkedIn is one of the world's largest professional networking sites for making meaningful career connections.
Your profile can evidence your skills and experience just like your CV, and once you've created a profile you can start to explore data from over 750 million users; essentially you have access to view all these profiles and gain career inspiration and insight!
LinkedIn is used by many students but only a few really know how to harness its power. Our resources will help you to develop a professional online identity and meaningful connections.
LinkedIn tabs
Build your profile
Your LinkedIn profile is a webpage to help you manage your professional brand. Like a CV, it's a great way to tell the world who you are and to display your experiences and achievements. When building your profile, it's a good idea to apply the same general rules that we use for CVs and to try to write in concise, action orientated, statements. It's also important to fully complete your profile and to keep it up to date. If you have a specific career path in mind you can tailor the language and skills to match; just like on a CV!
Your LinkedIn profile can contain many sections to help structure the content and make it more accessible. Below are some top tips for commonly used sections.
Headline. By default, this is set as your most recent experience, but you can edit this to make an impact. You have 120 characters to highlight who you are. It should be fact based and avoid cliché phrases. Try to say who you are, something about yourself and why you're on LinkedIn. For example, "Physics student at Imperial College with excellent numeracy and coding skills. Seeking a finance summer internship." (115 characters).
Your photo and background image. It's generally expected that your LinkedIn profile will contain your photo (unlike a UK CV). You should be the only person in the photo, and you should be central to the frame and looking at the camera. Your background image can reflect something personal to you. Many people choose a cityscape or photo of their university campus, hometown or place of employment.
About. This is a summary statement that allows you to expand on you 'headline' and highlight key experiences or skills. It can be useful to use bullet points to help format your text and remember this is a summary not a thesis so 100 to 250 words is probably sufficient.
Education. Your most recent education should appear first and previous education lower. It's also sensible to add some descriptive text that outlines the subjects studied or activities involved.
Experience. This section can include internships, employment (including part-time jobs), freelance work or volunteering. You should provide some details about your duties, responsibilities, or achievements for each entry.
Volunteer experience. Enter any unpaid positions here including students' union activities within clubs and societies but be sure to add some descriptive text too.
Skills and endorsements. LinkedIn allows you to select up to 50 skills to display and then people in your network can vote if they agree you possess the skill. The data here helps drive the search algorithms LinkedIn.
Recommendations. LinkedIn permits other members to recognise your achievements by writing a short commendation of your work. These can help add depth to your profile and can act as validation for the skills and credentials you've put on your profile. Recommendations help to complete your profile and can increase your ranking in search results.
Accomplishments. You can populate your profile with projects, publications, patents, awards, and online courses etc. Each item can be linked to when it took place, and you can link with others that collaborated or contributed too.
Interests. LinkedIn enables you to join groups, follow organisations or 'influencers' and to join community groups. This is useful o show what you're genuinely interested in, but it can help you develop commercial awareness, meet new people and open the door to the hidden job market.
Make connections
LinkedIn is about networks and connections. You can explore the profiles of millions of users and apply search filters to help find people in industries or roles of interest to you. Browsing profiles can help you understand specific industries and roles. You can gather information about the skills you'll need to succeed and possibly gain some career inspiration.
Start local by connecting with people you know. If you're stuck, a great starting point is to find graduates from your degree by filtering the Imperial College Linked alumni page. You may find people working in companies you'd never considered, or heard of before.
When you try to connect with someone you should always add a note to introduce yourself and to explain why you'd like to connect; this is very important if the person you're approaching doesn't know you. Your introduction message can be a maximum of 300 characters, so it needs to be both professional and concise. There's no perfect formular but a good start would explain who you are; explain how you found them; and explain what you hope to get from the connection. For example:
"Dear Joe, I'm a chemistry student at Imperial interested in working in marketing. I see you were also a chemist now work in marketing. It'd be great to connect to hear any advice you have on making the transition. Best Wishes, Alex."
Develop your network
As you network grows you can start to explore the connections of your connections to find new contacts that are of interest to you. You could also ask friends, family, academics and GTAs if they know people in the fields you're interested in and if they could introduce you.
LinkedIn will also allow you to search for 'groups' which can be a great way to quickly find people working in the industry you're interested in. There are hundreds of thousands of groups on LinkedIn covering a diverse range of interests. Groups vary greatly but often you'll find they contain discussion boards and frequently they have job postings too. There're two approaches to find groups. Firstly, you could check what groups people you've connected are part of and join the groups that interest you. Alternatively, you can search for groups and sift through the results to find groups of genuine interest to you. To join a group, you may need to request access and write a short message to the group moderator.
Professional etiquette
For LinkedIn to really work for you it's important to adhere to some very important social rules. You'll be dealing with real people on a professional platform and they're more likely to interact with you if you show respect and courtesy. You need to be likeable and develop trust which can take time but here are some top tips:
Be genuine and truthful in what you put on your profile and in what you say to people.
Keep your profile updated with current skills and information.
Share some information about yourself in your introduction to people and explain why you'd like to connect.
Thank people within a few days of a connection and follow up if you have a genuine question you'd like to put to them. You should also thank people who answer your questions too!
Stay clear of controversial topics in conversations such as politics or ethical debates.
You can build rapport by asking insightful questions and seeking advice such as "what skills do you need in your industry?"
Be mindful of peoples time and don't take too much of it. If you have many follow up questions you want to ask, you can start by apologising.
Sometimes it may be easier or quick to speak via phone or video conference but you need to develop trust first; don't open your conversation by asking for a call as this is likely to put people off.
Not everyone will respond to you. Don't take it personally, as they have a life and just may not have time to reply to you.
Additional resources
During your time exploring profiles you may identify that you need to develop some skills to succeed in your chosen career. LinkedIn Learning could be perfect as its online library could help you learn software tools and skills through instructional videos taught by industry experts. All students and staff at Imperial College London have free access to the extensive library and currently our graduates can access material for one year after completion of studies.