MSc engineering fluid mechanics for the offshore, coastal and built environments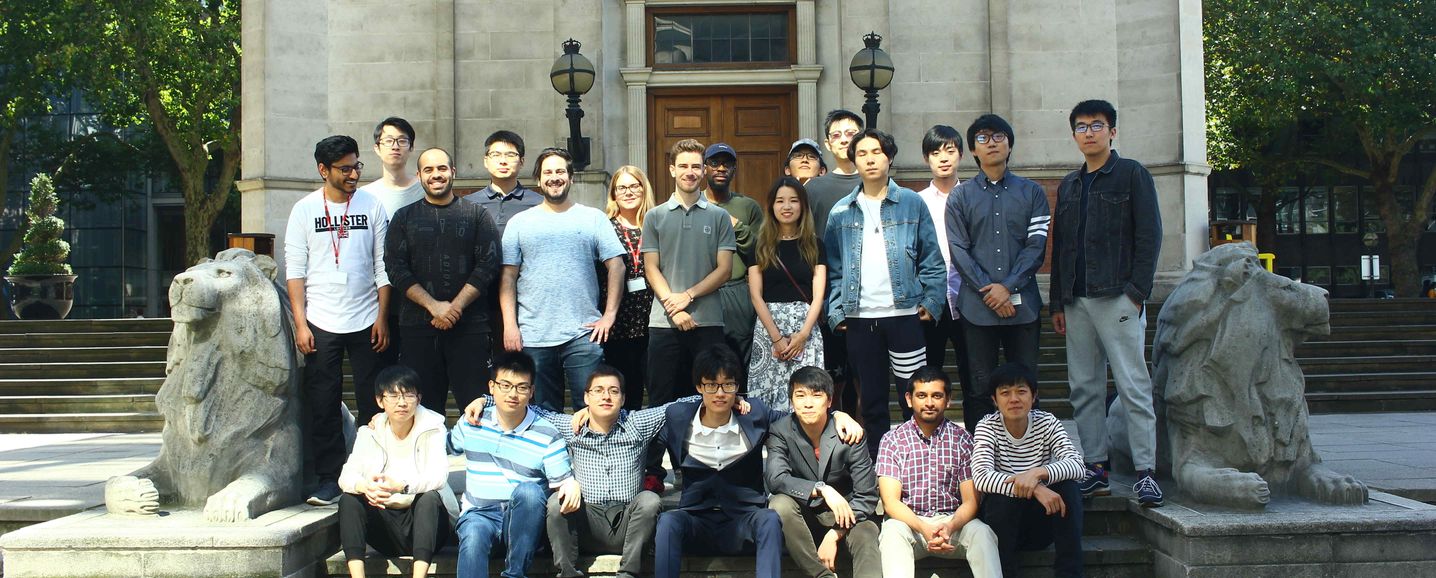 Caption: The 2018/19 MSc class pictured after the submission of their research project.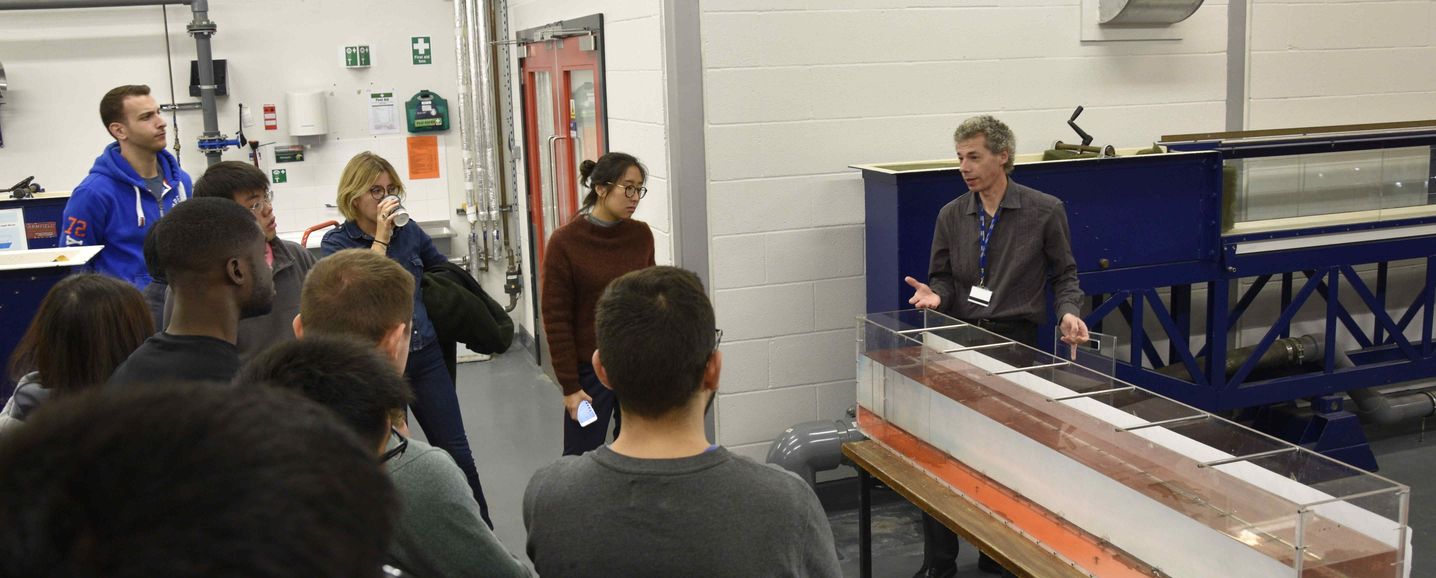 Caption: MSc students in the Hydrodynamics teaching laboratory, looking at a model of a dust storm as part of the Buoyancy Driven Flows module.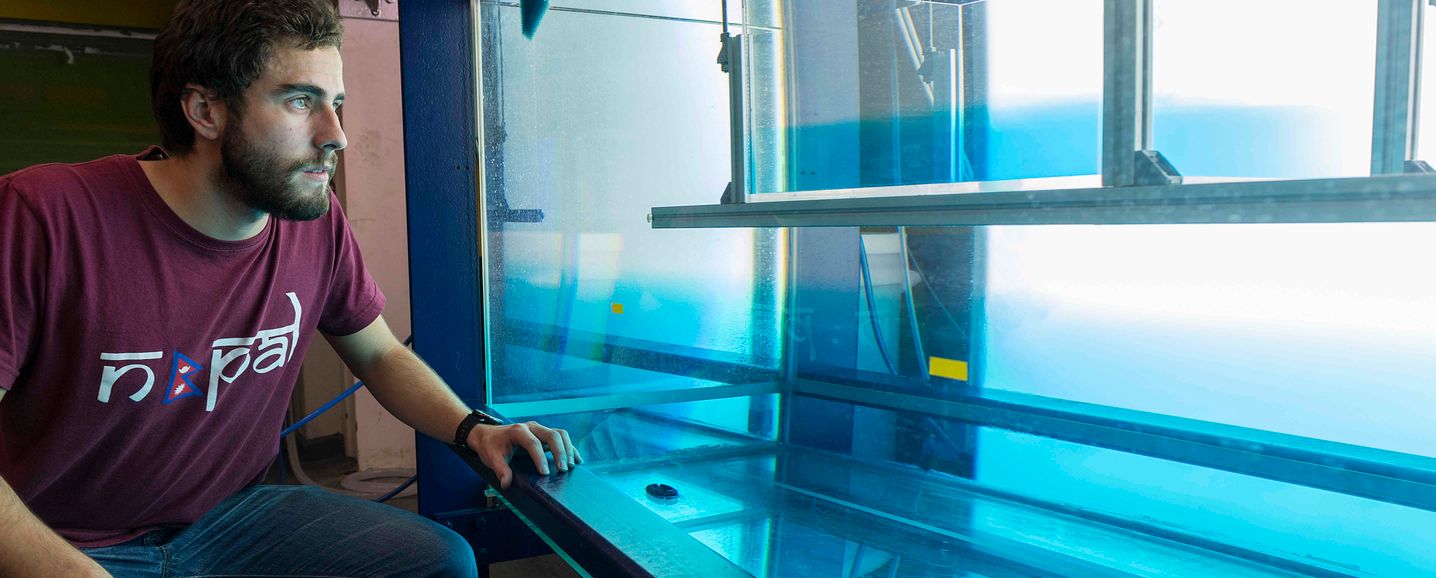 Caption: PhD student examines building ventilation via laboratory analogues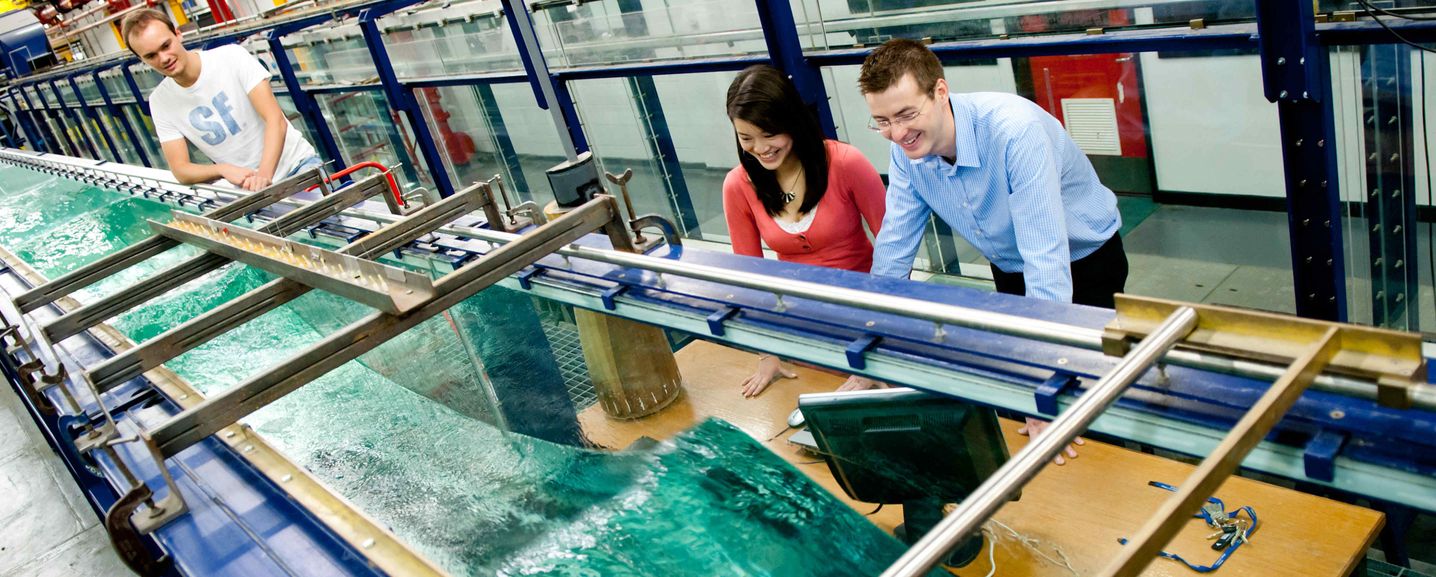 Caption: Imperial fluid mechanics staff and researchers observing steep water waves in the Hydrodynamics Research Laboratory.
Caption: Preparing a wave mechanics demonstration for M.Sc. students in the Hydrodynamics Teaching Laboratory.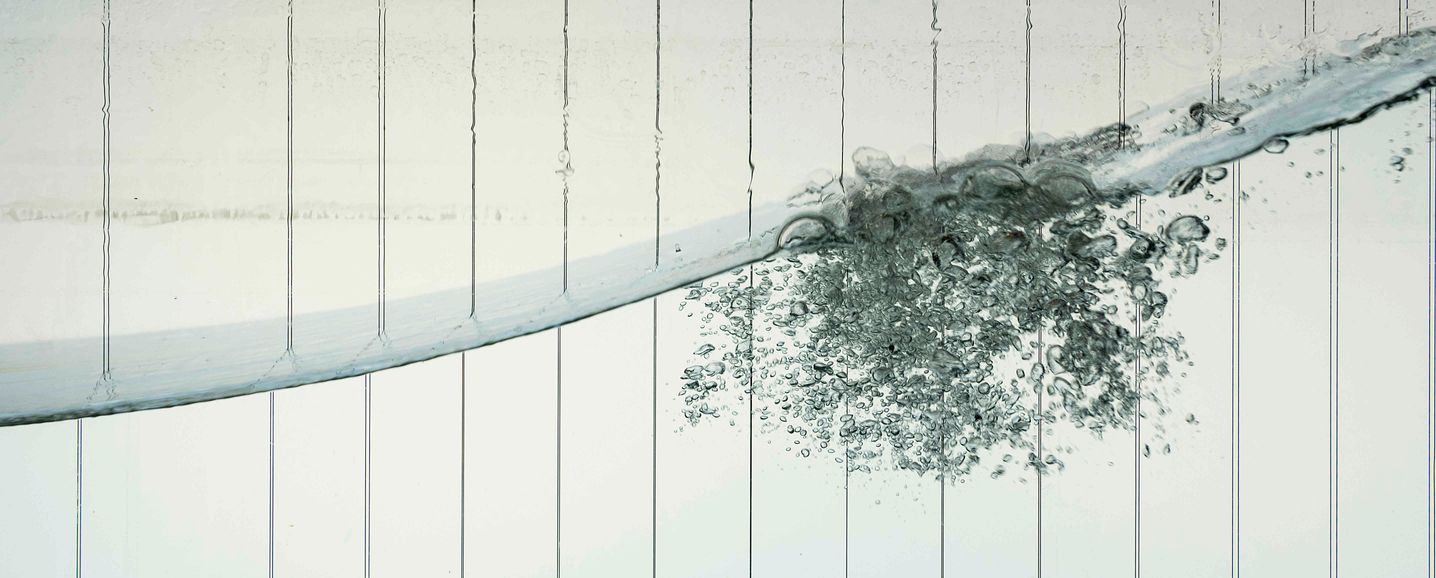 Caption: Observing bubbles generated by a breaking wave as part of the M.Sc. Air-Sea Interaction Dynamics module.
The offshore, coastal and built environments represent a unique combination of areas, providing students with a well-rounded and broad knowledge of civil engineering fluid mechanics. Students will have access to the world-class Hydrodynamics Laboratory at Imperial College London to perform and observe experimental investigations. This will allow students to cement principles taught during lectures, as well as inspiring the future crop of Engineers in Fluid Mechanics. In addition, there is a strong design component to the programme in the shape of four projects to emphasise application and industry relevance. Furthermore, students will also have the opportunity to undertake research with academics within the top-rated Civil and Environmental Engineering Department from recent research assessment exercises. This MSc programme was established in 2017.
Take a look at some of our recent activity on our Facebook page or Twitter feed.

Intro about course and reasons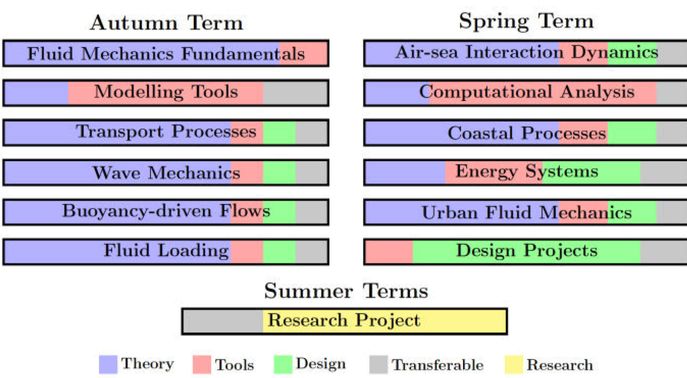 What is the programme layout?
This programme of study is made up of:
11 taught modules,

1 module comprising 2 design projects and
1 research project.
The flow chart above outlines the programme layout and highlights the key skills you will learn in each of the individual modules. You will notice that each module offers a variety of skills and the programme is structured to help you excel whatever your background;
the first term is more theoretical and tool based,
the second term increasingly design orientated and
the final term is dedicated to research so that you can really apply the knowledge you've gained.
Transferable skills will focus on technical writing, oral presentations and team working. We have designed these modules to be complementary and teach a wide range of the skills required by modern engineers, whilst providing you with lots of exposure to design and research.
Find out more about each of the modules further down this page.
Who is the

programme

aimed at?
Anyone who is able and enjoys engineering and fluid mechanics. All students with a solid first degree in Science, Maths or Engineering-based subjects and an interest in Fluid Mechanics. Engineers with significant work experience who would like to specialise in Fluid Mechanics are also encouraged to apply. Hear from some of our former students below.
Why should I study this programme?
The programme material covers cutting-edge techniques, develops key skills and prepares you ideally for the future.
The programme will teach you a wide range of key skills that you can then apply across all Fluid Mechanics disciplines. The programme will cover theoretical concepts, problem solving tools, numerical methods, experimental techniques and design principles. These skills will be presented with an emphasis on Civil Engineering applications in the Offshore, Coastal and Built Environments. However, the skills you will acquire have much broader application, to pretty much any branch of Fluid Mechanics relevant to engineering - this gives you all the flexibility you'll need in your future career path.
The University is one of the best in the world.
Imperial College London is consistently ranked in the top 10 universities in the World and top 5 in Europe. The Department of Civil & Environmental Engineering itself is considered one of the best in the World and consistently excels in both teaching and research (See 2019 National Student Survey and our top ranking in recent research assessments. See more reasons to choose Imperial.
The City is one of the most vibrant and exciting places to live, let alone be a student.
London is a vibrant, global, capital that is ranked amongst the best student cities in the world. Everything from global Engineering consultancies to niche start-ups are located on your doorstep, offering you a wide range of opportunities for networking and applying for jobs.
Continue reading for module information and frequently asked questions (FAQs).
Convinced already? Apply now.
Meet some of our recent students
Find out more about the background and motivations of some of our previous students. 2017/18, 2018/19, 2019/20.
Indicative Programme Syllabus
Lectures will form a significant component of the teaching approach. They will be delivered by a mix of academics and external speakers from industry with relevant expertise. Tutorials will enable the students to test their understanding of the lecture material, ask specific questions and consolidate their knowledge. There will be a good balance of theory and practice throughout the programme. This is achieved with laboratory investigations and demonstrations as well as during the design projects. Finally, the research project will enable students to learn skills essential for independent research. The project may be undertaken at College or in collaboration with industry. The module content provided is indicative and is subject to annual update.
To complete the MSc, all students registered for the MSc in Engineering Fluid Mechanics for the Offshore, Coastal and Built Environments must undertake all modules.
Pre-session (Non-assessed)
CI9-FM-00A: Mathematics Primer
CI9-FM-00B: Matlab Primer
Autumn Term modules
Spring Term modules
Summer term modules
CIVE70085 Research Project - Fluid Mechanics
During this module, you will undertake research with one (or more) of the leading academics within the Fluid Mechanics section. You may also choose to undertake this research project in the form of an industry placement. You will submit a literature review, a dissertation and give a final presentation at the end-of-year student conference. This module will emphasise independent work, literature review, technical writing, oral presentation, time management and forming and defending hypotheses.
Read the full module descriptor.
See the project titles for some of our previous students. 2017/18, 2018/19.
Image sources
Vortex at the tip of an aeroplane. (Courtesy of NASA Langley Research Center (NASA-LaRC)

Plug hole vortex. (Courtesy of Robert D Anderson
Streak lines in camp fire. (Courtesy of Abrget47j
We will show you how to go from real-world complex flows like the smoke plume picture to simple solutions that describe the dominant physics. (Courtesy of Imperial College London)
View of the uranium mill tailings pile in Moab, Utah. (Courtesy of Unknown photographer/Department of Energy
Sediment transport within Toklat river, Alaska, USA. (Courtesy of Dawn Endico
Coastal sediment transport at Assateague Island, Maryland, USA. (Courtesy of Susanne Bledsoe, U.S. Army Corps of Engineers
Air pollution from fossil-fuel power station. (Courtesy of Alfred Palmer - Library of Congress, Public domain
Breaking wave (Courtesy of Unsplash, creative commons license, CCO 1.0
Breaking wave (Courtesy of NOAA, Public domain mark 1.0
A plunging breaking wave photographed in the Coastal flume

within the Hydrodynamics laboratory (Courtesy of Imperial College London)

Dust storm in Afghanistan (Courtesy of Cpl Daniel Wiepen, Open Government License)
Horizontal convection produced by the differential heating of a horizontal boundary condition (Courtesy of Imperial College London)
A horizontal slice through a confined space heated and cooled by isolated sources of buoyancy

(Courtesy of Imperial College London)

Laboratory demonstration of directional wave-wave interactions in the Wave basin

(Courtesy of Imperial College London)

Students measure wave propagation in a teaching wave flume

(Courtesy of Imperial College London)

A warm plume, common in buildings, experimentally mimics the warming of a room

(Courtesy of Imperial College London)

Gravity current experiment

(Courtesy of Imperial College London)

The enstrophy field from the direct numerical simulation of a confined space heated and cooled by isolated sources of buoyancy.

(Courtesy of Imperial College London)

A two-dimensional simulation of the flow around a cylinder using the discrete vortex method.

(Courtesy of Yorgos Deskos, Imperial College London)

The enstrophy (a measure of rotational energy) from the simulation of a turbulent thermal plume.

(Courtesy of Imperial College London)

Flow around a column and associated scour hole. (Courtesy of USGS, Public domain mark 1.0
Modelling spilling and plunging breaking waves and their underlying particle kinematics.

(Courtesy of Imperial College London)

Sequence of photographs of a breaking wave hitting a deck structure, as modelled in the wave basin within the Hydrodynamics laboratory.

(Courtesy of Imperial College London)

Gorey harbour, Jersey at low tide. (Courtesy of FoxyOrange
Example of a Coastal Structure: Llandudno Pier, Wales. (Courtesy of Diego Torres, creative commons license, CCO 1.0
A recreational beach in the Mediterranean Sea in calm and storm conditions.

(Courtesy of Jose Alsina

, Imperial College London)

Three Gorges Dam, China. (Courtesy of Le Grand Portage

Wake from offshore wind turbine array. (Courtesy of Vattenfall, creative commons license, CC BY-ND 2.0)
Pelamis wave energy converter. (Courtesy of P123

Solar power tower, Seville, Spain.

(Courtesy of afloresm
Urban heat island in Atlanta, USA. (Courtesy of NASA Earth Observatory, Public domain mark 1.0

).



Green roof of city hall, Chicago, Illinois, USA. (Courtesy of TonyTheTiger
Beijing on a clear and smoggy day. (Courtesy of Bobak
Stormy Seas During Hurricane Winds - Rough Seas at Cannon Beach. Courtesy of Mark Smith, creative commons license CC BY-ND 2.0.
Studying Bubble Plumes in the Laboratory (

Image collected at Scripps Institution of Oceanography)

Studying Bubble Plumes in the Laboratory.

(Courtesy of Imperial College London).
Frequently Asked Questions (FAQ's)
What are my options after graduating from the programme?
The world will be your oyster! As the programme is designed to provide you with the essential skills that are applicable across all Fluid Mechanics disciplines, you will have a wide range of options upon graduating. This could involve working in the industry or government sectors or undertaking further research in the shape of a PhD. Whichever you choose, we are confident that this programme will provide you with the potential to lead the field in your respective area.
How is industry involved with the programme?
Industry will play a large role in the programme, including:
Delivering guest lectures
Supervising the design projects (contributions have been made by Ramboll, Breathing Buildings, ARUP, Foster + Partners)
Offering placements as part of the MSc research project
Providing scholarships/sponsorships
We have also consulted Engineers within industry during the design of the programme itself, such that it helps meet their needs and also equips graduates will all the necessary tools for entering the work force.
What facilities are available?
The programme will be taught in excellent, modern facilities including:
Lecture rooms
Computer laboratories
Breakout Student Space (BOSS)
Are there any scholarships opportunities?
Yes, there are Departmental and other scholarships available for the very best students. If you are interested in receiving a scholarship, then early application is strongly recommended.
Visit this webpage for information about scholarships and funding opportunities.
Who are we?
We are an enthusiastic and fun group of academics that are leading experts in Fluid Mechanics. We excel at teaching and research and we are looking forward to teaching the next breed of leading Fluid Mechanics Engineers. Click on the link below for more information about the people within our section.
How is the programme assessed?
Assessments include individual and group courseworks; laboratory and design projects; oral presentations; written examinations and a research dissertation. To complete the requirements of the degree, all assessments must be undertaken to the appropriate level. Successful candidates will be awarded the MSc degree of Imperial College London.
Haven't found an answer to your query / question?
Photo
Details
For questions and advice relating to MSc application, basic eligibility, supporting documentation required, and information on entry to our postgraduate taught (MSc) programmes, and general information pre-registration.
Postgraduate Taught Office
Prospective students and applicants should contact: msc2023@imperial.ac.uk or call Yamini, +44 (0)20 7594 5932.
Current students should contact: cvpgo@imperial.ac.uk or call Yamini, +44 (0)20 7594 5932.

For all queries related to the academic content of the programme.


Programme Director
Dr Adrian Callaghan, +44 (0)20 7594 6644, a.callaghan@imperial.ac.uk
For all other queries.
Programme Administrator
Rebecca Naessens, +44 (0)207 594 5990, rebecca.naessens@imperial.ac.uk


Administration contacts for the Fluid Mechanics cluster
Administration contacts
MSc Application Information
Minimum academic entry requirements
A good Upper Second or First Class Degree result (or International equivalent), in engineering or another numerate discipline, or Masters level degree qualification
Good mathematical skills (B or above at A-level or equivalent qualification)
Relevant Postgraduate industrial experience is favoured
English Language qualification (where relevant)
Please also check that your previous study meets the minimum academic requirements by country index.
Note: The Department may set higher requirements than those specified by the College as minimum entry requirements and that places are not guaranteed for any applicant. Relevance of degrees and eligibility can be checked with the Department.
English Language Requirements
Applicants for whom English is not their first language must demonstrate a minimum level of English language proficiency for admission to the College. This may follow the application if not available at the time of submission. Please see the College English language requirements for postgraduate applicants for information. Please also check that your previous study meets the minimum academic requirements by country index.
Visa requirements for International Students
Apply Now
We hope you have found all of the information you need to reach a decision. If you would like to apply for this programme, please follow the application instructions here: Application Information and application link.
More about the Fluid Mechanics Section
Further resources for this programme
Further resources for this programme