MSc Transport
**Subject to College Approval**
Recent developments in the transportation industry have revolutionised the provision of mobility services for passengers and goods over the last decade. The MSc in Transport, newly established for 2023, is an advanced graduate programme that will provide students with the knowledge and skills needed in the modern transport sector and to be well-positioned for a successful professional or research career in the transport and logistics industry.
The programme is career-oriented and will cover theoretical background, practical design, and analysis considerations, central to which are the concepts of efficiency, safety, security, and sustainability. The students will have access to the Intelligent Infrastructure and Transport Systems Laboratory and other facilities within the Department of Civil & Environmental Engineering, which will expose them to the latest technologies and skills used by the sector.
A strong programming and design component in the programme will emphasise applications and industry relevance. The students will also have the opportunity to undertake research with academics from the top-rated Civil and Environmental Engineering Department from recent research assessment exercises. The Transport Section has strong collaborative links with the public and private sectors at an international level. This includes the Transport Strategy Centre, whose work on transport system performance is conducted with (and funded by) industry through continuous close collaboration with over 130 transport organizations globally.
This programme is also affiliated with the Department's cross-sectional Data Science Theme. A tailored track of the curriculum is also offered (MSc in Transport with Data Science and Mathematical Optimisation - DSMO) with a special focus on Data Science applications in Transport. The aim of this add-on option of our degree is to provide a concise and comprehensive introduction to key scientific methods for data analysis and mathematical optimisation from both a theoretical and an applied viewpoint.
Intro about course and reasons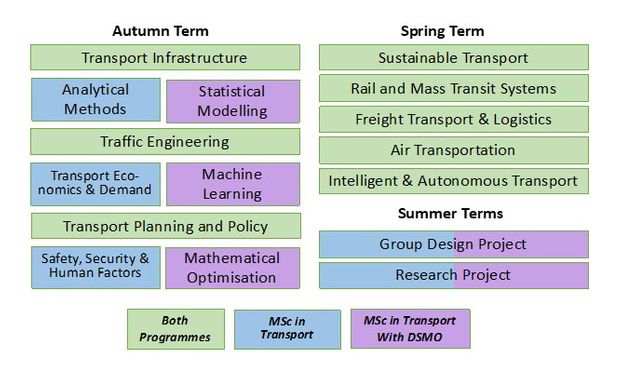 What is the programme layout?
The above diagram provides a layout of the programme and the differences between the two tracks that are offered. The programme of study is made up of:
11 taught modules,
1 group design project
1 research project.
You will notice that the programme covers a variety of skills and topics and is structured to help you excel, whatever your background.
The first term is more theoretical and focuses on the core fundamentals of transport, analysis, and modelling.
The second term will focus on specific transport modes, applications, and technologies.
The final part involves a design project and a dissertation, where you will have an opportunity to carry out research and develop knowledge on topics of particular interest to you.
There is an extensive focus on technical writing, oral presentations and team working. We have designed these modules to be complementary and teach a wide range of the skills required by modern transport engineers and practitioners whilst providing you with lots of exposure to theory, modelling, and research.
Find out more about each of the modules further down this page.
Why should I study this programme?
Who is the programme aimed at?
Anyone who is able and enjoys transport systems, modelling and engineering. All students with a solid first degree in Science, Maths or Engineering-based subjects and an interest in Transport. Practitioners with significant work experience who would like to specialise in Transport are also encouraged to apply.
Why should I apply to this programme?
Our programme is career-oriented and will cover theoretical background, practical design, and analysis considerations, central to which are the concepts of efficiency, safety, security, and sustainability. The taught curriculum deals with significant topics in the design, modelling, and operation of civil infrastructure to support ground, air, and maritime transport, as well as the tools and models that would inform and design passenger and freight transportation. This gives you all the flexibility you'll need in your future career path.
Graduates of our programme benefit from a global alumni network.
They are employed by high-profile public and private sector organisations. These include major transport and management consultancies, transport operators (including airlines and shipping lines), the technology sector, government bodies and international organisations. Many of our graduates continue their studies to undertake research towards a PhD and have established successful academic careers.
The University is one of the best in the world.
Imperial College London is consistently ranked in the top 10 universities in the World and the top 5 in Europe. The Department of Civil & Environmental Engineering itself is considered one of the best in the World. It consistently excels in teaching and research (See the 2019 National Student Survey and our top ranking in recent research assessments.
Visit this page for more reasons to choose Imperial.
London is one of the most vibrant and exciting places to live, let alone be a student.
You will live and study in the centre of a vibrant, global capital that is ranked amongst the best student cities in the world. Everything from global Engineering Consultancies, infrastructure developers, and international organisations to niche transport-tech start-ups are located on your doorstep, offering you a wide range of opportunities for networking and applying for jobs.
Continue reading for module information and frequently asked questions (FAQs).
Convinced already? Apply now.
Indicative Programme Syllabus for 2023/24
Lectures will form a significant component of the teaching approach. They will be delivered by a mix of academics and external speakers from the industry with relevant expertise. Tutorials will enable the students to test their understanding of the lecture material, ask specific questions and consolidate their knowledge. There will be a good balance of theory and practice throughout the programme. This is achieved through hands-on modelling exercises, laboratory activities, demonstrations as well as design projects.
Finally, the research project will enable students to learn skills essential for independent research. The project may be undertaken at College or in collaboration with industry.
To complete the MSc, all students registered for the MSc in Transport must undertake all modules.
The module content provided is indicative and is subject to annual update.
Pre-session (Non-assessed)
The notation in the module title indicates which programmes the module is available to.
MSc-T = MSc Transport
MSc-TDSMO = MSc in Transport with Data Science and Mathematical Optimisation
Autumn Term modules
Spring Term modules
Summer term modules
Group Design Project
Research Project
Frequently Asked Questions (FAQ's)
What are my options after graduating from the programme?
There are unlimited possibilities! As the programme is designed to provide you with the essential skills that are applicable across the entirety of Transport modes and sub-disciplines, you will have a wide range of options upon graduating. This could involve working in the industry or government sectors or undertaking further research in the shape of a PhD. Whichever you choose, we are confident that this programme will provide you with the potential to lead the field in your respective area.
How is industry involved with the programme?
The industry will play a large role in the programme, including:
Delivering guest lectures
Supervising the design projects
Co-supervision and placements as part of the MSc Dissertation project
Providing scholarships/sponsorships
We have also consulted Engineers within the industry during the design of the programme itself, such that it helps meet their needs and also equips graduates will all the necessary tools for entering the workforce.
What facilities are available?
The programme will be taught in excellent, modern facilities including:
Intelligent Infrastructure and Transport Systems Laboratory
Lecture rooms
Computer laboratories
Breakout Student Space (BOSS)
Are there any scholarships opportunities?
Yes, there are Departmental and other scholarships available for the very best students. If you are interested in receiving a scholarship, then early application is strongly recommended.
Visit this webpage for information about scholarships and funding opportunities.
Who is involved in the programme?
How is the programme assessed?
Assessments include individual and group coursework; design projects; oral presentations; written examinations, and a research dissertation. To complete the requirements of the degree, all assessments must be undertaken to the appropriate level. Successful candidates will be awarded the MSc degree from Imperial College London
Haven't found an answer to your query / question?
Photo
Details
For questions and advice relating to MSc application, basic eligibility, supporting documentation required, and information on entry to our postgraduate taught (MSc) programmes, and general information pre-registration.
Postgraduate Taught Office
Prospective students and applicants should contact: msc2023@imperial.ac.uk or call Yamini, +44 (0)20 7594 5932.
Current students should contact: cvpgo@imperial.ac.uk or call Yamini, +44 (0)20 7594 5932.
For all queries related to the academic content of the programme.
Programme Director
Dr Panagiotis Angeloudis, +44 (0)20 7594 5986, p.angeloudis@imperial.ac.uk
For all other queries.
Programme Administrator
Maya Mistry, +44 20 7594 6100

Administration contacts for the Transport cluster
Administration contacts
MSc Application Information
Minimum academic entry requirements
A good Upper Second or First Class Degree result (or International equivalent), in engineering or another numerate discipline, or Masters level degree qualification
Good mathematical skills (B or above at A-level or equivalent qualification)
Relevant Postgraduate industrial experience is favoured
English Language qualification (where relevant)
Please also check that your previous study meets the minimum academic requirements by country index.
Note: The Department may set higher requirements than those specified by the College as minimum entry requirements and that places are not guaranteed for any applicant. Relevance of degrees and eligibility can be checked with the Department.
English Language Requirements
Applicants for whom English is not their first language will be required to present an English language qualification, passed at the appropriate level. This may follow the application if not available at the time of submission. Please see the College English language requirements for postgraduate applicants for information. Please also check that your previous study meets the minimum academic requirements by country index.
Visa requirements for International Students
Apply Now
We hope you have found all of the information you need to reach a decision. If you would like to apply for this programme, please follow the application instructions here: Application Information and application link.
Further resources for this programme
Further resources for this programme