Lockdown archive 2020
At the start of the Covid pandemic, we set up a webpage for staff to share local news and help people stay connected as we adapted to our new working life, mostly isolated and away from campus.
This has now developed into a department staff newsletter which is a regular feature of our communications. This is the original 2020 archive.
March
Archived 'Stay Connected' content from March 2020 - March 2021
Women at Imperial Week is back from 8-12 March.

This year the theme for International Women's Day is #ChooseToChallenge, which aims to celebrate women's achievements, raise awareness against bias, and take action for equality. Our events will include panel discussions on action on gender equality and tackling COVID-19, to poetry workshops, speed mentoring sessions, fireside chats and a variety of training. Women at Imperial Week programme of events.

---
February
February is LGBT+ History Month
This year the theme is 'Body, Mind and Spirit', which explores the complexities of who we are and what we can aspire to be. Here at Imperial, we are committed to creating a culture where LGBTQ+ people feel welcome, included and fully able to be themselves. Imperial Events for LGBT+ History Month — everyone welcome

Accessibility —
update your Imperial PowerPoint presentations

The College has recently updated the branded PowerPoint templates for our internal and external presentations. These updated templates (including the This is Imperial one) now have an off-white background to make them more accessible for as many people as possible, including those with a Specific Learning Difficulty (such as dyslexia) and those experiencing screen fatigue. Update your templates
January
Time to think...
George Constantinides has been appointed to the Faculty role of Associate Dean (Academic Workload). His new role has the responsibility of developing a strategy enabling our academic staff have more 'quality thinking time.'
George's role will initially seek to improve understanding over how academic staff time is allocated and spent in the Faculty and how that compares both across departments and with our national and international peer institutions.
Professor Greyham Bryant
Professor Bryant passed away in October 2020. A tribute from his former colleagues David Mayne and Richard Vinter is now published on the Imperial News website.
Let's Talk About Race
The first of the department's Let's Talk About Race sessions took place this month. We encourage as many staff as possible to sign up for the second and final session in March. The 2-hour online sessions are led by an expert facilitator, Melanie Lee, who some of you will have met already. Each session will allow us to talk and share our experiences, seek to understand and crucially to listen to one another about those experiences, and together consider ways forward for the Faculty of Engineering and ourselves as individuals and teams.
"I find talking about race easy outside of work, but the workshop has made me think how well I could actively challenge direct or indirect racial discrimination if I saw it in the department. All staff need to feel empowered to stand up to any sort of discrimination. Unless we are aware of the effects of our language and actions, including unconscious ones, we cannot fulfil our commitment to be an inclusive and fair environment." (One of our EEE participants)

Please register here to book your place | Friday 5 March 10-12 Once booked a calendar invite will be sent to you with a short pre-session questionnaire.
December
Help our graduates celebrate - Thursday 10 December 1pm
We are celebrating our graduates virtually for the first time ever with a series of online celebrations. While these are not a replacement for our ceremonies, they are an important moment to celebrate their achievements. All staff are welcome to attend. Details for joining will be sent via email and posted here as soon as they are available.
Staff Christmas Party - Friday 11 December 4.30pm
Join us on Teams.
Remember to bring a deck of playing cards. We'll also be announcing the winners of our latest Celebrating Great Contributions Awards.
November
Disability History Month
8th November - 18th December
Imperial College will be promoting Disability History Month over the coming weeks. Look out for:
Student video promoting the Disability Advisory Service
Staff video on the help disabled members of staff have received from colleagues/managers and their advice on working from home effectively.
Staff Briefing from Able@Imperial co-Chairs (Friday 4 December)
Instagram takeovers from Disabilities Officer (Thursday 26 November) and Mental Health Officer (Tuesday 1 December) at the Union.
Never Mind the Boxes - here's the video
The Lab-in-a-Box project has been the result of an incredible team effort from staff across the EEE Community. We hope you can join us in thanking our colleagues for their outstanding work.
May has put together this video of the hundreds of Lab-in-a-Box experiment kits which have been carefully designed and assembled this summer, and have now been sent out to hundreds of students across the world.
The soundtrack of course couldn't be anyone else but the EEE Technicians Band, who recorded this cover of one of The Clash's greatest songs under their latest name "tHe sUcKs pAsTiLlEs."
October
Three cheers!
A trio of good news stories from the EEE Community for mid-October. Please keep sending us all your good news.
COVID WIN
Another milestone for the fantastic CBIT Lacewing team. Congratulations on winning the IEEE 2020 CASS COVID-19 Entrepreneurs Competition against some stiff competition. Watch Nick Moser's excellent presentation.
ACTIVE STUDENTS
Find out more about the two EEE undergraduate students Nikita Sarker and Vasiliki Areniki who have been selected to receive this year's Student Activity Award bursaries from the Old Centralians' Trust, to support their extra curricular activities.

NEW KIDS ON THE BLOCK
Finally, catch up with the biggest and most unusual EEE welcome week ever! Organised by Adrià Junyent-Ferré with the support of a great many of our staff and students. It takes a huge and largely unseen effort from across the department to welcome and organise our new students. Includes some very impressive Minecraft skills, if you know about this sort of thing.

---
Good luck Duncan!
On the last day before the start of Autumn term we met up in a virtual room, to say a very real thank you and good luck to Duncan Rossiter, who is sadly leaving the Education Team.
Duncan has made a huge contribution to the department and to the work of the team, especially throughout the shutdown when they were suddenly faced with the prospect of managing thousands of remote assessments. A brilliant colleague — supportive, efficient, dedicated, generous with his time — Duncan will be very much missed by all of us in the EEE Community, and we will warmly welcome him back if he decides he misses us too much!
In control
Thomas Parisini has been elected President of the IEEE Control Systems Society for 2021-2022.
See the featured story in the latest Imperial news round up.
---
September
Postdoc Appreciation Week
During 21 -25 September 2020, the Postdoc and Fellows Development Centre, PFDC in conjunction with national events (NPAW), is hosting a series of events and activities to celebrate Postdoc and Fellows at Imperial.
A great opportunity to thank our brilliant Postdoc community in EEE, and the significant contributions that Postdocs and Fellows at Imperial make to research and discovery, including their contributions to Imperial' s ranking as a world leading research and educational institution.
---
Opening up
Many more of our staff are now back in College. We'd love to hear from any colleagues who are spending time on campus, or helping get things in place for the start of autumn term. Let us know how it feels to be back, and about the work you're doing. Please email Jane Horrell, and we'll share here and on social media.
Covid safety and Lab in a Box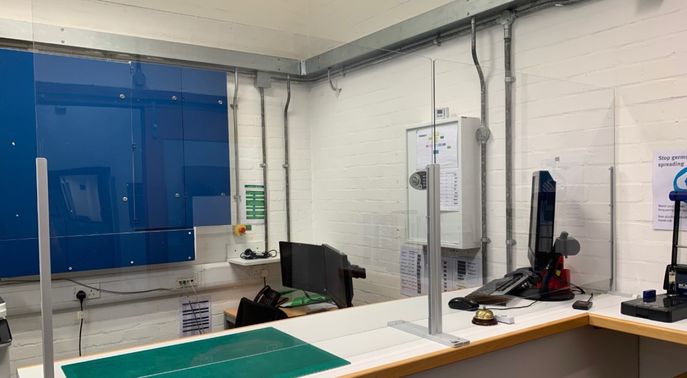 Keeping us safe
While many of the Department have been away from campus, members of our facilities and technical staff have been designing new layouts for shared offices, pedestrian flows, and putting in other measures to help keep staff and students safe — for example these protective screens here in Stores and in the Education Office.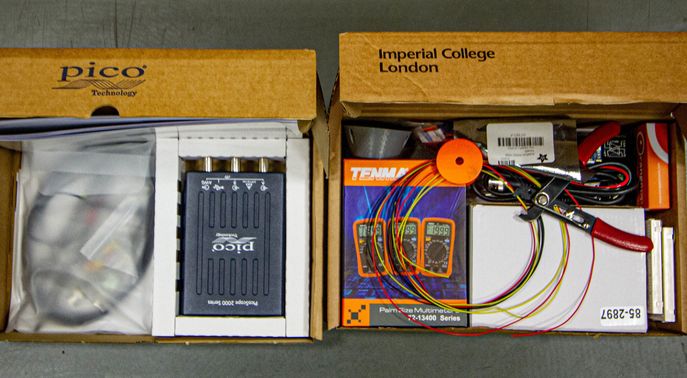 Lab-In-A-Box
Another huge team effort, designing and preparing hundreds of kits ready to send across the world to students for their lab experiments. Thanks to Ed, Phil C, Zohaib, Tom C, Christos P, Vic, May, Amine, Danny, Kristel, Adria, Yue.. have we missed anyone? It takes an extraordinary number of people to make these things happen!
July
Three welcomes
Dr Adam "Ad" Spiers has joined our department as a Lecturer in the Intelligent Systems and Networks Group. Wecome to the EEE Community Adam, we wish you every success.
Congratulations to Simos Evangelou on the arrival of a baby daughter, Anastasia, born June 25th. Mother and daughter are in good health (hopefully father too!).
Also congratulations to Bob Spence, who has become great grandfather to a baby boy Bob, the 5th Robert Spence in succession (our Bob's father being the first).
Hidden talents
Back at the start of lockdown we featured some of the work of our highly creative and talented staff members. Now we have two more colleagues to add to the gallery.
Meeting up
One benefit of lockdown restrictions lifting — Emma and Lina took a well-earned break to meet up for the first time since March for some socially distanced paddleboarding at Brentford Lock.
title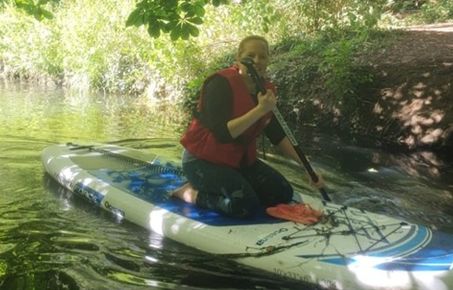 Relax..
What could be more calming than being on the water on a summer's day?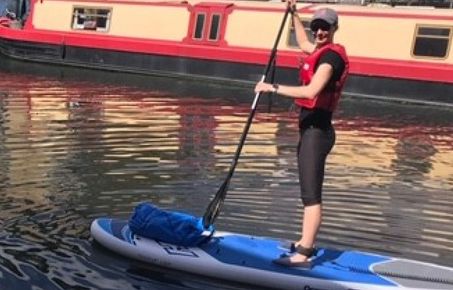 Balance..
Stand up paddle boarding is a cardio and core workout.
Enjoy!
Time to meet up socially is something we are missing right now.
Celebrating our EEE Community
O
n Friday 3rd July we announced the first of the Department's new 'Celebrating Great Contrbutions' Awards at a virtual event.
Read about the award winners who help make EEE a more supportive, collaborative, and innovative place to work, and find out more about the awards.
---
April / May
While we're living, working and studying away from College, we would love to fill this page with snapshots of our EEE community.
Maybe you're doing some volunteer activity, finding time for a creative hobby, celebrating a special event, or trying out challenging new recipies.
Perhaps you need some motivation, or you've top tips for cutting hair, or you'd just like to share some of the small, everyday, positive things that are helping you through these unusual days.
Emma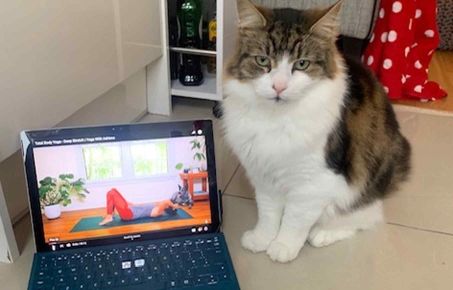 Cat pose?
Emma's cats sometimes join her during Teams meetings, but also like to assist with yoga classes..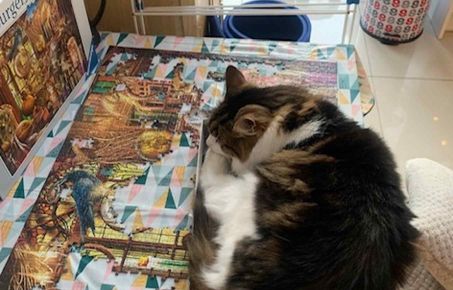 Cat nap
... fall asleep on her jigsaw puzzles..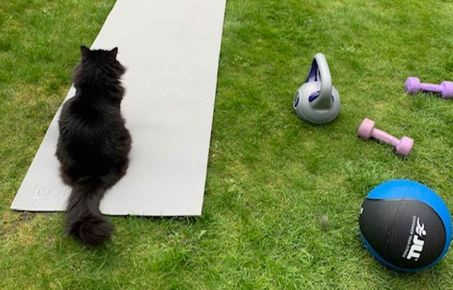 Cathletics
.. and supervise her outdoor exercise.

Thank you for sharing, Emma!
Kay and Danny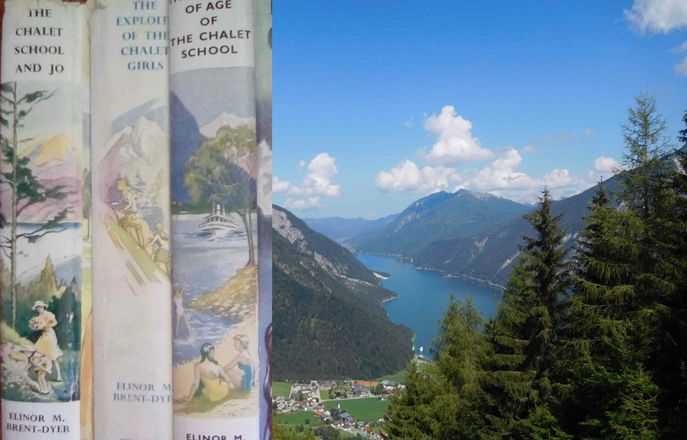 Austrian adventures?
Kay has returned to school - The Chalet School on the beautiful "Tiernsee" (Achensee in real life). She went there two years ago, and everything is just as described in the books: the lake, the ferry, the train, the cakes with featherbeds of whipped cream!
Lina's cycling photography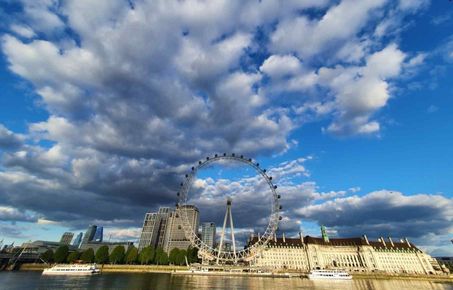 An eye for London
Stunning pictures from around the city taken by Lina while out cycling..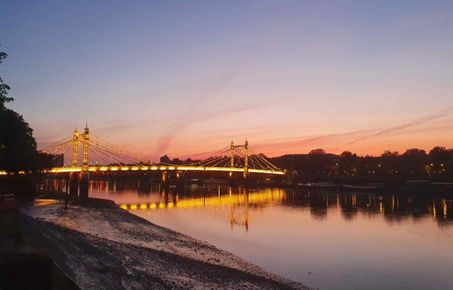 Name that bridge...
A gorgeous sunset over the Thames — but which bridge is this?

Clue: it's named after someone significant to Imperial's history.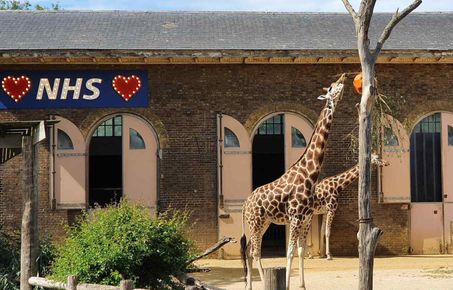 We love Zoo, NHS
The Giraffe House at London Zoo is lit up with a 'Love NHS' sign.
Clare and Esther - gardening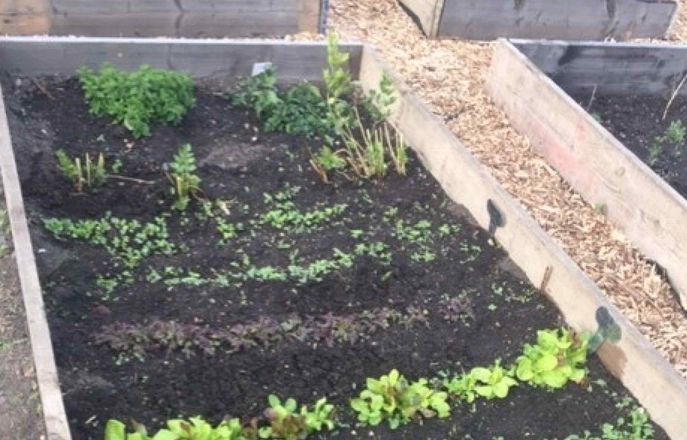 Growth industry
Clare's allotment was a muddy field of weeds, after a lot of hard work it's now a smart layout of six raised beds made from scaffolding boards with bark chip paths between. A local family of fox cubs also enjoy playing here in the sun.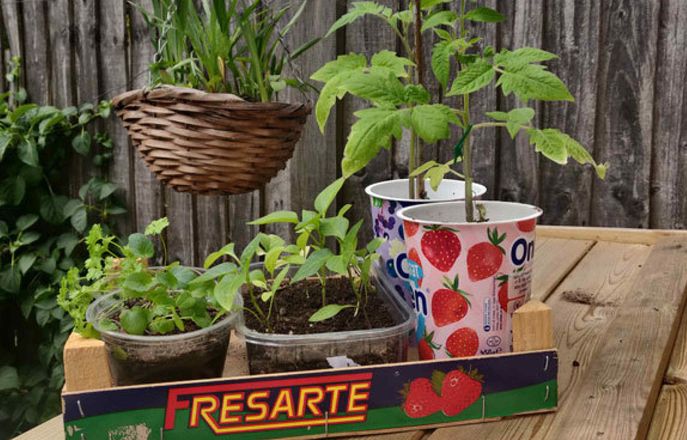 Growth industry (2)
Esther started growing these from seed in first weekend of lockdown and they are now ready to go into the garden. She's keen to take advantage of working from home and being in London for the summer to grow some flavoursome home grown tomatoes. The other pots are aubergines, basil and parsley.
Faye 1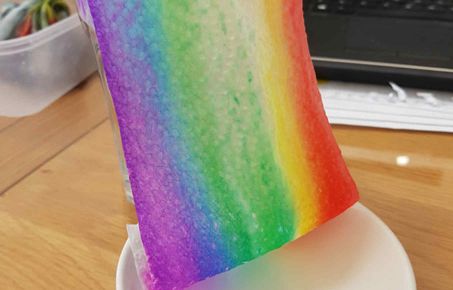 Home science
Faye's children have been using art materials for colourful experiments. This rainbow was 'grown' using water and felt-tipped pens...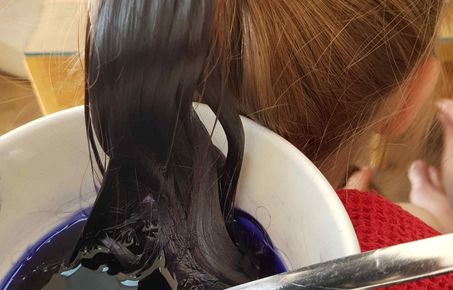 The Method
.. and this is the "tissue-paper hack" method for creating beautiful dip-dyed hair using only hot water, tissue paper and salt.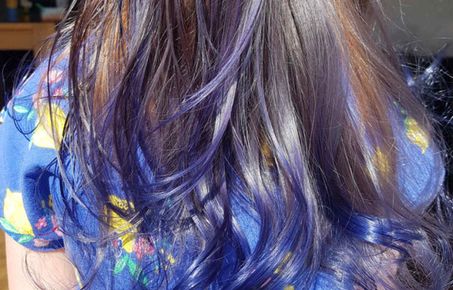 The Results
We think you'll agree this is a result that is really worth publishing!
Lina, Tim, Jane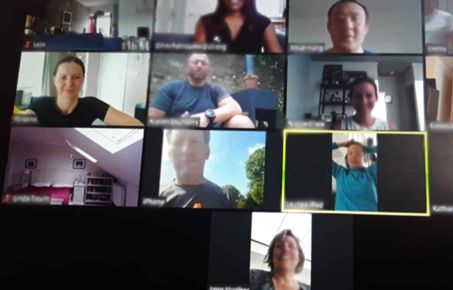 Rowlock-down?
Lina has been running Zoom circuit training sessions on Saturday mornings for her rowing club, while they can't meet on the water. EEE staff are welcome to join in apparently!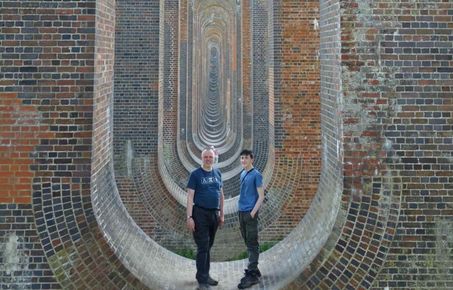 Southern Rail
Tim needs no excuse to get outside and inspect some of his favourite transport architecture. This is the impressive Ouse Valley Viaduct. Follow him on Twitter @OtherProfGreen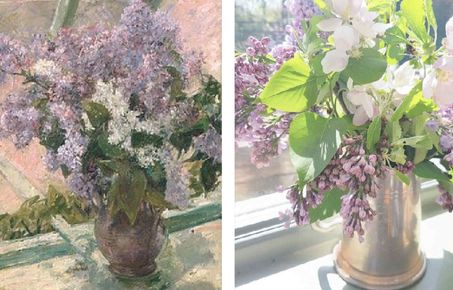 Still life
Jane's "very lazy" entry for the #GettyMuseumChallenge, where people attempt recreations of artworks from things they can find at home. 'Lilacs in a Window' by Impressionist artist Mary Cassatt.
Paul and Woody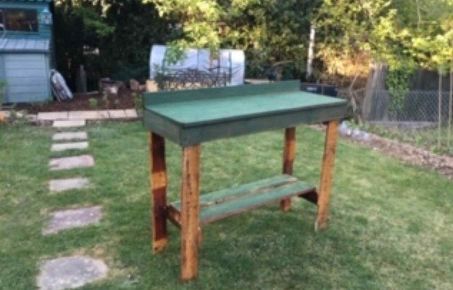 Joining in
Paul has been trying out his joinery skills while away from the Department. Here's a saw station...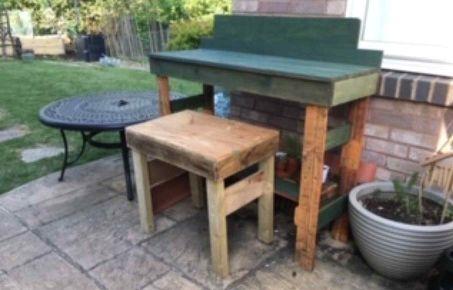 Joining in (part two)
..and a potting station...