NMAHPPs
Training and Support
Support for research fellowship applicants
Imperial College AHSC clinical staff intending to apply for NIHR or other funded research awards are strongly advised to make contact with the CATO team (cato@imperial.ac.uk) for information and advice.
Applicants should allow plenty of time to prepare their applications (~6 months) and are urged to contact CATO well in advance of the submission deadline.
An introduction to CATO for NMAHPPs
What is an NMAHPP?
We use the term NMAHPP to describe healthcare professionals outside of medicine and dentistry. NMAHPP stands for Nurses, Midwives, Allied Health Professionals, Healthcare Scientists, Pharmacy Staff and Psychologists.
Who are CATO and how do you support NMAHPPs?
The Clinical Academic Training Office, CATO, is a centralised academic training hub for researchers. One of our key aims is to support NMAHPPs who are interested in research, enabling them to become clinical academic researchers.
We do this by offering a range of activities to help identify and develop NMAHPPs who are interested in research. These include:
Running research events and symposiums.
Providing bursaries to support with developing research skills.
Sharing advice on how to develop research careers, including how to apply for fellowships.
Signposting to, and sharing, resources.
Developing a bank of NMAHPP researchers who can offer support and guidance.
Who does CATO support?
At CATO, we are a part of the Imperial College Academic Health Science Centre (AHSC) which means we offer support to NMAHPPs from across the AHSC partnership. The AHSC is a partnership between:
Imperial College London (ICL),
Imperial College Healthcare NHS Trust (ICHT),
Royal Marsden NHS Foundation Trust (RMH),
Institute of Cancer Research (ICR),
Chelsea & Westminster Hospital NHS Foundation Trust (C&W),
and the Royal Brompton and Harefield Hospitals (RBHH – affiliate members).
Meet our team
Across the AHSC there are many people who are focussed on growing the number of NMAHPPs engaging in clinical academic research. We've introduced a few key contacts below, but there are also plenty more on our research contacts page.
If you are an NMAHPP who wants to discuss a research idea, a fellowship opportunity or just what your next steps could be, then please do get in touch with your trust contact – they are an incredibly friendly and approachable team, who are there to help support you, and are always happy to chat!
People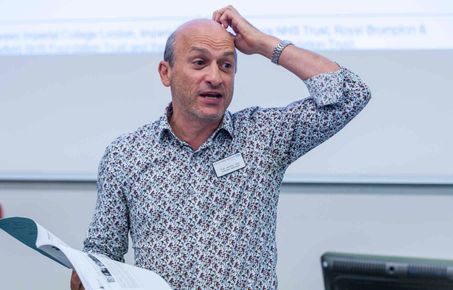 Prof Jeremy Levy
Director of Clinical Academic Training, Imperial College AHSC

"The CATO Team at the Imperial College AHSC offers unique support to all NMAHPPs to help them develop a clinical academic career."
People - AHSC Contacts
More contacts coming soon
...
More contacts coming soon
...