Undergraduate
Caption: Second year Bioengineers outside the Royal Albert Hall - October 2017
Caption: Departmental staff and student football match
Caption: First year Bioengineers by the Albert Memorial - October 2017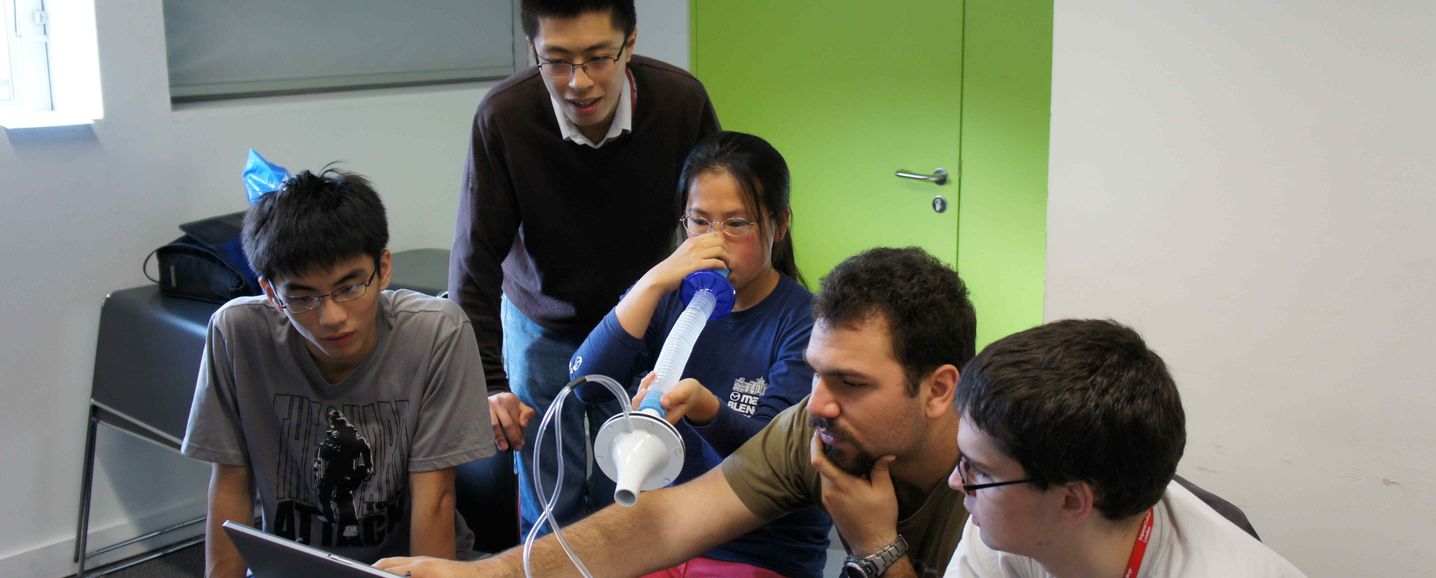 Caption: Students working in a Medical Science practical class
Caption: Fourth year Bioengineers at the V&A Museum entrance - October 2017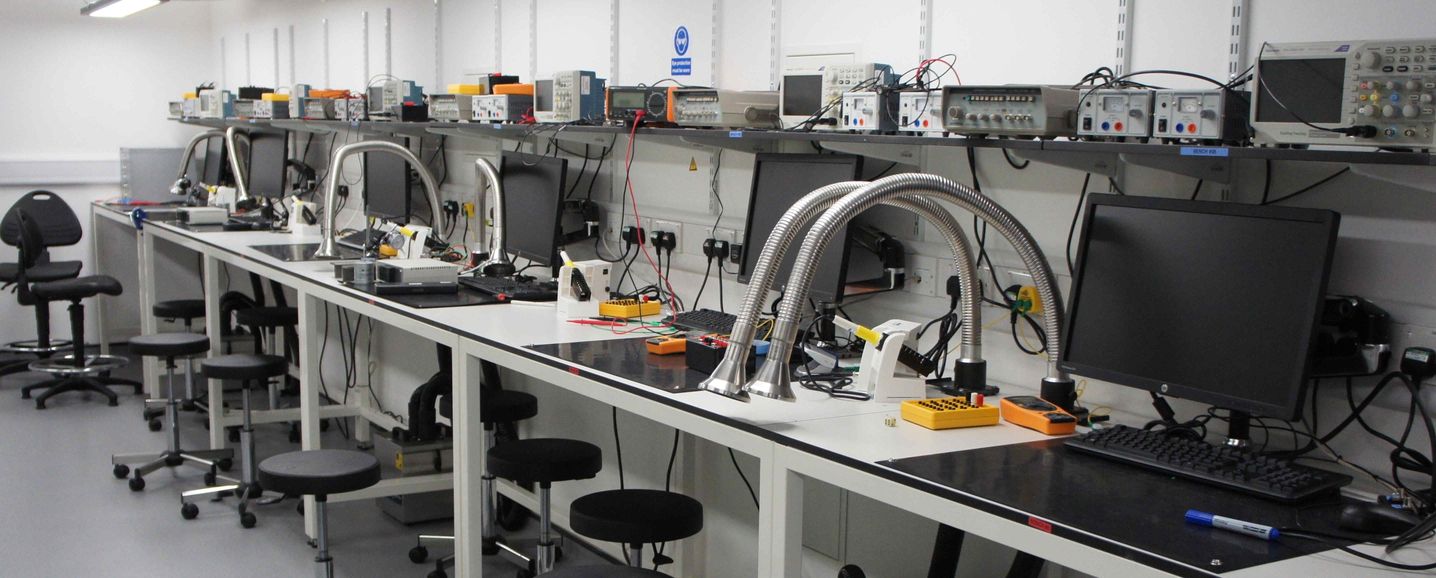 Caption: Electronics teaching laboratory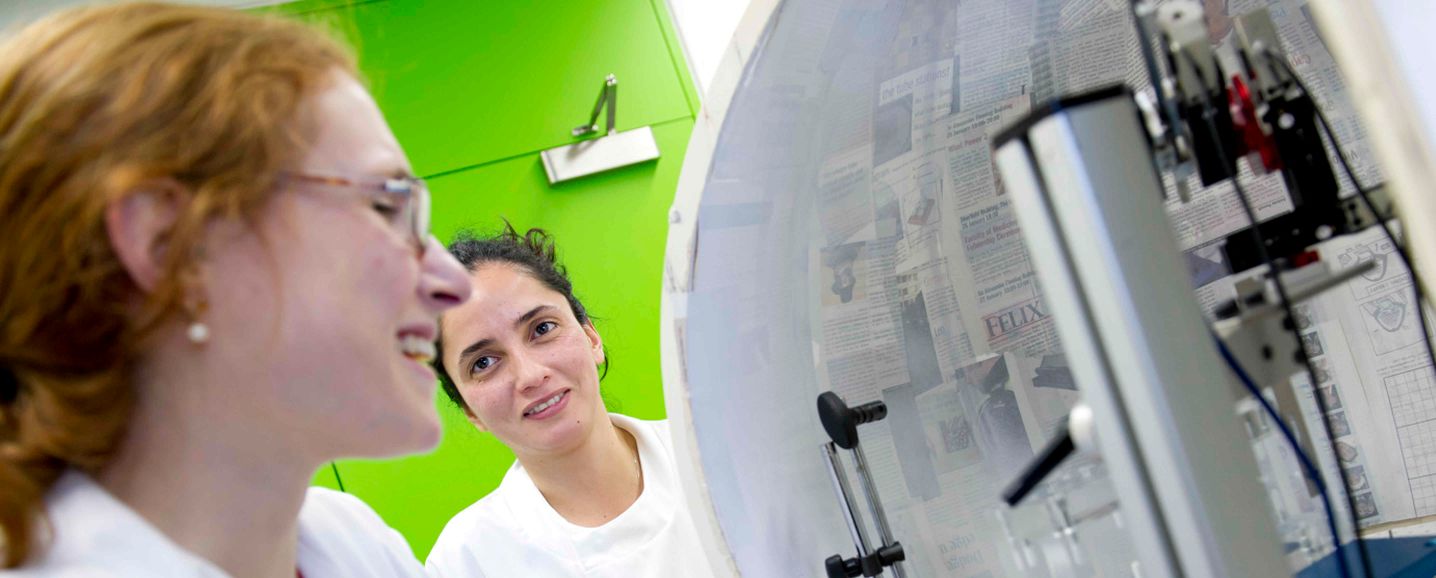 Caption: Students working in a laboratory
Bioengineering is the interface of engineering, medicine and the life sciences. It is a rapidly evolving inter-disciplinary field that applies engineering principles and technology to medical and biological problems. As a Bioengineer you will study many subjects including engineering mathematics, mechanics, electrical engineering, computing and programming, anatomy and physiology, cell and molecular biology, chemistry and design and professional skills.
At Imperial, you will have access to state-of-the-art facilities designed to support practical activities and enable you to contribute real-world projects which make a positive impact on user's lives.
Our Department is growing. Over the last 5 years our student numbers have increased signficantly, reflecting the growing need in industry and academia for graduate Bioengineers. We now accept around 120 students into our MEng Biomedical Engineering degree and around 60 students into our MEng Molecular Bioengineering degree each year. New for 2023 entry we are excited to be offering a BSc Biomedical Technology Ventures building on decades of educational expertise and a wealth of translational experience. If your pre-university qualifications include the study of Mathematics, Physics and/or Chemistry you are likely to be eligible to apply for one of our programmes.
Find out more about each programme in our online course pages:
Undergraduate courses
MEng Biomedical Engineering

This course focuses on developing a 'top down' understanding of the links between health and disease, limbs generating function, organs, tissues, cells and molecules within a bioengineering context. You learn a broad range of engineering skills, develop your ability to collaborate and solve problems, and work on projects in medicine and biology with life-changing potential.
MEng Molecular Bioengineering

This course develops a 'bottom up' understanding of the links between molecules, cells, tissues, organs and limbs generating function, health and disease within a bioengineering context. You learn a broad range of engineering skills, develop your ability to collaborate and solve problems, and work on projects that can benefit human health.
BSc Biomedical Technology Ventures
New for 2023 entry this exciting course is a balance of Engineering, Medical and Biological Science with Business-relevant. The course aims to provide a broad introduction to engineering for healthcare from which you can take a number of needs-based design methodologies to find solutions to improve human health, and explore means to bring these to fruition through entrepreneurship.
The curriculums provide integrated training in engineering, mathematics, and biomedical science as a preparation for a variety of careers in engineering, science, healthcare or business. We also offer the option of doing a year in industry. Imperial College works closely with employers and industry, including Industrial Advisory Panels, to design undergraduate courses which provide graduates with technical knowledge, expertise and transferable skills and to encourage students to take internships and placements. Find out more about placements and internships for students in the Department here.
Events
Our dedicated admissions and outreach team run a variety of events throughout the year online and on campus. Details of forthcoming events can be found on our information for schools web page.
Contact us
For further information, please contact us using the details below
Admissions and Outreach Manager: Jayne Shaw
Admissions Administrator: Mary Ewumi
Email: be.ugadmissions@imperial.ac.uk
Tel: +44(0)20 7594 2259 or +44(0)20 7594 5146
Scholarships and funding
There are a number of funding opportunities available for undergraduate students. The Department of Bioengineering offers up to 15 Departmental Scholarships and 7 prestigious President's Undergraduate Scholarships each year for exceptional candidates with outstanding academic potential and bioengineering engagement. Scholarships are allocated by the admissions tutors following interview. Additionally, there are a number of scholarships available through the College, including our new International Baccaulaureate Excellence Scholarships. For further information about other scholarships and funding please go to the Imperial College Scholarship search tool.
Students are also free to pursue external scholarships such as those available from Professional Engineering Institutions or other external organisations: