DSI Squared - Imperial x LSE
DSI Squared - Imperial x London School of Economics
DSI Squared is a collaborative initiative joining the Data Science Institutes from both Imperial College London and the London School of Economics (LSE).
When it comes to data science research and its impact, the LSE's strengths in the social sciences naturally complements Imperial's strengths in science, technology, and medicine.
By working together, the team hopes this initiative will enhance their joint influence on policy in wide scope domains – areas where alternative facts compete with scientific findings for influence in the policymaking process.
Encouraging collaboration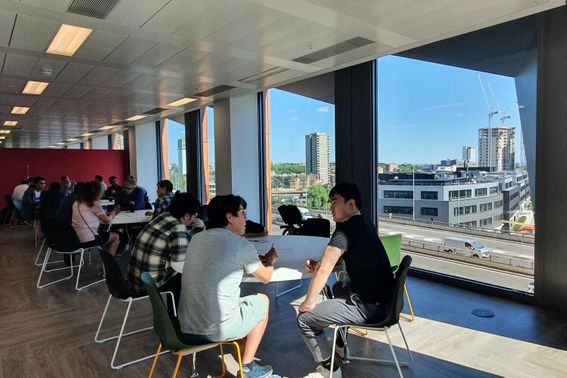 Networking and Seminar Series
In an effort to encourage networking and cross-institutional collaboration, DSI Squared runs a regular networking and separate seminar series.
On 30 September 2022, the Data Science Institute at the London School of Economics hosted the first seminar as part of the new 'Unsolved Problems in Data Science' Seminar Series. This new series of seminars aims to foster innovations by bridging the gap between social sciences, computer sciences and STEM subjects through presenting unsolved problems and crowdsourcing solutions from experts across these fields.
The series avoids the classic seminar format of long presentations and restricted chance for audience contributions by limiting the presenter to just an informal twenty-minute outline of their research.
You can read more about the seminar series by reading this Imperial News Story.
Find out more about the networking series by reading this Imperial News Story.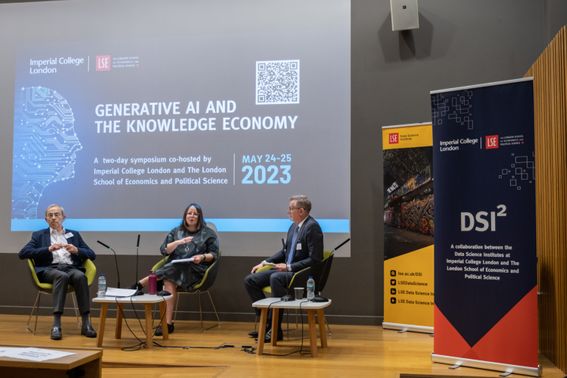 Generative AI and The Knowledge Economy Symposium
As part of DSI Squared, Imperial and LSE co-hosted a symposium exploring how large language models like ChatGPT could transform society.
The Symposium, which took place on 24/25 May 2023 took place over two days at each university, and explored the technical basis, future directions, industry applications, and consequences of generative AI, with particular attention to the knowledge economy and intellectual workers.
During the two-day symposium, we explored how large language models like ChatGPT could transform society. We got to hear from OpenAI's Co-Founder Wojciech Zaremba and Product Lead Arka Dhar in conversation with Professor Mary Ryan, speaking about the democratisation of tech and what large language models such ChatGPT could mean for humanity.

At Imperial College London, Dr Mark Kennedy, Dr Yingzhen Li, Jana Blount, Professor A. Aldo Faisal and Professor Peter Pietzuch explored the technical basis of large language models, and the future directions, consequences and industry applications of generative AI.

And in Day 2 at The London School of Economics and Political Science (LSE) a diverse range of speakers from across academia and industry explored the effects of large language models on education, economics, law and regulation.
Find out more in this Imperial News Story.