Julia Anderson Training Programme

Supporting early career development
What is the Julia Anderson Training Programme?
The Julia Anderson Training Programme is a newly launched scheme at the Institute of Global Health Innovation (IGHI) that offers paid work experience to people who have no, or limited, prior work experience.
We are currently recruiting for our July intake of Trainees.
The Programme specifically seeks people who have limited work experience at a university or organisation related to health, science, technology or business management.
By joining our initiative, trainees will have the chance to support impactful programmes of work at the Institute in a diverse range of areas, from health policy to data analytics, enabling them to develop useful and applicable workplace skills and knowledge that will kick-start their career path.
Our programme is a hands-on work experience opportunity to support the delivery of an existing project or activity at IGHI across one or more of our work streams, including:
Health policy
Data management and analytics
Communications and events
Digital health
Design
Patient safety
Health economics
Operations
Education
Research management.
Placements will last between 8-12 weeks, depending on the project.
The goal of the programme is for trainees to develop the personal and professional skills we use day-to-day at IGHI, grow a professional network and come away with work experience that can enhance their CV and employability.
Benefits of the programme
If you are successful in applying for and completing a training post, you will receive:
Meaningful work experience
Training, development and experience within a prestigious institution that you can use to support your future career search.
Guidance and support from your project team and line manager throughout your placement.
To support your work/life balance all flexible working requests and reasonable adjustments will be considered as per Imperial's policy.
Paid work experience
A fixed-term contract and salary which is offered at Professional Services Level 1a, Spine Point 1, based on £24,205 per annum.
Bespoke induction and onboarding
A bespoke induction booklet for IGHI staff and trainees once you start your training post.
A College laptop that you will have access to for the duration of your training post.
Mentoring
A dedicated mentoring scheme in which you will receive a mentor who is a trained staff member at IGHI.
Three mentoring sessions throughout your training post.
Access to training and internal vacancies
Access to the Imperial's Jobs page, online training and development resources, and LinkedIn Learning for the duration of your training post.
Certificate of completion
If you successfully complete the duration of your training post you would:
Receive an official certificate for completing the training programme.
Be able to request a reference from the project team at IGHI to support your future job applications.
Find out more about the Programme
Watch our webinar
If you're interested in applying for the Programme but want to find out more, watch our webinar where the team gives an overview of the scheme. You'll also hear from our latest cohort about their experience, and we answer questions from the audience.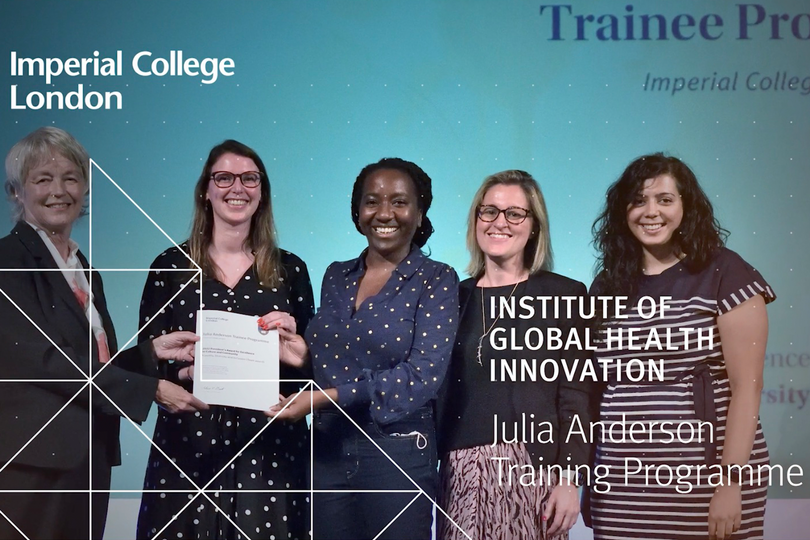 In memory of Julia Anderson
The principles of the Julia Anderson Training programme are about mentoring and supporting others, which is reflective of who Julia was and how we remember her. We named our Training Programme after Julia to honour her memory. Learn more about the programme and the impact that Julia has had on those involved.
About Julia
This initiative is named in memory of our late colleague, former Department Manager and IGHI Senior Advisor, Julia Anderson. Julia was a passionate advocate and supporter for professional development and a valued colleague and friend. Always willing to help, Julia provided advice and guidance to everyone she worked with.
Throughout her 30-year contribution to working at Imperial Julia championed operational excellence and the Department of Surgery and Cancer's Athena Swan initiative. Julia received numerous accolades including the Rector's award for Excellence in Leadership and Management and the Imperial College Medal, awarded for meritorious service to Imperial and for having enhanced its reputation, mission and objectives.
Julia has left a personal and professional legacy on the Institute; we are delighted to honour her ethos by naming this initiative in her memory.