Fieldwork
"On-the-ground" first-hand experience through fieldwork
An important aspect for some of our SSCP DTP students' PhD is engagement in fieldwork. Where possible, students are encouraged to explore opportunities out of the lab or office to gain knowledge, data, and hands-on experience to support their research. Fieldwork is conducted in many areas of the UK as well as around the world. Currently, excursions have taken our students to Costa Rica, Chile, Cornwall, India, Rwanda, South East Canada, Malaysian Borneo, South Georgia, the Pyrenees, Greece, Germany, Cyprus, the USA and Antarctica just to name a few.
Hear from some of our students who have completed fieldwork by clicking on the links below. We encourage our students to write an informative reflection post after they return from fieldwork so that others can learn from and share in their experiences.
News piece: Nick Dunn, PhD student - Fieldwork in Diego Garcia, British Indian Ocean Territory
Blog: Ophelie Meuriot, PhD student - Fieldwork Research in the Atlantic Ocean: Six weeks onboard the Discovery
Blog: Jack Anderson, PhD student - Fieldwork at the highly-active Volcán de Colima in Mexico

Blog: Philip Chapman, PhD student - Fieldwork in Borneo, South East Asia
Fieldwork Photos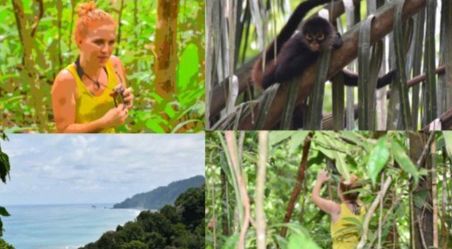 Jenna Lawson (Cohort 4) on fieldwork in Osa Peninsula, Costa Rica, researching why the spider monkey is only found within a very limited distribution. The information gathered will be used by Jenna to design management strategies to increase their population size and distribution.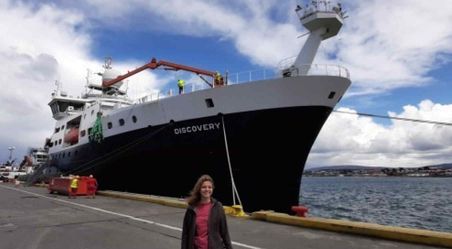 Ophelie Meuriot (Cohort 6): Six weeks onboard Royal Research Ship Discovery collecting data in the Atlantic Ocean. The trip took her to Punta Arenas, Chile.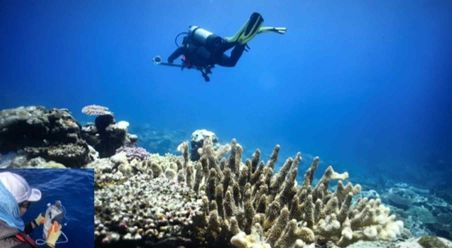 Nick Dunn (Cohort 5) in Diego Garcia taking water samples for investigation into fish and elasmobranchs around the atoll using environmental DNA. Further info on this field trip available on this link.
Credit to Dan Bayley @DTIBayleyfor the Fiji photo (underwater) and David Curnick @DavidCurnick with the water sampling photo.
Fieldwork Photos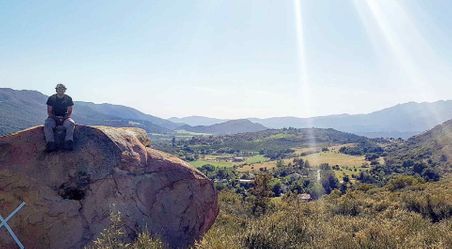 Alex Hughes (Cohort 2) investigating potential boulder sampling localities Ojai Valley, California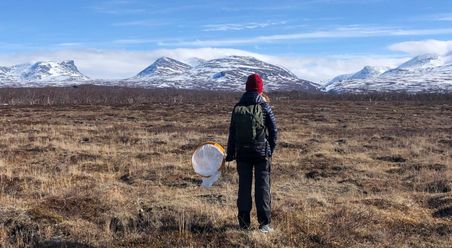 Aoife Cantwell-Jones (Cohort 7) investigating how bumblebees and their interactions with plants are affected by climatic variation.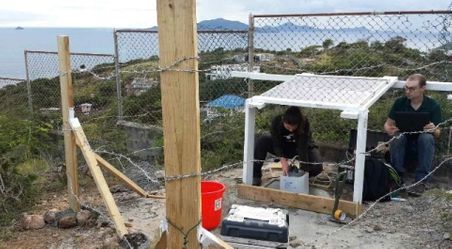 Robert Allen (Cohort 3) instilling a temporary seismic land-station in the southern islands of the Lesser Antilles
Fieldwork Photos
Sam Brooke & Stephen Watkins (Cohort 1) doing a Wolman Point Count to derive the grain-size in Death Valley, California
Demetrius Martins (Cohort 1) on site to measure wood and leaf traits in Cairns, Australia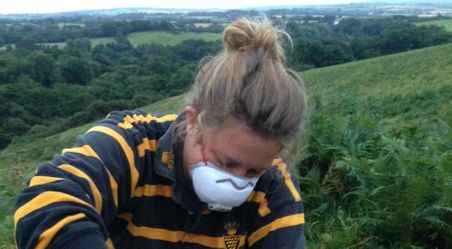 Cally Ham (Cohort 2) putting GPS collars on badgers in Cornwall