Pathways to Medicine

A two-year widening participation programme for young people aged 16-18 interested in studying medicine.
At a glance
Cohort programme with non-residential summer school
For highly motivated young people from state-funded school/college
Applications for the 2023/24 programme will open in September 2023
About Pathways to Medicine
This programme supports highly motivated young people from state-funded schools and colleges who demonstrate a keen interest in pursuing a career in medicine. The programme recruits Year 12 students at the beginning of their A-level (or equivalent) courses and provides ongoing support into Year 13.
If you are a successful applicant, you will take part in activities that provide insight into the medical profession, support your medical school application and prepare you for starting university.
The programme is delivered by Imperial College London in partnership with the Sutton Trust and with support from Health Education England. It is coordinated by the Outreach Team with support from the School of Medicine, led by Professor Kevin Murphy (Admissions Tutor). The programme is also supported by Vision – a student-run medical society that aims to widen participation in medicine. Medical students from the society provide ongoing mentoring support, as well as organising events to show what it is like to study medicine at university.
What to expect
During your time with Pathways to Medicine, you will participate in events and activities throughout Year 12 and 13.
Every aspect of the programme is designed to help you make a strong and informed application to study medicine at university. Events are delivered online and, where possible, on campus at Imperial.
Activities could include:
Taster sessions in different areas of medicine
Informative talks by admissions tutors, academics and practicing clinicians
Opportunities to meet and interact with Imperial medical students (including ementoring)
Professional insight and university experience days.
Programme snapshot
As well as support for their medical school application, participants get lots of hands-on experience.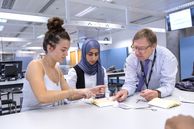 Learning how to suture
Summer School session with Royal College of Surgeons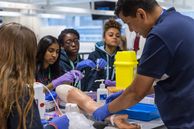 Taking blood from dummy arm
Clinical Skills workshop with St Mary's Hospital tutor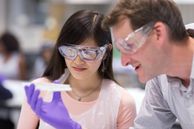 Experiment to measure insulin
Taster Event practical on Diabetes using ELISA equipment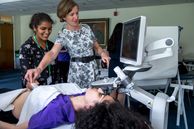 Performing an ultrasound scan
Summer School session with Royal College of Radiologists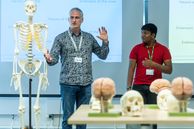 Learning about the human body
Anatomy Masterclass with School of Medicine tutor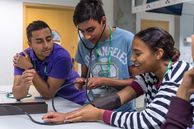 Measuring blood pressure
Clinical Skills session during the Junior Conference
Feedback from previous participants
"I want to say thank you to everyone at Pathways for supporting us with this journey. This programme has been really insightful and has helped to reinforce my love of medicine." - Year 13 participant
"I have become a much more well-rounded, confident individual thanks to this programme and it has played a pivotal role in my (hopefully) imminent entry to medicine." - Year 13 participant
"I was part of Pathways last year and now I'm a first-year medical student at Imperial! The programme helped me so much with my medical school application and getting into Imperial, so I am always really grateful for the programme." - Programme alumni
"Being part of Imperial's Pathways to Medicine has given me access to consistent and reliable information that I would otherwise never have, which I am forever grateful for. I've gained a realistic insight into all the marvellous pathways that can lead to medicine and that medicine can lead into, and have learnt how to look at medical cases and news through the lens of a medical student. The mentors and various doctors who dedicated time out of their busy schedules to help make medicine a more accessible course to the widening participation population made me truly appreciate the support that comes from the medical community and excited to be a part of it in the future. Thank you for the endless stream of support and memories and for being the beginning of our exposure to the mind framework of medical students and doctors that we will look back on as doctors ourselves." - Year 13 participant
Applicant information
Eligibility criteria
We recommend that you use our eligibility checker tool to see if you are eligible to apply.
We look forward to seeing applications from Year 12 students who have a passion for STEM subjects and interest in medicine.
To apply for the Pathways to Medicine programme, you must be:
in Year 12 at the time of application;
living and attending a school within one hour of Imperial's South Kensington campus (you can check this via Google maps);
attending (and have always attended) a state-funded, non fee-paying school or college;
willing to travel to Imperial College London for the scheduled programme dates when face-to-face events can take place.
Academic criteria
To be considered for this programme, you must:
be studying biology and chemistry at A-level;
be interested in pursuing medicine at university;
have achieved a minimum of eight GCSEs with at least five at grades 7-9, including maths and sciences;
have achieved a minimum of a grade 5 in GCSE English Language;
be on track to achieve at least two A grades out of a minimum of three subjects at A-level (or equivalent).
Additional criteria
This programme is funded by the Sutton Trust, which supports students from backgrounds under-represented in higher education. That includes if:
you are eligible for free school meals
your family income is below £46,350 each year
you have been in care or are a young carer
you live independently (estranged), meaning you no longer have the support of your family due to a breakdown in the relationship
your parents do not have a university degree
you are studying in a non-selective state school that has below average attainment
your school has a high percentage of students receiving free school meals
How to apply
Applications for the 2022/23 programme are now closed.
Applications are made through our online application system, Aspire. You must create an account with Aspire before you can fill out your application.
We recommend that you use a personal email address - rather than a school email address - when creating your account. Security settings used in some school email servers stop applicants from receiving emails from Aspire.
Before you start your application, please read our pre-application information.
As part of your application, you will be asked to provide details for a parent/guardian and a teacher. Both your parent/guardian and your teacher will be contacted to provide a supporting reference and verify some of the information you provide.
We will ask for your GCSE results and the subjects you are currently studying. If you do not have predicted grades for your current subjects, you can type NPG or N/A in the grade field.
All information you provide on your application form will be stored by Imperial College London and shared with the Sutton Trust. To read about how The Sutton Trust will use your information, please see their privacy policy.
Programme schedule for 2022/23
Please see a provisional outline of core events and activities for our 2022/23 students. These activities may be subject to change due to the ongoing COVID-19 pandemic.
Year 12
Welcome event – Thursday 24 November 2022 from 5.30pm
Junior conference – a Sunday in early December 2022 (date tbc)
Workshop A * – full day online on Saturday 28 January 2023
Taster session – Wednesday 29 March 2023 from 5.30pm
Workshop B * – full day online on Saturday 13 May 2023
Taster session – Thursday 15 June 2023 from 5.30pm
Summer school – 10-14 July 2023 (non-residential)
* You will be required to complete a small project following each of the workshop sessions. Project support from current Imperial medical students will be available through an ementoring platform (Brightside).
Year 13
Mastering the BMAT – full day online on Saturday 9 September 2023
Application webinar - a weekday evening in mid September 2023 (date tbc)
MMA Day aka Senior conference – a Sunday in late September 2023 (date tbc)
1:1 ementoring – ad hoc during September 2023 until January 2024
Interview workshop – a Saturday in early November 2023 (date tbc)
Celebration event – a Thursday evening in December 2023 (date tbc)
General
We aim to provide you with insights into the medical profession through virtual and/or in-person work experience opportunities. These are likely to take place during the school holidays. Optional ementoring outside of the time periods outlined above will also be available.