Year 10 Insights into Science and Engineering Summer School
This action-packed summer school takes you deeper into your favourite science subjects and helps you look at them in new ways.
At a glance
Applications for 2022 are now closed
3 - 6 August 2022
Residential
For year 10 students
Coronavirus (COVID-19)
Please note that our programmes are now running in-person where possible, but some activities may take place on our dedicated online platform. Our first priority remains the safety and well-being of our staff, students and programme participants. Where programmes and events take place at an Imperial campus, participants, staff and students are encouraged to wear face-coverings indoors, especially in enclosed or crowded places, unless exempt.
Our programme coordinators will provide full information about the location and delivery method of our programmes to those enrolled.
Enrolment for our upcoming programmes will continue as usual and further details can be found below.
---
About Insights into Science and Engineering
This year 10 residential summer school aims to encourage participants to continue studying science and engineering subjects through offering taster sessions of different science and engineering disciplines.
For the scientists among you, get ready for an action packed four days that will take you deeper into the realms of the subjects you know including biology, chemistry, physics and maths, looking at them in new, exciting ways. You will be taking part in hands on practicals and workshops in real undergraduate labs with some of Imperial's finest academics and students.
For the budding engineers, you'll be amazed at how many different disciplines of engineering we can fit into four days. You will try your hand at a number of different disciplines, and you will also take part in several hands on activities, be introduced to some core concepts in engineering and witness first hand exciting technology that is being developed in our research labs.
What to expect
Students on both strands will experience university life in London through working closely with undergraduate mentors and staying in university halls during this residential summer school. The course will feature a number of social activities in the evenings both in South Kensington and central London.
At the end of the week there will be an academic-style conference where students in groups will present a poster explaining a concept they learned during the week to their peers, workshop leaders and invited guests.
This summer school is fully funded (free to successful applicants), which includes all course fees, materials, accommodation, three meals a day as well as any trips that are part of the summer school. Travel is not included however we may be able to offer successful applicants travelling from outside of London financial assistance for their travel.
Y10 Insights into Science and Engineering promo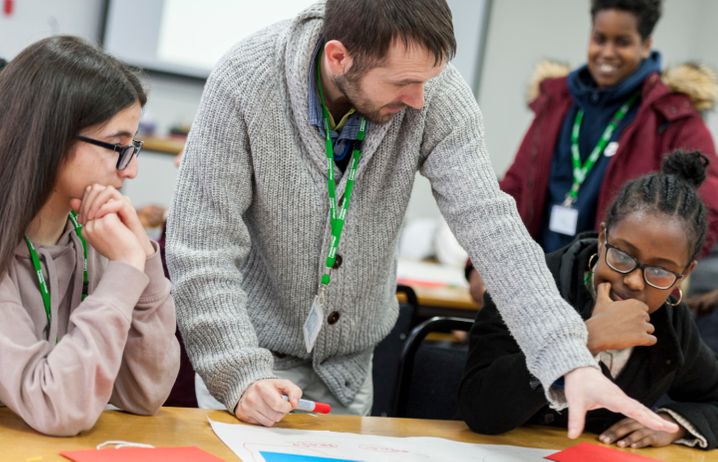 "To anyone who would consider applying, it is definitely something you should take part in. You learn so much more than what you'd learn in school. You receive so much insight into how things could go for you in the future, and people are there to answer all the questions you have, from accommodation to degree options. You also get to meet new people, share your interests and make new friends."

— Abigail, year 10 student, Insights into Science and Engineering 2020
Applicant information
Eligibility criteria
We look forward to seeing applications from Year 10 students who have a passion for STEM subjects.
To apply for the Y10 Insights into Science and Engineering Summer School, you must be in Year 10 at the time of application.
This outreach programme is funded by Imperial College London and aims to support state school students from backgrounds under-represented at university and Imperial. We use the criteria below to assess who is eligible to participate. The more criteria you meet, the more likely your application will be successful.
We recommend that you use our eligibility checker tool to see if you are eligible to apply.
We will prioritise your application if:
You have been in care
You live independently (estranged), meaning you no longer have the support of your family due to a breakdown in the relationship which has led to ceased contact
We will also assess whether:
You are a young carer and have caring responsibilities for a close relative with a disability, long-term illness, mental health condition, or drug or alcohol problem that is a significant demand on your time
Your family income is below £50,000 each year
You are eligible for free school meals and/or pupil premium
Your parents/guardians did not attend university
You live in a neighbourhood with low overall progression rates to higher education (POLAR4 Quintile 1 or 2 areas) or high levels of deprivation (IMD Quintile 1 areas)
Your school has a high percentage of students receiving free school meals
Your school has below average attainment
Academic requirements
To be eligible for this programme, you should:
Expect to study STEM subjects in your post-16 options

Be studying at least eight GCSEs (or equivalent)
How to apply
Applications for summer 2022 are now closed.
For information about the application process, please see our application FAQs.
Contact us
For more information, please see our Outreach Programme FAQs.
If your query is not answered in the FAQs, please email us via outreach.scienceactivities@imperial.ac.uk or phone +44 (0) 20 7594 3575.
Want to stay up to date with Imperial outreach events? Click on the links below to follow us on our social media sites and follow the hashtag, #icoutreach