Year 11 Online STEM Challenge

This programme gives you the opportunity to work in small teams to develop and pitch creative solutions to a current world problem.
At a glance
Applications closed: 9 March
Decisions released: 5 May
Dates: 27 - 30 June 2023
Format: Hybrid
For year 11 students
About STEM Challenge
The Y11 Online STEM Challenge programme is designed to give participants the opportunity to work in a team to solve a current world problem. Focused on how different STEM subjects interlink, participants will use their knowledge of different subjects to creatively develop solutions to the problem posed by our Academic Leader.
The first three days of the programme will be hosted online. With the support of our student ambassadors, participants will work to come up with a novel and inspiring approach to the challenge and prepare their pitch. Day four is hosted in person at Imperial. Whilst on campus you'll deliver your presentation in the hopes of being the winning team.
We are looking for participants who are enthusiastic about STEM, are willing to work in a small team and are excited to develop a broader understanding of how STEM subjects effectively work together.
What to expect
This is a four-day programme. The first three days of the programme are hosted online. On the final day, you'll visit Imperial.
During the online programme, as well as working on your pitch, you will meet researchers and/or individuals from industries related to the challenge. You'll also have the chance to get to know like-minded students from around the UK, explore the benefits of going to university and ask our student ambassadors about their experiences.
On day four, you'll travel to Imperial to meet your team and your student ambassador in person. After a final polish of your presentation, and a chance to explore the campus, you'll pitch your solution to a panel of judges. The team with the best proposed solution will be awarded a prize.
Please note, the details of the problem will be provided after we release application decisions and there will be some pre-reading required two weeks ahead of the summer school.
This summer school is fully funded (free to successful applicants), which includes all course fees, materials and lunch during the day on campus. Travel is not included. However, we may be able to offer financial assistance to particpants travelling from outside of London. Please contact us after aplication decisions are released for more information.
Y11 STEM Challenge promo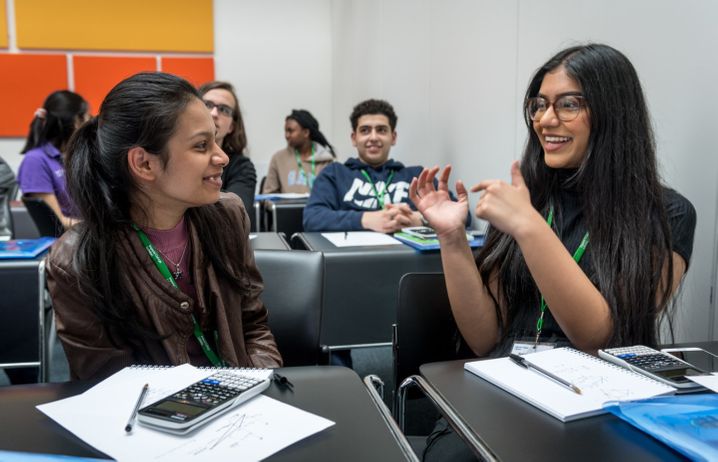 "I would urge all students who are considering applying to do so. I found the application process itself to be very helpful, as it made me reflect on myself and helped me realise what I wanted in life. The summer school was amazing and I know that it has helped shape my future choices. I also didn't feel like I missed out on anything by doing the programme online."

— Oyinkan, year 11 student, STEM Challenge 2020
Applicant information
Eligibility criteria
To apply for the Y11 STEM Challenge, you must be in Year 11 at the time of application.
This outreach programme is funded by Imperial College London and aims to support state school students from backgrounds under-represented at university and Imperial. We use the criteria below to assess who is eligible to participate. The more criteria you meet, the more likely your application will be successful.
We recommend that you use our eligibility checker tool to see if you are eligible to apply.
We will prioritise your application if:
You have been in care
You live independently (estranged), meaning you no longer have the support of your family due to a breakdown in the relationship which has led to ceased contact
We will also assess whether:
You are a young carer and have caring responsibilities for a close relative with a disability, long-term illness, mental health condition, or drug or alcohol problem that is a significant demand on your time
Your family income is below £50,000 each year
You are eligible for free school meals and/or pupil premium
Your parents/guardians did not attend university
You live in a neighbourhood with low overall progression rates to higher education (POLAR4 Quintile 1 or 2 areas) or high levels of deprivation (IMD Quintile 1 areas)
Your school has a high percentage of students receiving free school meals
Your school has below average attainment
Academic requirements
For this programme, you should:
Expect to study science and maths in your post-16 studies
Be studying at least eight GCSEs (or equivalent)
Be on track to achieve a minimum of five GCSEs at grades 7-9, including maths and sciences
Be on track to achieve a minimum of a grade 5 in GCSE English Language
How to apply
Applications for summer 2023 are now closed. Late applications cannot be considered. We will release decisions on 5 May.
Applications are made through Aspire, our online application system. A link to Aspire will be added to this webpage once applications are open.
Setting up your account
You must create an account with Aspire before you can complete your application.
If you have applied to an Imperial Outreach programme in the past, you can use your existing account. There is a forgotten password feature on the Aspire login page.
If this is your first application to one of our programmes, we recommend you use a personal email address rather than a school email address when creating your account. Security settings in some school email servers will prevent you from receiving emails from Aspire.
Completing your application
Once you are logged in you will need to start a new application. As part of the application form you will need to tell us about your school, the subjects you are currently studying and the course(s) you plan to study post-16. Although the form will force you to include English, Maths and Science for Key Stage 4 (GCSE or equivalent) and ask you if you are planning on studying specific STEM subjects post-16, you do need to tell us about all the subjects you are studying at school. Please use the 'Other subjects' section to add this information.
Please take care to ensure you select the correct programme when using the drop-down options. Some of our programmes have similar names, so it is important to double-check.
You will be asked questions relating to the eligibility criteria listed above. Where possible, please try to have this information to hand before you apply. You will also be asked to write a short personal statement. This gives you the chance to tell us more about why you are applying for this programme and why you think you would be suitable.
As part of the application process, we will seek references from a parent/guardian and a teacher at your current school. Please speak to the individuals you would like to provide these references in advance, so you can check you have the correct email address and contact numbers for them and that they are happy to support your application.
References
Once you have successfully submitted your application, we will email your parent/guardian and teacher referees. They will be sent a personalised link to Aspire, where they will provide information to support your application.
The reference forms ask similar questions about the eligibility criteria and include the opportunity to provide a supporting statement. These statements can be used to let us know about other challenges you may have faced and/or what you might get out of participating in the programme. Teachers will also be asked to verify the subject/grade information you provided in your application.
Decisions
We will release decisions via email on 5 May 2023. If you are offered a place on the programme, or on the waitlist, you will have a limited amount of time to accept this offer. Successful applicants will receive details on the next steps.
For information about the application process, please see our application FAQs.
Contact us
For more information, please see our Outreach Programme FAQs.
If your query is not answered in the FAQs, please email us via outreach.scienceactivities@imperial.ac.uk or phone +44 (0) 20 7594 3575.
Want to stay up to date with Imperial outreach events? Click on the links below to follow us on our social media sites and follow the hashtag, #icoutreach