Newlands Lecture Series

The Newlands Lectures offer new ideas and perspectives from the world of STEM. Recommended for students in Years 10-13, and their teachers and parents.
'The Magic of Molecular Machines'
26 April 2023
Professor David Leigh FRS, FRSE, FRSC, MAE
Royal Society Research Professor & Sir Hall Chair of Chemistry, Department of Chemistry, University of Manchester, UK
Time: 16:00 – 17:00 BST
Venue: Lecture Theatre G16, Sir Alexander Fleming (SAF) Building
Location: Imperial College London, South Kensington campus, Imperial College Road, London, SW7 2AZ
The South Kensington campus is easily accessed via a 10 minute walk from South Kensington tube station. There is also space for car/coach drop inside the entrance to Imperial College Road.
About the talk
This lecture is recommended for students in Years 10-13, and their teachers and parents.
Professor David Leigh FRS is one of the pioneers of the field of artificial molecular machinery.
"We are at the dawn of a new industrial revolution of the twenty-first century, and the future will show how molecular machinery can become an integral part of our lives. The advances made have also led to the first steps towards creating truly programmable machines, and it can be envisaged that molecular robotics will be one of the next major scientific areas."
The 2016 Nobel Prize in Chemistry Committee, October 2016
Over the past few years some of the first examples of synthetic molecular level machines and motors – though primitive by biological standards – have been developed. Recently the first programmable systems have also been developed, the forerunners of a new technological era of molecular robotics.
Perhaps the best way to appreciate the technological potential of controlled molecular-level motion is to recognise that nanomotors and molecular-level machines lie at the heart of every significant biological process.
Watch short introductory video called Nanobot to discover more.
About the lecturer
Professor David Leigh FRS (www.catenane.net) is one of the pioneers of the field of artificial molecular machinery. Landmark examples from his laboratory include the first synthetic molecular machines able to perform macroscopic work [Nat. Mater. 2005, 4, 704], a molecular robot that synthesizes peptides in a manner reminiscent of the ribosome [Science 2013, 339, 189; featured in 'Breakthroughs-of-the-Year 2013' Science 2013, 342, 1441] and a programmable 'molecular assembler', described in the journal Nature as 'Science fiction becomes fact' [Nature 2017, 549, 374]. In recent years his research group have also tied molecules into knots [Science 2017, 355, 159] and invented 2D molecular weaving [Nature 2020, 588, 429], resulting in Guinness World Records for the 'Tightest Knot' [2019 Guinness Book of World Records] and the 'Finest Woven Fabric' [2022 Guinness Book of World Records].
Prof. Leigh has received a number of major national and international scientific awards, including the Feynman Prize for Nanotechnology (2007), the Royal Society Bakerian Medal (2013), the Royal Society of Edinburgh Royal Medal (2021), and the International Society for Nanoscale Science, Computation and Engineering Nanoscience Prize (2019). He was elected a Fellow of the Royal Society (FRS) in 2009. He is a Royal Society Research Professor at the University of Manchester and a Distinguished Professor at East China Normal University, Shanghai.
How to book:
The lecture is free but spaces are limited in the lecture theatre, and are available on a first-booking basis. We will be holding a reserve list, in case of cancellations.
Please complete the booking registration to reserve a place. Bookings will close on Wednesday 19th April 2023. For any enquiries regarding accessibility arrangements or your booking, please see contact details below.
Optional activities:
| Tour of South Kensington Campus | 14:30 - 15:00; 15:10 -15:40 |
| --- | --- |
| Tour of Department of Chemistry | 14:30 - 14:50; 14:55 - 15:15; 15:20 - 15:40 |
| Tour of Chemical Kitchen* | 14:30 - 14:50; 14:55 - 15:15; 15:20 - 15:40 |
*The tour of the Chemical kitchen will include a demo of the encapsulation of food products using alginate. Participant will be able to get hands-on and will be able to eat the result of what they make.
Contact Details:
For any enquiries related to bookings, activities, access arrangements or parking, please contact Ms. Raj Sandhu or Dr Simon Gerrard (Department of Chemistry Outreach).
---
You may also be interested in:
Our previous Newlands Lecture, was given by Prof. Tom Welton in 2021, during his tenure as President of the Royal Society of Chemistry (RSC). You can find details and the recording below.
'Chemistry and Sustainability: healthy planet, healthy future'
April 2021 lecture
With Professor Tom Welton, OBE CChem FRSC, previously President of the RSC
When it comes to the environment, chemistry and chemical products often get a bad press. Chemistry and Chemists have a huge role to play to enable us to achieve the UN Sustainable Development Goals. In this presentation, Professor Tom Welton will look at the ways that Chemistry can help us to maintain healthy lifestyles on a healthy planet.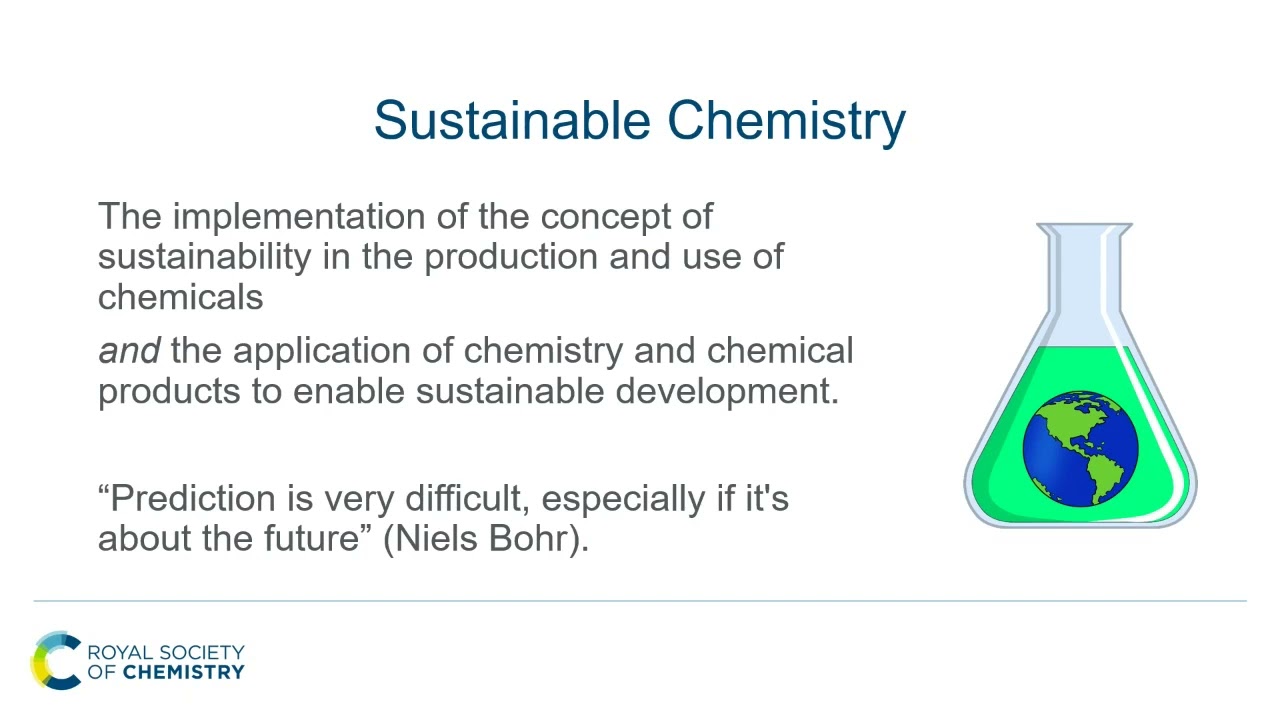 About the lecturer
Professor Tom Welton received his BA (Hons) in Chemistry in 1985 and his PhD in 1990 from the University of Sussex. He began his research career at Imperial College London in 1993 as a Lloyd's of London Tercentenary Fellow, later promoted to Lecturer in 1995. In 2004, he became the world's first Professor of Sustainable Chemistry at Imperial College London. Tom was Head of the Department of Chemistry from 2007 to 2014, and subsequently became Dean of the Faculty of Natural Sciences until 2019. Tom's research interests are focussed on ionic liquids and their use, application and recycling, enabling chemical processes to be made more environmentally and economically sustainable. Tom is a champion for equality, diversity and inclusivity, and in 2017, he was awarded an OBE for his services to diversity in education. Tom was elected as President of the Royal Society of Chemistry (RSC), and started his tenure in July 2020.
Past lectures
2021 - '

Chemistry and Sustainability: healthy planet, healthy future' by Professor Tom Welton OBE FRSC

2019 - 'Doing chemistry with electrons' by Professor Philip N Bartlett FRS FRSC
2018 – 'Functional Coatings' by Professor Ivan Parkin
2016 – 'From Waste to Wealth' by Professor James Clark
2015 – 'Landing on a Comet' by Professor Monica Grady CBE
2014 – 'Strange Ice' by Professor Andrea Sella
2013 – 'A Little Light Relief' by Professor David Phillips FRS
About John Newlands
This lecture series is named after John Alexander Reina Newlands, who was born in Lambeth, South London, and educated at the Royal College of Chemistry - a forerunner of Imperial College London. He is best known for devising an early form of the Periodic Table of the Elements.
In the middle of the 19th century many of the elements we know today had been discovered and characterised. Chemists had begun attempts to sort them into a logical sequence based on their chemical properties. In 1864, Newlands listed the known elements in order of increasing atomic mass and found a repeating pattern of properties for each eighth element. He developed a rudimentary form of periodicity that he called the 'Law of Octaves'. However, his scheme failed when extended to the heavier elements and was therefore not accepted by his contemporaries.
In 1868, Mendeleev published his arrangement of the elements that forms the basis of the Periodic Table we know today. Mendeleev's table enabled him to predict the existence and properties of hitherto unknown elements. The discovery of these 'missing' elements and confirmation of their properties led to the rapid acceptance of Mendeleev's table.
Acknowledgements
This lecture series is organised by the Department of Chemistry in collaboration with Outreach team. The lectures are supported by the Royal Society of Chemistry Chilterns and Middlesex section, with special thanks to Dr Stephen Robinson.
---
For more information about the Newlands Lecture Series, please contact Simon Gerrard at Chemistry Outreach.