June Open Days
Join us at our South Kensington Campus on Wednesday 28 and Thursday 29 June and experience what it is like to study at Imperial College London.
At the Open Day, you'll get the chance to:
Explore our campus, facilities and accommodation
Attend departmental sessions for the subjects you're interested in studying
Meet staff and students, and ask them any questions you may have
Please note there there is a limited capacity for departmental sessions.
If the session you are interested in does not appear as an option in the booking form, it is fully booked.
I went to the Open Day for my year of entry and spoke to chemical engineering students while I was there. I got such good impressions of everyone, they were all extremely friendly and welcoming, and answered all my questions about studying at Imperial. It really felt like a community where I could fit in. – Paulina, MEng Chemical Engineering
Make the most of your Open Day
Find answers to the most frequently asked questions around coming to an Open Day at Imperial below.
If you can't find an answer to your query here, please email us at opendays@imperial.ac.uk.
About the day
When are the Open Days?
Our June Open Days are on Wednesday 28 and Thursday 29 June.
Where are our Open Days?
Our June Open Days will take place on our South Kensington Campus.
The nearest tube stations are South Kensington and Gloucester Road – both are approximately a 10-minute walk away from the campus.
We recommend using public transport when traveling to an Open Day.
When should I arrive?
We recommend arriving anytime between 09.00 and 14.00.
The Open Day activities officially start from 09.30, and the main welcome talk will be repeated in the afternoon.
When you arrive, we recommend visiting one of our Welcome Points where you can check in and collect a programme. If these are busy, you are welcome to attend other activities and come back at a quieter time.
Staff and students in yellow t-shirts will be around campus to help direct you to the activities you want to attend.
What can I do on the day?
You can visit our Information Fairs throughout the day (between 09.00 and 16.30), where you can meet academic departments and support services and ask any questions you have.
Departmental sessions, which will give you an opportunity to find out more about the subjects you are interested in, also run throughout the day. You can register for these when you book your open day visit.
There are general information talks on topics ranging from student finance to the application process, starting at 09.30 and most are repeated during the day. You can also take a tour of our accommodation and attend drop-in sessions. No advance booking is required for these activities.
Students and staff in yellow t-shirts will be around to help you make the most of your day.
The full programme for the Open Days will be published on this page closer to the event.
What can I expect in the departmental sessions?
The departmental sessions require pre-booking and last between 60 and 90 minutes, usually taking place within a lecture hall in the department's building on campus. You will hear presentations from academic staff, and get detailed information on the courses at Imperial, as well as application guidance.
For your safety, and due to the high number of visitors at our open days and limited capacities, it isn't always possible to take a tour of specific department facilities during the session.
If you haven't been able to book a session, or you find you still have questions later, you can speak to the department directly at the subject information fair throughout the day.
Can we tour the student accommodation?
Yes, student-led accommodation tours of the halls of residence next to our South Kensington campus run throughout the day.
There is no need to book for these tours in advance – simply pop along to the tour tent at a time that's convenient for you and join the next available tour.
All tours are led by a current Imperial student, who will be pleased to answer any questions that you might have about life at the College.
Can I bring family and friends?
Yes, you are welcome to bring visitors, but you may only bring one guest to each department session due to limits on capacities in lecture theatres.
Please remember that all department sessions must be booked in advance and you must reserve a place for your guest at the same time.
I've got a question about the June Open Day. Who I can contact?
For any questions you have, you can contact our Open Days team using the contact details below.
E: opendays@imperial.ac.uk
T: +44 (0)20 7584 7202 (09.00–17.00 UK time)
Where can I find the accessibility route?
You can view or download our accessible route map of our South Kensington Campus below or visit AccessAble for more information.
Travelling to and from campus
How do I get there?
Our nearest Tube station is South Kensington which is on the Piccadilly, District and Circle lines.
Our campus is a 10-minute walk from the Tube station up Exhibition Road, next to the Science Museum, and is clearly signposted from the station.
We strongly recommend using public transport to travel to the Open Day. Parking in the area is extremely limited and expensive, and we can only arrange guest parking on campus if you are a blue badge holder.
Trains should be operating as usual but do check with your travel provider for information. For a Tube map and general information for travel in London, visit the Transport for London website.
We know that not all our visitors will be familiar with public transport in London, so please do get in touch if you need support planning your journey.
Do you offer any support with the cost of travel?
We have a limited number of travel bursaries available for Year 12 students at a state school or college in the UK. The bursaries will provide return rail or public transport to one of the June Open Days. The application deadline for the bursary is 12.00 on 23 May 2023.
Do you have disabled access/parking?
Yes, if you have a disability and blue badge we can arrange parking on campus – please email opendays@imperial.ac.uk to arrange this.
Most buildings on campus have disabled access, but please email us in advance to advise us of any mobility issues so that we can check the accessibility of departmental sessions that you intend to attend.
Booking and booking changes
Do I have to book to attend?
You must book departmental sessions in advance – you can book a place at up to three of these sessions.
You can also book a place for one guest to bring with you to departmental sessions (subject to availability) though you must indicate this at the time of booking due to limits on numbers.
Will I receive confirmation of my booking?
Yes, when you make your booking you will see your booking barcode and a list of the sessions you have booked on your screen. You will also receive an email containing your booking reference number and barcode.
The day before the event we will email you your booking barcode. Please bring your booking barcode with you on the day, as it is your proof of booking and you will need it to register at one of our Welcome Points. You can either display the email on your phone or bring a printed copy.
Can I edit my booking?
Yes. If you need to make changes to your booking, simply log back into our online booking system. To log back in you need to use the email address you used when you made the original booking and your booking reference number – you can find this on the email confirmation you received.
If you have any problems or require help with editing your booking, please email: opendays@imperial.ac.uk
The departmental session/s I want to attend are fully booked. What should I do?
We recommend you still book a place and attend our Open Day.
The booking system does not have a waiting list for departmental sessions, so please check back later to see if spaces have become available for the session(s) you are interested in.
You will still be able to explore the campus, attend an accommodation tour and have the opportunity to speak to our academic departments at our Information Fair.
You'll also be able to ask our staff and students any questions you have.
In addition, you may be able to attend a drop-in session about the subject you're interested in.
Do I need to cancel my booking if I can't attend the event?
If your plans change and you are unable to make the open day please do log back into our online booking system to cancel your booking and free up the place for another visitor.
If you have any problems cancelling your booking please email: opendays@imperial.ac.uk.
Why is the departmental session/s I want to attend not available to book on the form?
Only available sessions will appear on the booking form. If your departmental session does not appear, it is most likely fully booked.
You can still attend the Open Day and visit our Information Fair and drop-in sessions.
The booking system only lets me book for a maximum of two people. I would like two guests to join me. Can I book for three people?
Unfortunately, only one parent, carer or guest will be able to attend a booked department session with you. We have strict capacity limits for booked talks in lecture theatres for health and safety reasons, which is why we must keep the maximum booking number to two people.
Guests are welcome to attend the elements of the Open Day which do not require advance booking, for example our accommodation and general information talks.
Guests will also be able to visit the department and support services exhibition stands at the Information Fairs to speak with staff and current students from the department(s) of your choice.
Do you take group bookings for schools?
No, unfortunately limits on numbers at our departmental sessions means we are unable to accommodate school bookings.
However, if you are a teacher, please do encourage your students to book individually using our online booking system.
Teachers are also welcome to attend the event and there are a range of activities that do not require advance booking.
Open Day extras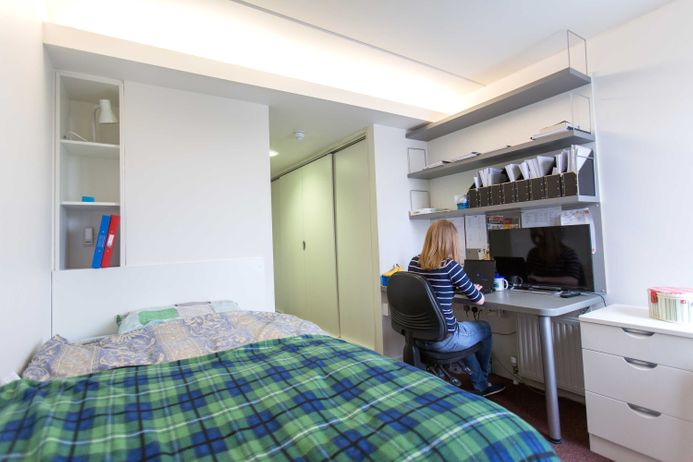 Accommodation tour
Accommodation tours run throughout the day – be sure to head to our tour tent and join the next available tour.