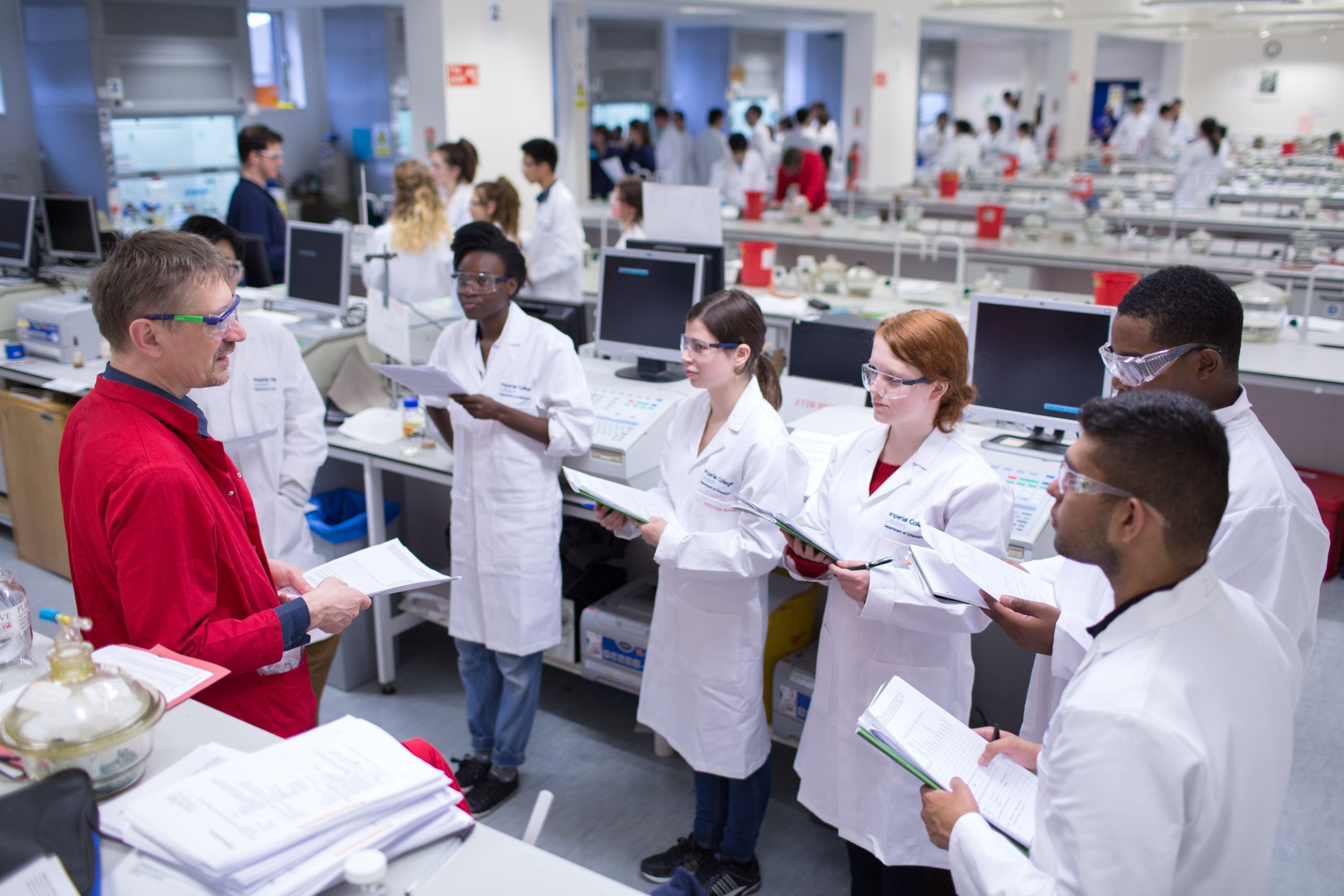 Chemistry
Develop your understanding of organic, inorganic and physical chemistry and build practical laboratory skills.
Develop your understanding of organic, inorganic and physical chemistry and build practical skills towards a career in industry
Gain confidence in a range of experimental techniques through extensive laboratory-based work
Build familiarity with working in an active research environment on a substantial individual project
Course key facts
Qualification

Duration

3 years

Start date

October 2024

UCAS course code

F100

Study mode

Full-time

Fees

£9,250

Home

£41,650

Overseas

Delivered by

Location

South Kensington

White City

Applications: places

8 : 1 (2022)
Course overview
Engage with world-leading chemistry research on this three-year course, designed to help you develop an interconnected understanding of core chemistry concepts.
During your first two years, you'll examine fundamental topics across inorganic, organic, physical, analytical, synthetic and computational chemistry.
You'll also advance your practical skills through an extensive laboratory programme. Through this work, you'll learn to synthesise chemicals and study chemical systems using experimental measurements and computational models.
You'll receive training in measurement science, analytical chemistry and molecular modelling as you learn how to apply a large number of different experimental techniques.
The third year offers you the flexibility to select from a range of advanced chemistry topics, enabling you to follow your own interests at the frontiers of the discipline.
Your final year will include an introduction to emergent 'industry 4.0' approaches and technologies such as rapid prototyping, biohacking and machine learning.
You'll then apply your research skills from the course to a supervised independent project.
Teaching is primarily delivered at the South Kensington campus, and at state-of-the-art research facilities at our new Molecular Sciences Research Hub in White City.
Structure
This page is updated regularly to reflect the latest version of the curriculum. However, this information is subject to change.
Find out more about potential course changes.
Please note: it may not always be possible to take specific combinations of modules due to timetabling conflicts. For confirmation, please check with the relevant department.
You'll study the following core modules.
You'll also take one optional module.
Core modules
Begin to engage with university chemistry and receive training in teamwork and giving feedback.
Explore how structures and concepts in chemistry are represented and described and learn how to draw and name a variety of molecules.
Become familiar with the simple tools used to predict molecular structures and use theoretical models to explain the bonding in molecules and other chemical structures.
Develop your understanding of the physical and theoretical basis for spectroscopic measurements and examine spectroscopic techniques.
Learn about the major types of reactivity at carbon centres and learn how to rationalise trends in reactivity.
Explore the major theories and methodologies used to interpret chemical reactions and chemical equilibrium at a macroscopic level.
Examine concepts and trends in the chemistry of the s-, p-, d- and f- block elements, and their compounds.
Develop skills for practical chemistry and begin to apply these to investigative practical work.
Optional modules
Become familiar with important mathematical concepts important for the theoretical description of physical phenomena.
Assess the principles that underpin medicinal chemistry and place drug design within a medicinal chemistry context.
Stimulate your professional and intellectual growth in areas including languages, humanities and social sciences.
You'll study the following core modules.
You'll also take one optional module.
(Please note, Mathematics and Physics 1 and Medicinal Chemistry 1 are prerequisites to study Mathematics and Physics 2 and Medicinal Chemistry 2).
Core modules
Appreciate the expectations for your second year of learning and learn about inclusivity and diversity.
Understand what electronic states are and why chemical bonds form, based on approximate quantum mechanical models.
Explore the underlying theories of spectroscopy, and investigate a variety of spectroscopic techniques and applications.
Use thermodynamic quantities to describe the state of a system, phase and interface; and calculate how such quantities change during a chemical transformation.
Build on your knowledge of properties, reactivity and synthesis, and apply it to a wider range of molecular chemical systems.
Extend your knowledge of properties, reactivity and synthesis to consider polymers and biomolecules such as carbohydrates and peptides.
Apply your prior knowledge of synthesis and properties to explain the properties of larger molecules such as bio(macro)molecules or polymers.
Develop your research skills through synthetic, physical/analytical and computational experimental work.
Optional modules
Become familiar with mathematical techniques relevant in the analysis and interpretation of physical theories including electromagnetism.
Further your knowledge of medicinal chemistry in areas including pharmacokinetics and the principles of drug discovery.
Stimulate your professional and intellectual growth in areas including languages, humanities and social sciences.
Examine a range of business and management topics on a module delivered by the Imperial College Business School.
You'll study all these core modules.
Core modules
Explore five advanced chemistry topics.
You'll pick from topics including advanced synthesis, materials chemistry, and soft condensed matter.
Investigate a further five advanced chemistry topics.

You'll pick from topics including biological chemistry, process chemistry and strategies of drug discovery.
Advance your skills in practical chemistry and research by carrying out a short independent research project and conducting lab practicals.
Your I-Explore module offers you choices from a range of subjects hosted outside of the department.
You will be taught alongside students from other courses with options including business, management and many more.
Professional accreditation

This degree is professionally accredited by the Royal Society of Chemistry (RSC).
This accreditation is internationally respected in an increasingly global industry and graduate market. It will allow you to demonstrate that you've completed a high-quality degree programme that was designed to meet the needs of both students and their future employers.
This BSc degrees partially satisfy the academic requirements for professional registration as a Chartered Chemist (CChem). Becoming a Chartered Chemist earns you an internationally recognised qualification which can enhance your career prospects and earning potential.
Our accreditation agreement with the Royal Society of Chemistry is renewed every five years. The current accreditation agreement was recently extended through 2027.
Associateship
In addition to your degree, you'll receive the Associateship of the Royal College of Science (ARCS) upon completion of this course This associateship is awarded by one of our historic constituent Colleges.
Teaching and assessment
Balance of teaching and learning
Key
Classroom teaching and laboratory work
Independent study
Years 1 and 2
30%

Classroom teaching and laboratory work

70%

Independent study
Year 3
20%

Classroom teaching and laboratory work

80%

Independent study
Teaching and learning methods
Lectures

Tutorials

Practical workshops

Guided laboratory work

Group work

Literature reports

Research projects
Balance of assessment
Key
Examination
Coursework and practical work
Year 1
75%

Examination

25%

Coursework and practical work
Year 2
65%

Examination

35%

Coursework and practical work
Year 3
40%

Examination

60%

Coursework and practical work
Assessment methods
Written examinations

Oral presentation

Written reports

Coursework

Academic posters
Entry requirements
We consider all applicants on an individual basis, welcoming students from all over the world.
How to apply
Apply via UCAS
When applications open, you will be able to start your application via UCAS Hub. There you can add this course as one of your choices and track your application.
Application deadlines – 31 January 2024 at 18.00 (UK time)
Assessing your application
Admissions Tutors consider all the evidence available during our rigorous selection process and the College flags key information providing assessors with a more complete picture of the educational and social circumstances relevant to the applicant. Some applicants may be set lower offers and some more challenging ones.
Post-application open day and interview
If assessment of your UCAS application indicates that you are likely to satisfy our requirements, you will be shortlisted for an academic interview as part of our interview programme.
There will be a pre-recorded talk by the admissions tutor made available online, about the department, the structure of the course and other opportunities available to enrich your experience with us. There will also be talks and presentations available by the accommodation and finance teams, and from Horizons about the great range of modules they offer. We are organising online Q&A sessions, where you will have the chance to talk to the admissions tutor and to current undergraduates, and you can see more about the department on the Chemistry and Virtual Tour websites.
We will run interviews in the morning and afternoon (UK time) to accommodate students in different time-zones, and each applicant will be interviewed individually. The interview will comprise a discussion with an experienced academic who will be looking to assess an applicant's motivation for studying chemistry and their potential for the future.
Although the discussion may begin with topics mentioned in the UCAS personal statement, the conversations will likely expand to cover topics that the applicant may not be so familiar with. This enables the interviewer to observe how an applicant thinks and how they reason their way through a problem.
The interviewers are highly experienced and are able to see through nerves, stress and silly mistakes so you should not worry about answering the questions. There are no trick questions, if an answer seems obvious, it might be just that.
We then use the interview feedback in combination with the UCAS application, to decide whether we are able to make an offer, and what the conditions of the offer will be. We will be making offer decisions only after all interviews are complete. We will aim to contact all applicants directly by e-mail, by early March with a decision. You should be able to see this updated on UCAS Hub by the end of March.
The Department of Chemistry have put together a list of frequently asked questions that often arise during the admissions process.
An ATAS certificate is not required for students applying for this course.
We offer both Master in Science (MSci) degrees and Bachelor of Science (BSc) degrees.
Our MSci degrees cover more in-depth chemistry study than our BSc degrees, making them more suited to students who are considering a career in research or who may wish to progress to further study such as a PhD.
Our MSci degrees also include a substantial individual project in the final year, which gives you the chance to work in a research environment; you also engage with more advanced research-led lecture modules.
Years one and two of our Chemistry degrees follow the same core course content, supplemented by optional modules designed to match your chosen course of study.

This structure offers you the opportunity to transfer between Chemistry degrees at a later stage providing you have studied the appropriate optional subjects, and as such you should apply to only one degree within the Department of Chemistry.
You may need to meet a certain academic standard to be eligible for placements in industry or abroad.
If you are an international student, transferring to a different course could have an impact on your student visa. Please visit our International Student Support webpage for further information.
Year abroad
Language requirement
Teaching is in the language of your host country in France and Germany, so you will need to reach an acceptable proficiency in the relevant language before you go. Free language classes are available at the College to help you prepare.
Availability
There are limited places available on the Year Abroad programme, which means that competition for selection is strong and a placement cannot be guaranteed.

Normally, only students with marks of 60% or above will be eligible for placements in France and Germany. Only students with marks of 70% or above will be eligible for placements in Singapore and the USA.

Please note the list of universities located abroad that the Department currently has partnerships with is illustrative.

Partnerships with universities are subject to continuous review and individual partnerships may or may not be renewed.
Year in industry
A Year in Industry allows you to gain paid experience of using chemistry in an industrial context.

You will be expected to help the Department organise your placement, however help is available:
The Careers Service advertises placement vacancies on its online vacancy system, JobsLive.
The Department of Chemistry has a dedicated Industrial Liaison Officer who advertises opportunities and provides support with the application process.
Securing a placement is competitive, so you may need to apply to multiple employers and take part in recruitment activities. Application procedures vary from company to company. They can include CV and cover letter submissions, online tests, Skype interviews, technical interviews and assessment centres.
Students from the Department have previously completed placements with:
GlaxoSmithKline
Pfizer
AstraZeneca
The employer can often be in a location of your choice – including outside the UK – as long as you are successful in obtaining a position there and the placement is approved by the Department.
Home fee
2024 entry
£9,250
per year
Overseas fee
2024 entry
£41,650
per year
Your fee is based on the year you enter the College, not your year of study. This means that if you repeat a year or resume your studies after an interruption, your fees will only increase by the amount linked to inflation.
Find out more about our tuition fees payment terms, including how inflationary increases are applied to your tuition fees in subsequent years of study.
Whether you pay the Home or Overseas fee depends on your fee status. This is assessed based on UK Government legislation and includes things like where you live and your nationality or residency status. Find out how we assess your fee status.
Your future career
Become familiar with a broad range of research skills.
Gain proficiency in finding, designing, analysing and communicating reliable information.
Chemistry graduates pursue careers in high-demand fields, as well as further education at the PhD level.
Consulting, research, accounting, industrial development, production control, marketing, and teaching are common careers.
Other potential careers include pharmaceuticals, data science, accounting, and defence.
Further links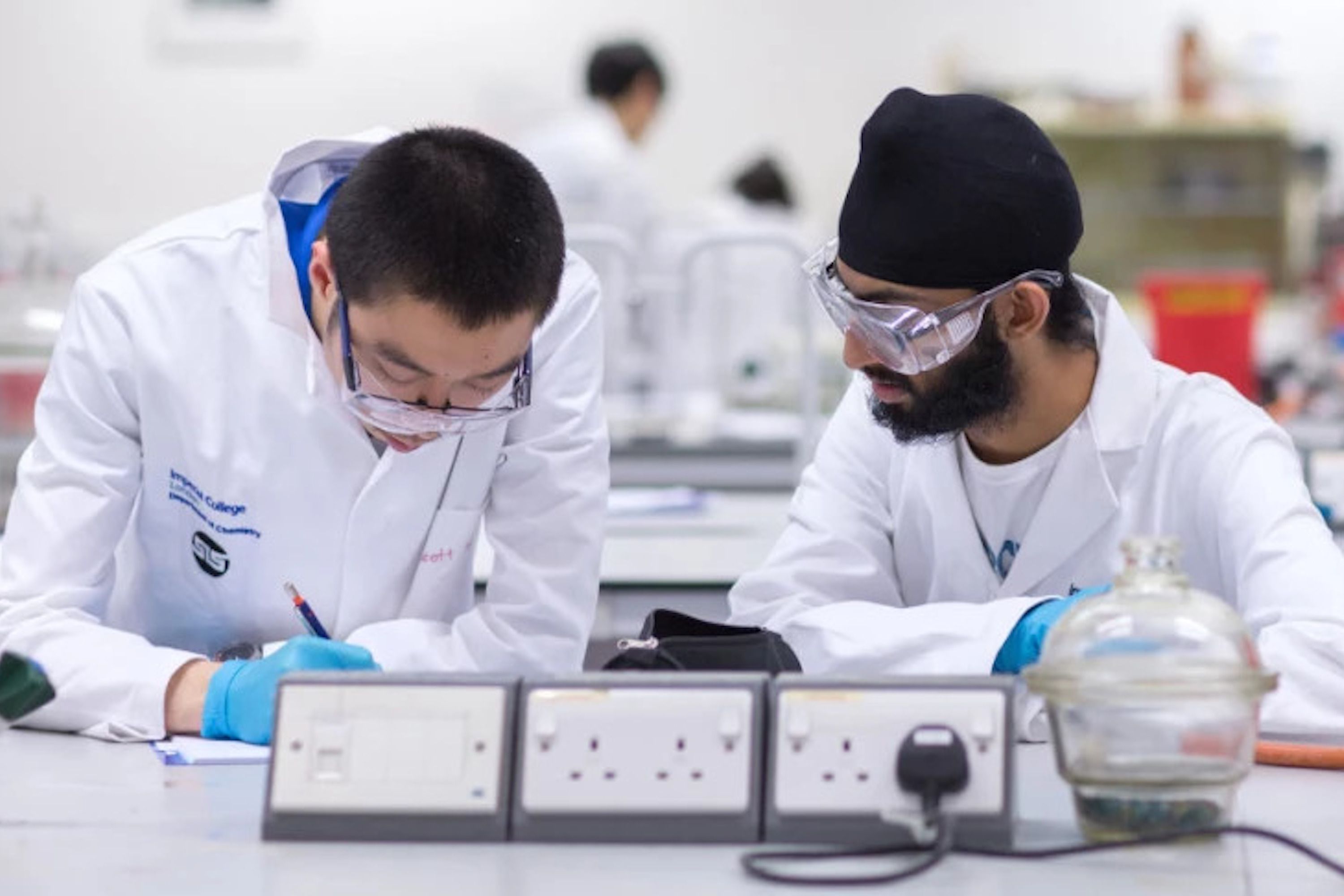 Learn more about studying at Imperial. Receive useful information about our life in our undergraduate community and download our latest Study Guide.
Request info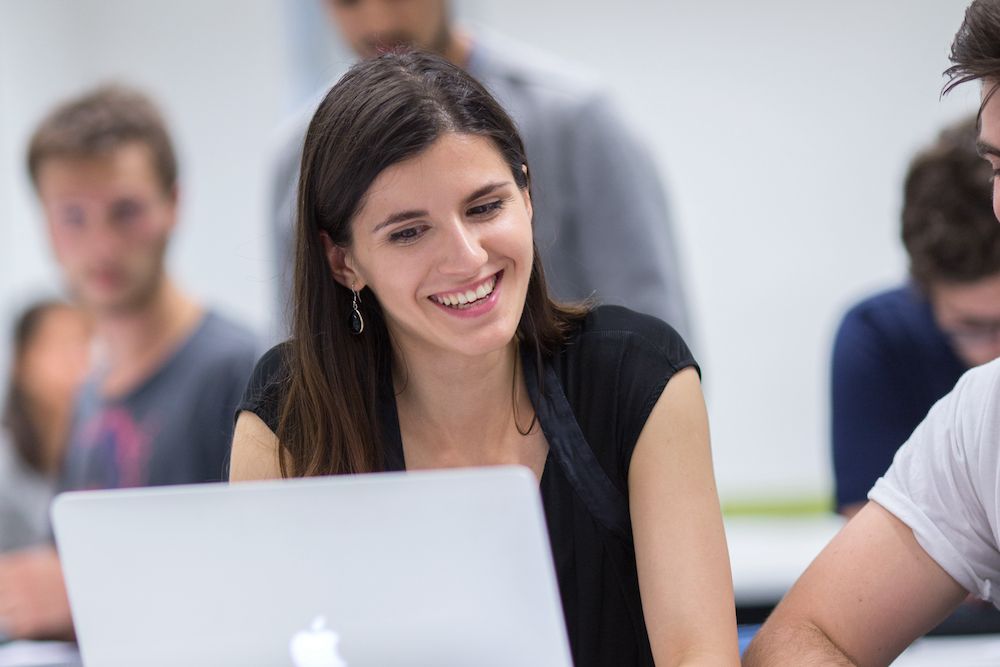 Meet us and find out more about studying at Imperial.
Find an event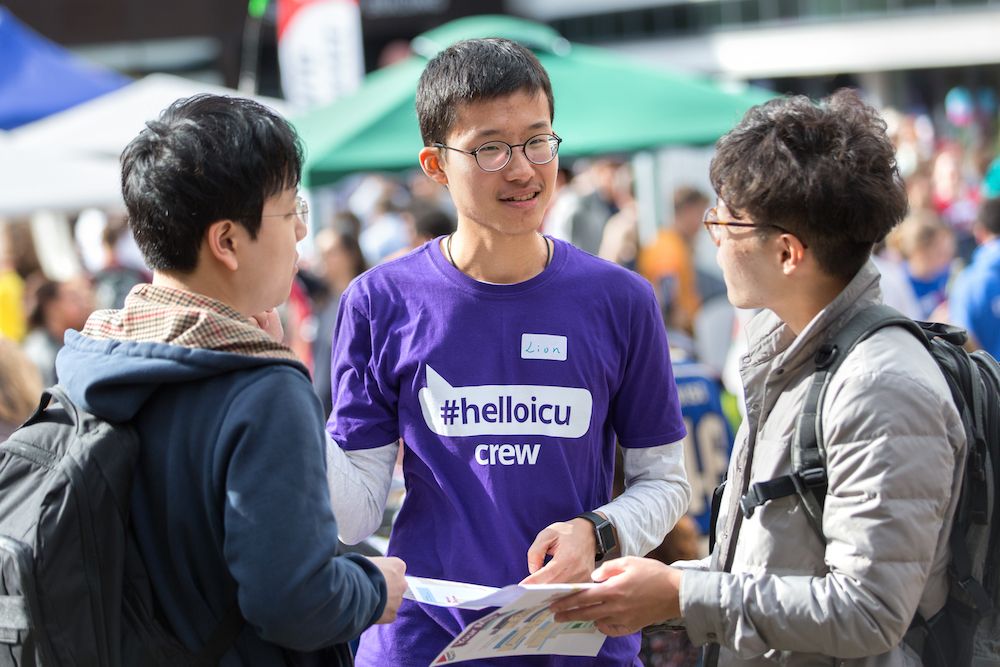 Terms and conditions
There are some important pieces of information you should be aware of when applying to Imperial. These include key information about your tuition fees, funding, visas, accommodation and more.
You can find further information about your course, including degree classifications, regulations, progression and awards in the programme specification for your course.
Programme specifications