Hyde Park student relay race
It's the biggest student race of its kind, but not for the faint-hearted.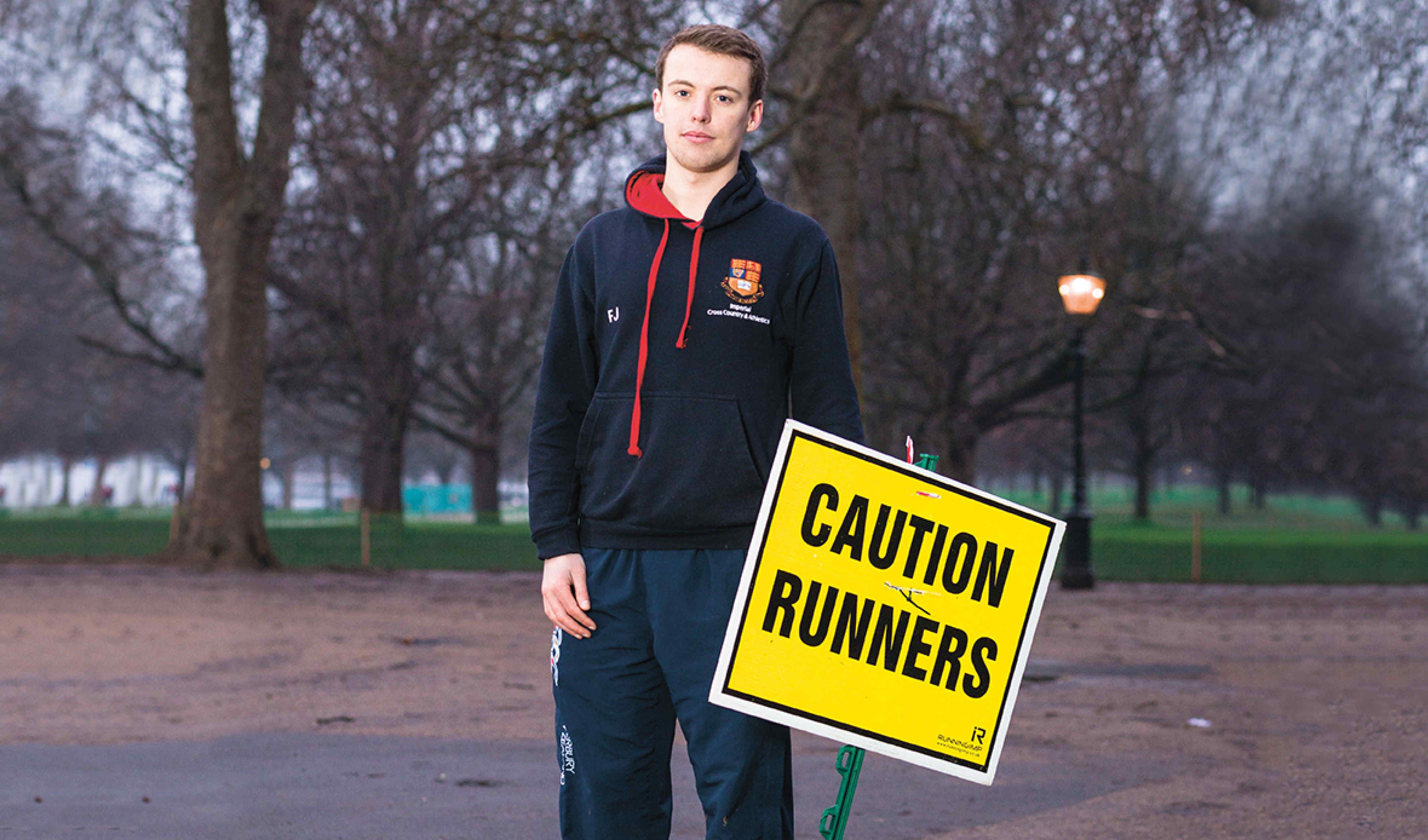 Hyde Park Relay Co-Organiser: Fergus Johnson (Mathematics 2nd Year)
"After many fairly stressful months of planning (alongside co-organiser Lewis Jackson), it's just a massive relief to see everyone going in the right direction and a good crowd cheering them on."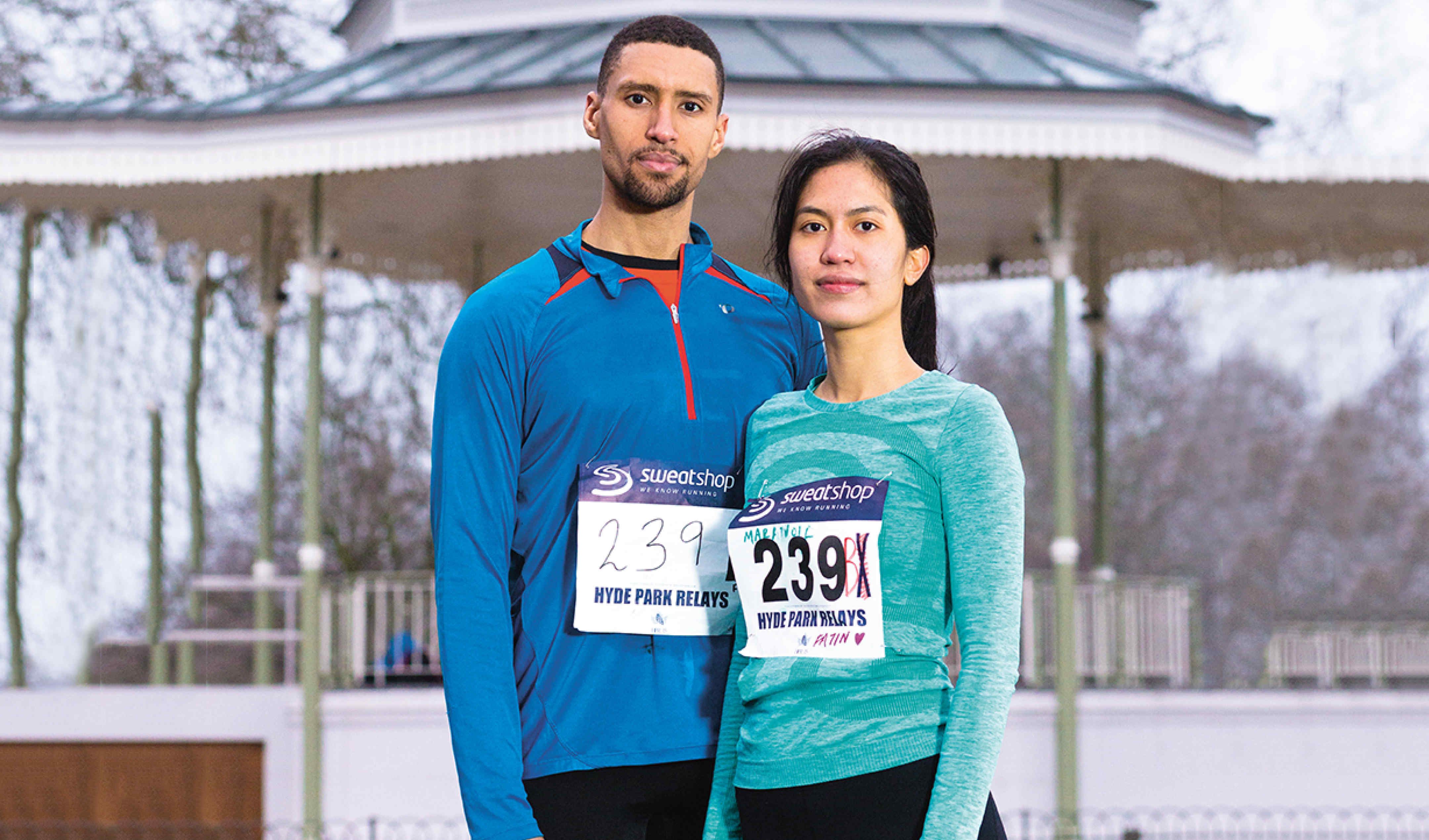 Team: Marathoil
Current students (l-r) Jordan Sawadogo (MSc Petroleum Engineering) and Fatin Fariha (MSc Petroleum Geoscience) Fatin: "I'm from Malaysia so I wanted to run in a cold country. It actually snowed this morning and I'm the only person who was pleased!"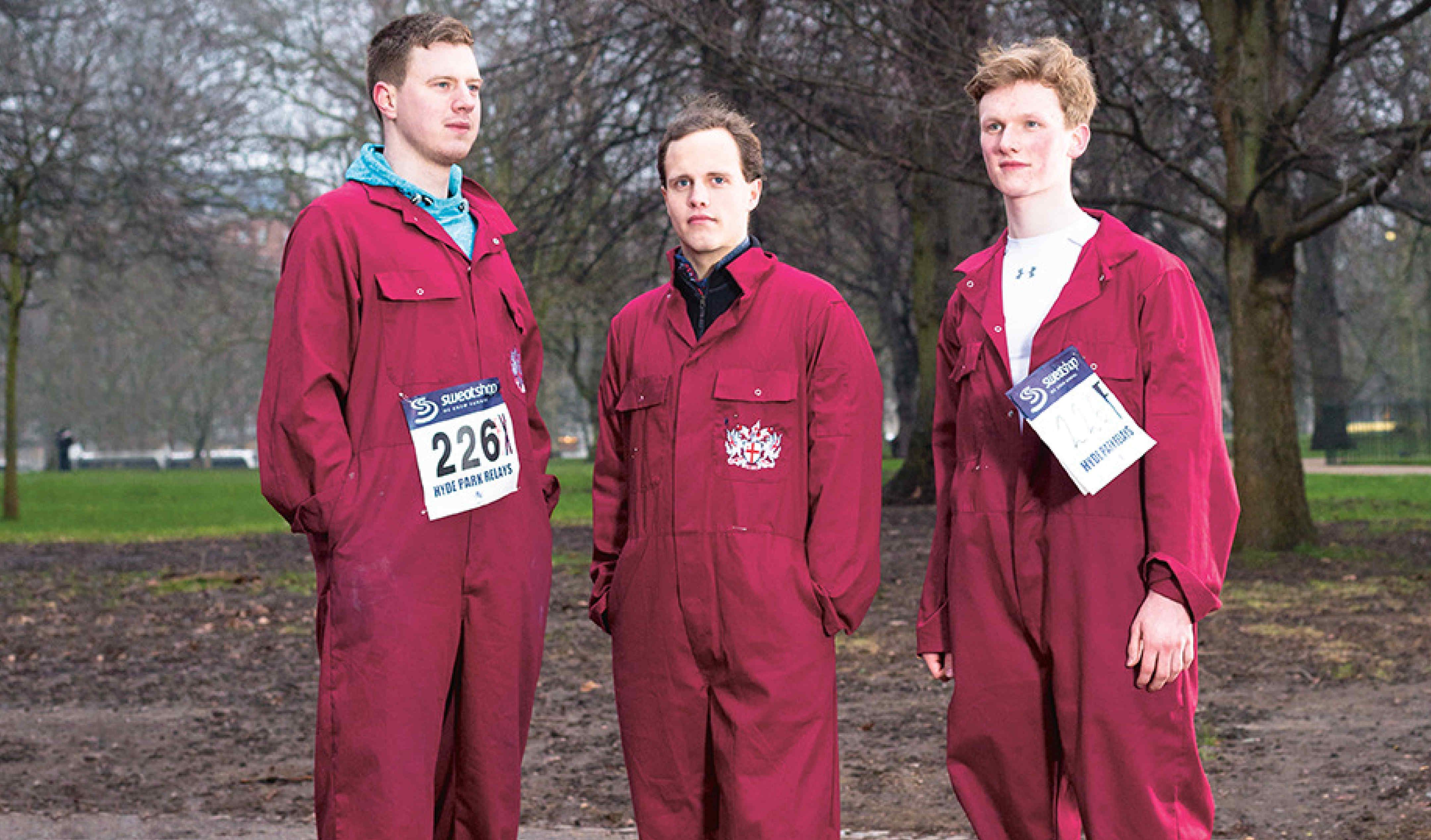 Team: I've run out of Mini Cheddars
From left to right: Stephen Laws; Paul Batthyany; Henry de Winton (all Mechanical Engineering 3rd Year. "This is our third year running so doing the relay has become a tradition. We must be real gluttons for punishment!"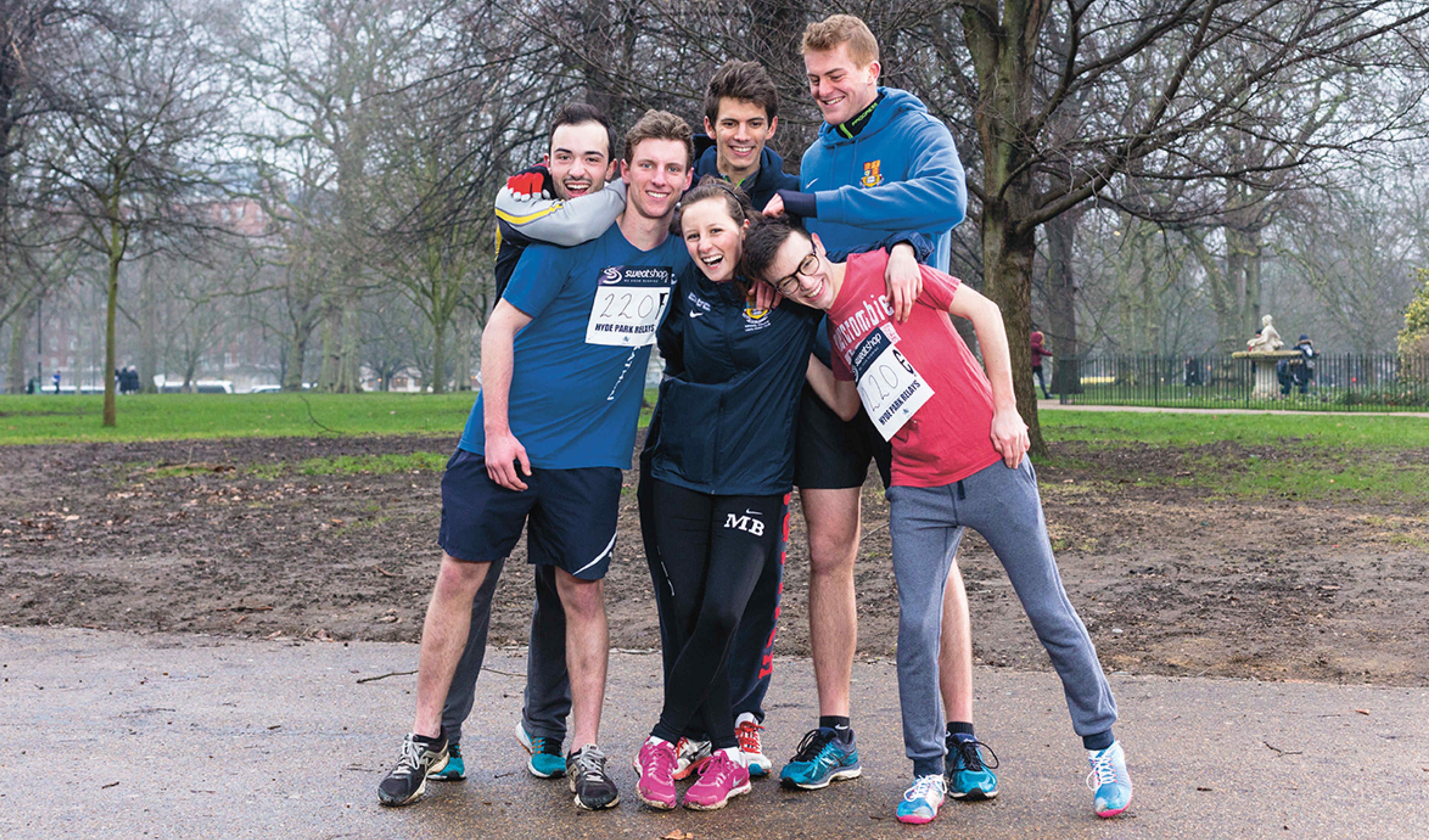 Team: Falmouth and Keogh
From left to right: Paul Vidal (Computer Science and Mathematics 3rd Year); Saturnin Pugnet (MSc Computing 2nd Year); Madison Borghini (Mathematics 2nd Year); Enzo Bermond (Mechanical Engineering 3rd Year); Cesar Maklary (Aeronautical Engineering 3rd Year); Sacha Salphati (Biochemistry 1st Year)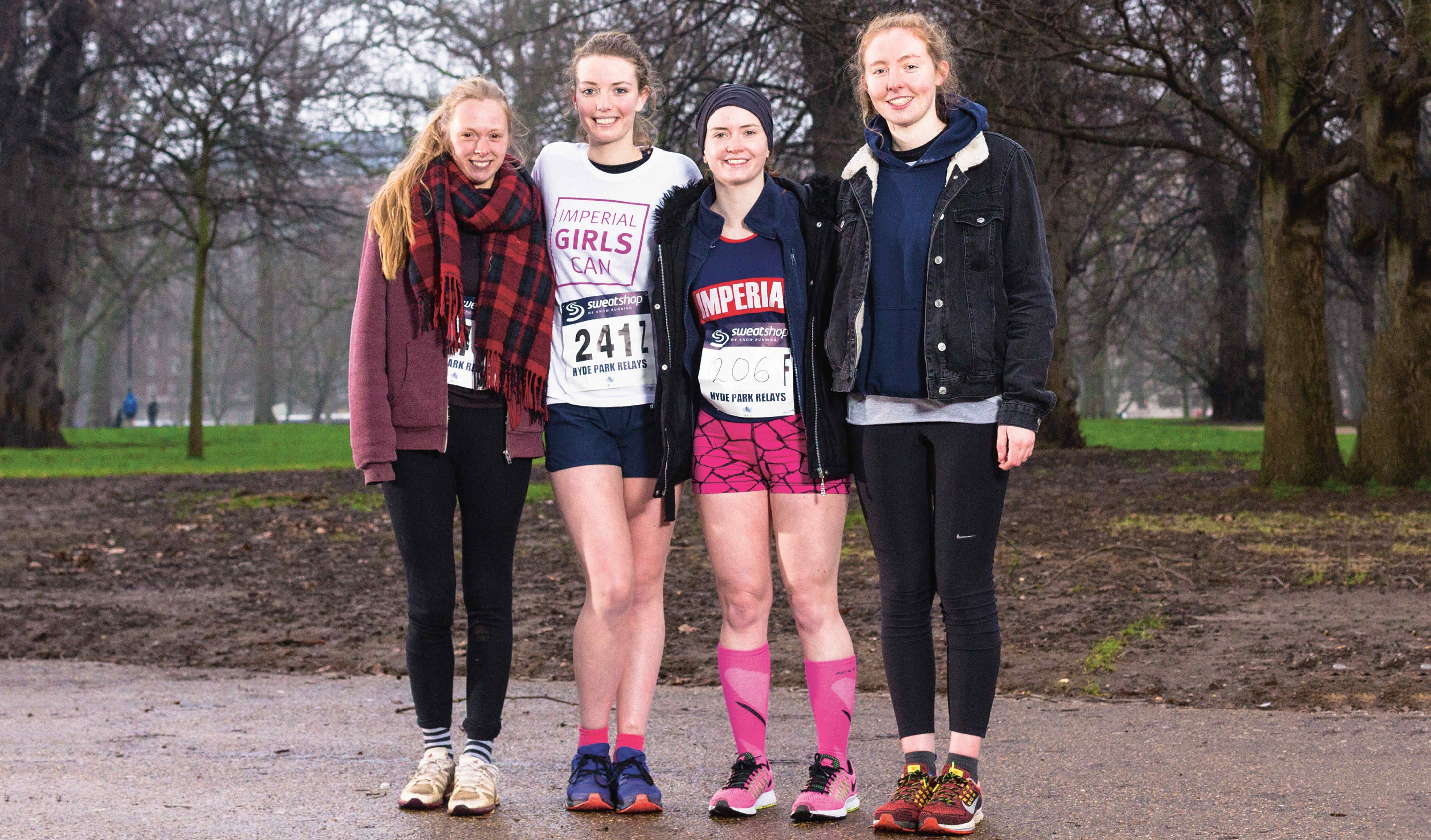 Team: Keith's Caravan
From left to right: Amy Barker (Biology 2016); Caoimhe Canavan (Biology 4th Year); Catherine Spurin (Geophysics 4th Year); Bunny Upton (Biology 2016) "We're mostly very cold. No, really, we love the cold. The team name is all about being a first year and procrastinating, really."
Words: William Ham Bevan / Photography: Chris Lee
One or two barely-dressed members of the Flintsones. A court jester. A handful of superheroes. And a deluge of panting, baton-wielding athletes. Hyde Park on the first Saturday in February can be an alarming place.
It's all part of the Hyde Park Relays, an annual fixture since 1949 and the UK's biggest student race of its kind. Primarily a team competition, with runners following a 5km course through the Royal Park, it is organised entirely by the Imperial College Cross Country and Athletics Club (ICXC&A).
Will Jones, club president, Physics student and a former race organiser, says: "We normally have 600 or 700 runners from Imperial and universities across the UK. Then we get alumni and international entrants, with two or three regular teams from places such as the Netherlands and Poland."
Among the founders of the Hyde Park Relays is Tony Watts (City and Guilds 1947, PhD Mechanical Engineering 1953), now approaching the age of 90. Unusual in that he was both a sprinter and a long-distance runner, he spent his first years at Imperial on the track, representing the University of London in the 440 yards. It was only in 1949 that he joined the Cross Country Club (then a separate society) and helped to instigate the race.
He says: "We began talking about road relays and I was full of enthusiasm, because they were between two and three miles – part way between my cross-country and track running. So we started the men's Hyde Park Relay, with the first race in March. The women's event came later."
Under the captaincy of Bob Gigg, his team won that first race against eight other teams, and he realised it could become a yearly fixture. He says: "Every team was invited back the next year. I took over organisation of the race for 1950 and 1951, building up the numbers to 24 teams, and it went on growing from there."
It did not take long for the race to become established as a highlight of the university running calendar, with teams from across Britain competing for the Sir Roderic Hill Trophy.
It's a measure of its success in attracting serious competitors that Imperial had to wait until 1962 for another win – and even then, it had no chance to rest on its laurels. The mid-Sixties saw the race dominated by Edinburgh University, and a cheeky act of appropriation.
Watts says: "They won the cup three times consecutively and kept it, although it was meant to be a perpetual trophy. Years later, when a College contemporary of mine became Rector, I asked him to make enquiries with his opposite number at Edinburgh and ask 'where the hell is our cup?'."
Word of the Hyde Park Relays spread beyond the English Channel, and teams from overseas universities soon came knocking. Erwin van Harten competed as a member of Erasmus University, Rotterdam, and like hundreds of other international entrants, was granted free accommodation in the Southside or Union Gym.
He says: "It was like a magical area. There was no security – the door was always open. There would be around 200 people in sleeping bags on that wooden floor. There would be parties in the basement bar, and we'd make a lot of contacts with international teams who came every year."
A further innovation was the appearance of alumni. Ian Isherwood (Chemistry 1974) says: "They began to allow old boys' teams in the late Seventies, initially as a favour to those who had helped organise it while at College. Then other universities heard about this and asked if they could run."
He now runs every year as part of the Imperial College Ancients, along with van Harten (a certain number of non-Imperial 'ringers' being accepted). Isherwood says: "I go back to renew friendships, and then there's the sense of unfulfilled ambition at College, as I never got into the team when I was there!"
Another of the Ancients is Stuart Littlewood. He ran for Imperial back in the Seventies when he was studying at the Royal College of Music, a place too small to raise its own team. He remembers: "Everybody who was anybody ran it, and there were some high profile competitors. I remember Hugh Jones, who went on to win the London Marathon. Dave Clarke was national cross-country champion several times and he ran in HydePark at least once."
This has been another signature of the Hyde Park Relays: talent drawn not just from university athletics but from top-level international competition. As early as 1954, a race preview in Felix noted that runners would include an Australian champion and Olympic 1,500m finalist, an Olympic steeplechase medallist and two members of world-record relay teams.
Other notables have included the world 5,000m record-holder David Moorcroft, and most famous of all, Sebastian Coe. He first ran in 1978, setting a record for the fastest leg and helping Loughborough University to their team victory. Coe ran again in 1979, then returned in 1981 after a year's break to win 1,500m gold and 800m silver at the Moscow Olympics.
It was at this time that a formal women's race began to take place. Although mixed teams were against the rules governing UK university athletics, European entries had for some time been including women on the understanding that the organisers would turn a blind eye.
By 1980, the practice had been normalised, with a Felix race report noting that "a novelty of this year's relay was the number of ladies running... 26 took part and it is hoped that next year a ladies' event will be introduced". Just two years later, 40 women's teams appeared at the starting line.
Alex Mundell, a Medicine student and the current women's captain, ran for the third time in 2017. She says: "The atmosphere is incredible. Everyone comes out to support you, and there's so much noise when you come in for those changeovers. And you have all these famous sights: you pass Buckingham Palace, and you can see the London Eye."
Signposting, marshalling and timing the race is also the club's responsibility. Today, each runner's time is recorded on a chip inside the baton itself, hiding the complexity of the operation. Club member Roland Teare (Medicine 2005) says: "Back then, there'd be a small army of timekeepers. For every lap, a cyclist would ride back from the bandstand to the Union Bar where the results were compiled."
Then there's the hospitality to organise, with a meal in the Senior Common Room and an infamous after-party at Metric nightclub. The on-site College caterers now provide baked potatoes for everyone. "When I was involved, we'd just go to the cash and carry to buy a huge amount of Nutella and jam," says Teare. "Then, on race day, someone would go to Sainsbury's on Cromwell Road to buy about 125 baguettes. I roped my parents into that job for a couple of years."
The raucous after-party is the one time of year when the race's emblem makes its appearance. Donated by a grateful Dutch team in the Eighties, the Hyde Park Relays horn is passed around for finishers to blow a celebratory fanfare – or at the least, a raspberry. For race organisers, a different use is sometimes found. "The year I first ran it, they made me drink a lot of alcohol from the horn," says Chris Bannon (Medicine 2011). "You could still get a note out of it afterwards, just about." Bannon first won the fastest individual leg in 2013, repeating his feat the following year.
So what is it that makes it so special? As one of the two committee members charged with making the 2017 race a success, Fergus Johnson is perhaps best placed to answer. He says: "I became a member of the Cross-Country Club in my first year. Throughout the year, when I was doing races, I kept hearing the Hyde Park Relays mentioned without knowing what they were.
"It was only when the day came that I realised how big an event it was – and that it's an occasion when everyone in the club works together to make the best race experience we can."