Smart by design
Words: Becky Allen / Photography: Angela Moore
User-led design has become a development cliché. But for one group of users, essential products have remained clunky, expensive and even unusable. There had to be a better way. And now, at Imperial, there is.
Ramona Williams always knew she would be an inventor, she just didn't know when it would happen. Born with a rare eye condition that means she is sight-impaired, her eureka moment came when her nephews and nieces arrived.
"Taking them out in the buggy for the first time I suddenly realised what it's like to handle a pushchair and a cane. You can't do both," she says. "Visually impaired friends who were starting families described how hard it was to take their babies out," says Ramona.
"Some said they carried their children everywhere, others used their cane in one hand and towed the baby buggy behind them with the other, and a few were so afraid of using a pushchair that they simply stayed at home. I knew there had to be a better way."
If you involve users from the start, you can make the best, most acceptable product."
After hearing about Imperial's new enterprise and innovation partnership with the London Borough of Hammersmith and Fulham, she attended the launch event at the College's White City Campus and asked whether, together, they could build a better buggy. "I thought it would never happen," Williams says. "Getting a phone call telling me they were keen was really refreshing."
The result is the Smart Baby Buggy, a collaboration between Williams, who is the founder and director of disability training business Eyes for Success, and undergraduate students from the Department of Bioengineering.
Borrowing sensor technology from self-driving cars, the buggy has the potential to change the lives of visually impaired parents, enabling them to negotiate their neighbourhoods more safely and easily. It's also the perfect example of user-led design.
The first prototype of the Smart Baby Buggy – complete with LiDAR (light detection and ranging) and ultrasound sensors – was unveiled at the 2018 Imperial Festival. Today, Williams is recruiting testers, raising funds for the next prototype and spreading the word about user-led design. "When you're disabled, you can often be an afterthought," she says. "But if you involve users from the start, you can make the best, most acceptable product."
For Dr Ian Radcliffe, a teaching fellow in the Department of Bioengineering, putting users up front and centre is what actually defines good design. And as module leader for the Department of Bioengineering student engineering design projects, it's a practice he wants to instil in young engineers.
That can mean getting involved in some pretty high-profile and ambitious projects. In the run-up to the Rio 2016 Olympic Games, Radcliffe's students teamed up with GB paralympic swimmer Andrew Mullen to design a new piece of equipment that would give him a better start in his backstroke races.
All backstroke events begin in the water, with swimmers holding poolside bars in order to launch backwards – presenting unique challenges for some para swimmers. Mullen has some grip with his stumps but cannot reach the bars, and the luggage straps he relied on in the past were awkward and prone to breaking.
After talking to Mullen and his coaches, Imperial students designed an ingenious strap adapted from riding stirrups, strapping and climbing carabiners. Mullen used the new strap at the 2015 International Paralympic Committee Swimming World Championships in Glasgow and at Rio 2016, winning silver in both 50m backstroke finals. "It's a beautiful piece of design, and a showpiece of what user-led design is all about. It's simple, elegant and does exactly what Andy wanted," says Radcliffe.
"The students did everything right. They began by speaking to Andy and his coaches to understand what they needed, what they currently used and the environment. They came back and did all the force calculations, sought inspiration from existing technology, produced several prototypes and trialled them. It's a process of constant user engagement – they shaped the final design and that meant Andy was really happy because it fixed all the issues he faced."
It sounds simple, but the plethora of clunky, expensive and inappropriate devices aimed at people with disabilities illustrates how often designers ignore users. Professor Aldo Faisal, Head of Imperial's Brain and Behaviour Lab, says this is an unforgivable error. "In my lab, students meet amputees and other users from day one. We also work with patient organisations, so we have the whole sociology mapped out," he explains. "It's vital to know who you're designing for."
The plethora of inappropriate devices illustrates how often designers ignore disabled users"
In 2016, Faisal and a team from Imperial entered the 2016 Cybathlon, the world's first international championships where people with physical disabilities compete to carry out everyday tasks using state-of-the-art technical assistance systems. "It was the first time that assistive technology groups had competed directly against each other – not via academic papers but in technology on the ground – and it brought some startling revelations," says Faisal.
"The man who won gold for upper arm amputees didn't have a bionic prosthetic, he had a mechanical device operated by his shoulder using technology that's 550 years old! It shows that when you keep the end user in mind, the solution can look very different."
For Dr Paul Bentley, Senior Lecturer at Imperial and consultant neurologist at Imperial College Healthcare NHS Trust, working with users has been essential to moving engineering ideas out of the lab and into the clinic, where he treats hundreds of stroke patients every year.
Stroke is common and disabling (around 100,000 strokes occur in the UK every year, and more than two-thirds of stroke patients leave hospital with a disability) and, as a researcher, Bentley has been teasing apart the links between physical and cognitive disability after stroke.
"People have often approached the two separately," Bentley explains. "But our research showed that a lot of the physical disability arises from cognitive impairment, so we developed a method of assessing both the physical weakness and the cognitive impairment that occur after stroke." Once he had built an assessment tool that worked well in the lab, Bentley realised that by taking a more frugal technology route, the assessment tool could be 'flipped' into a cheap and portable physiotherapy device that stroke patients could use at home.
The new device – called GripAble – means patients can play arm training games using a lightweight electronic handgrip connected via Bluetooth to a tablet computer. It is simple and cheap enough to be used at home, and because it involves computer games, it helps motivate patients to engage in more regular physiotherapy.
This year, GripAble won a £1.1 million grant from the National Institute for Health Research to develop the world's first online social network of interactive, collaborative games, and is currently closing a second round of funding.
"Most rehabilitation involves one-to-one supervised physiotherapy. Patients get attention, compassion and bespoke exercises, which makes this the gold standard treatment," says Bentley. "But NHS resources are limited. Millions of patients need physiotherapy, and we know that the more someone exercises, the better the outcomes are, so there has to be another solution."
It has to be the way forward, adds Faisal. "What we've seen in many areas of assistive technology is a lot of engineers making things to show other engineers how smart they are. If you really want to design things that work for people, you need to take very different approaches."
Images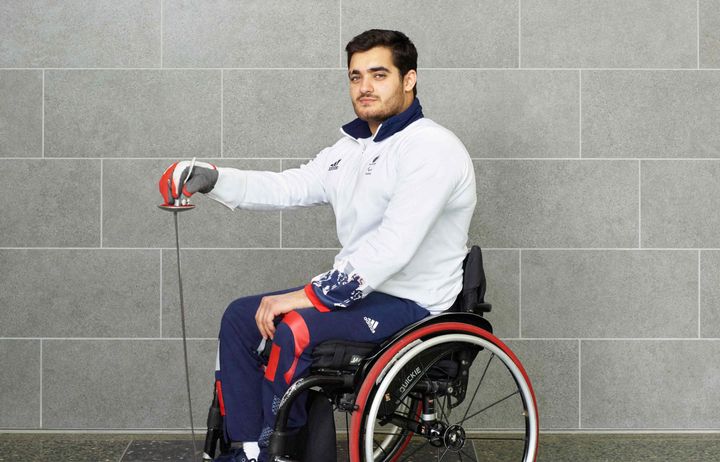 Wheelchair fencing frame
Paralympian and double Wheelchair Fencing World Champion Dimitri Coutya. Imperial engineering students worked with Dimitri, fencing clubs around the world and the International Wheelchair and Amputee Sports Federation to develop a new, low-cost design for a wheelchair fencing frame that could be easily replicated. It uses materials that are simple to get hold of – or which can be easily substituted – in a lightweight, compact and modular design that allows for modifications and upgrades.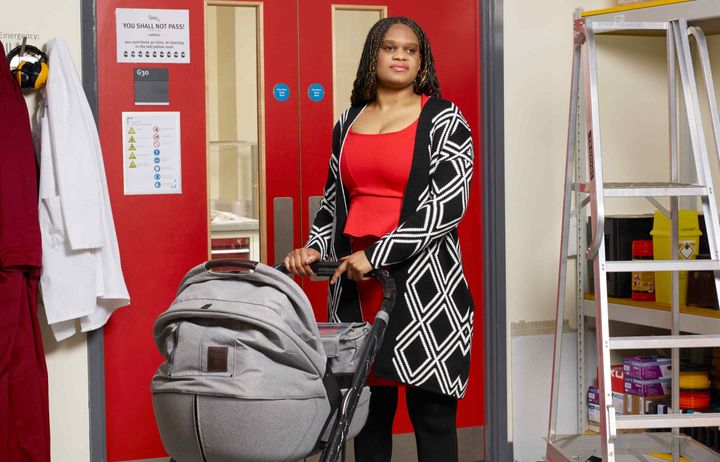 Smart Baby Buggy
Ramona Williams and her smart baby buggy prototype. Features include: handlebars fitted with 'trembling' pads that give feedback on surrounding hazards and obstacles to the user; rechargeable power pack and control unit mounted under the buggy; and LiDAR unit and four ultrasonic sensors that detect obstacles and hazards in front of and around the side of the buggy.