Society / Strike a pose
Lights, camera, action! The Photographic Society put themselves in the picture.
Words: Sarah Woodward
Photosoc President Pavan Inguva says the best images sometimes come from the unexpected. "I was taking pictures in Iceland of a rugged landscape against a beautiful sky, when suddenly a child ran into shot just as I clicked. It's still one of my favourite photos."
Now in his final year of a Chemical Engineering degree, Inguva got into photography at school, because he wanted to find a way to capture the wonder of the Milky Way.
"I knew I could do better, so I made a beeline for the Photographic Society at the Freshers' Fair, with the aim of improving my technical skills." In fact, Inguva got more than he bargained for: not only did his technical skills improve, but he acquired a whole new set of possibilities.
"The dark room here means I can afford to shoot film – new territory for me. I recently did some portrait shots on slide using medium format and was stunned at how beautiful they were."
Darkroom membership costs just £10 a year, including chemicals and paper, though Inguva concedes that "although we can develop colour, we're still struggling to work out how to print it".
Photographs of PhotoSoc members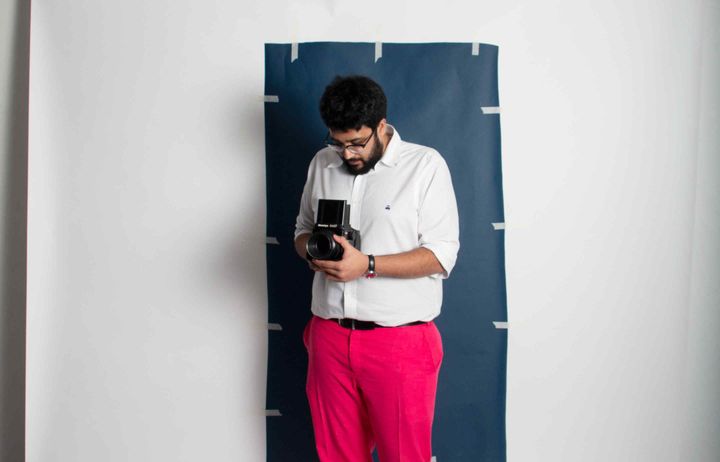 Pavan Inguva, photographed by Josh Moody:
I typically use a Canon 700D with an 18-135mm IS STM lens. I also have a 70-200 F4L and 10-18mm f5.6. I use a Canon 1N with a 50mm f1.8 lens for film shots.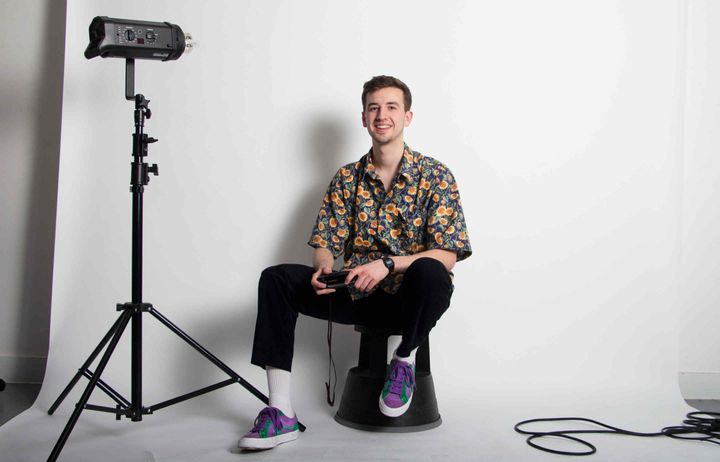 Aidan Cunnington, photographed by Kaiqian Lu:
The camera I shoot most of my stuff on at the moment is the Kyocera T with Kodak Portra 400 film. My dream camera is the Contax T3.
That is a challenge for dark room manager Aidan Cunnington to solve. Cunnington, a third-year mechanical engineer, started taking pictures as a child when his mother bought him a disposable camera, and he has happy memories of family snaps. But while his mother is now wedded to digital, Aidan relishes "the sheer delight of shooting film. I am fully transitioned – on my last holiday I took three cameras, two film and one digital, but after a week I stopped using the digital one."
That is a decision made easier by the fact that Photosoc runs an equipment rental service, with three full-frame cameras and a range of lenses available, so members thinking of experimenting with film can try before they buy.
"A lot of people come here not owning a camera and, to be fair, a phone can now do 90 per cent of the job of a good digital camera," says Inguva. "Plus, the techniques needed, and those we teach, are pretty much the same."
Members have the opportunity to try out their equipment and new skills on the regular photo walks. "One highlight is the early-morning Richmond Park walk we do at start of term to welcome new members – though some alumni come along as well," says Inguva.
"I also really enjoyed a trip to Brighton in my second year, when we had a great time eating fish and chips on the pier as well as taking pictures. We had such fun, we are going back this term." The trips are subsidised but another popular event for the 200-odd members is more local.
The social last year was what Inguva describes as "a rave in the dark room". "It wasn't exactly a rave," says Cunnington, "but there were about 25 of us – and the dark room only fits five or six."
There is also a sound system, as members enjoy listening to music as they are learning to develop film. Music aside, Cunnington is determined to persuade others to invest in mastering film, though he has yet to convince his supervisor. His last presentation featured a grainy picture shot on film.
"My supervisor wondered why I was spending time using a filter trying to get an arty effect. He couldn't believe it when I told him it wasn't from using a filter but shot on film!"


Photographs of PhotoSoc members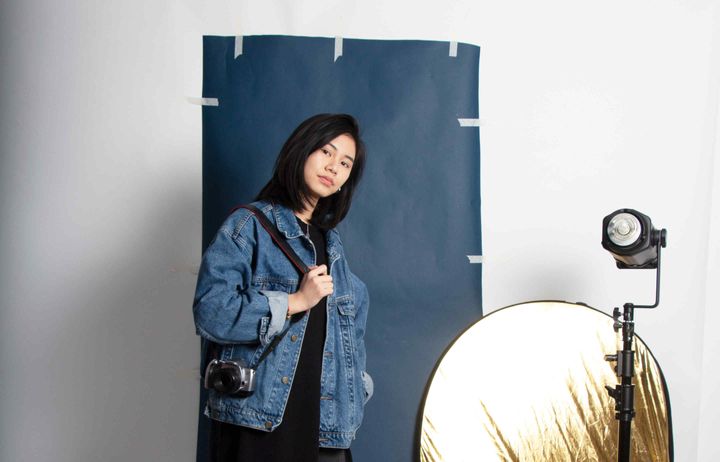 Kaiqian Lu, photographed by Aidan Cunnington:
I shoot both digital and film, but use film more often. The digital one is a Leica X2, with 24mm 2.8 fixed lens. The film one is a SLR Canon 300v, with 50mm 1.8.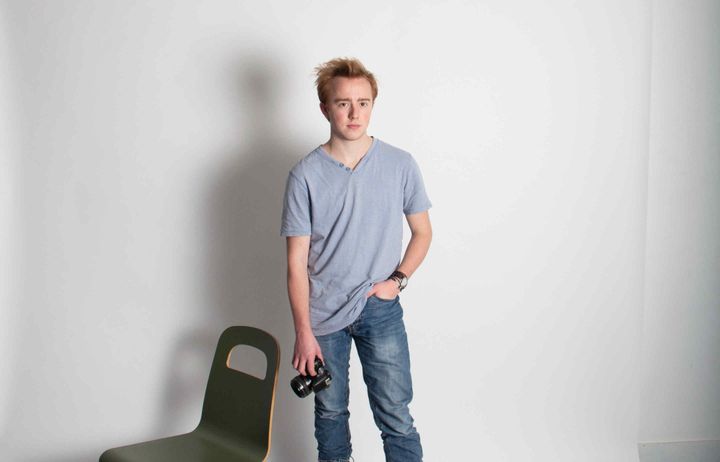 Josh Moody, photographed by Pavan Inguva:
I like to shoot using a Canon 500D with a sigma 18-200mm most of the time, but enjoy using a 100mm prime and Mavic Air (for aerial photos) as well.